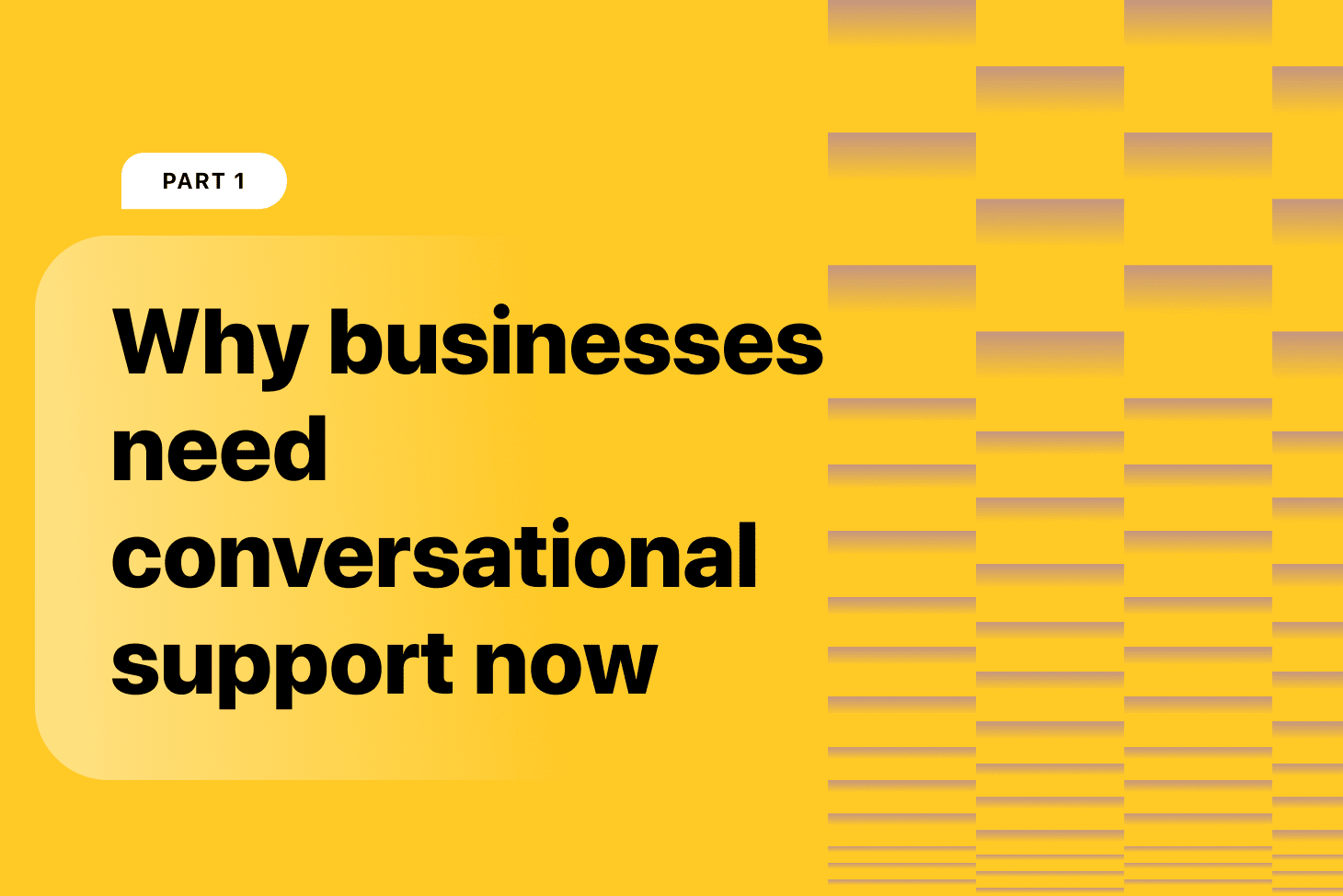 There's a new way to support your customers, and it's changing the way businesses operate. Conversational support is helping businesses develop deeper, more meaningful connections to their customers while driving up revenue. So, what is it exactly?
Conversational support is answering customers' questions through one-to-one conversations with real people. In recent years, conversational support's focus has shifted from phone and email to messaging on easy, immediate, and frictionless text channels.
Messaging is the cornerstone of conversational support, allowing your business to reach more customers in a more personalized way, faster. So, why messaging? Why isn't email or over-the-phone support at the core of conversational support?
Messaging is faster, more effective, and more convenient for your customers when compared to other methods of communication. Couple those facts with the massive shift that brick-and-mortar business made into digital spaces during the pandemic, and there you have the driving forces that ushered in this new way of interacting with customers.
When a customer decides what businesses they want to shop from, the thing they value most is the quality of their experience from start to finish. Messaging prioritizes speed and personalization — two key factors in customer engagement and satisfaction.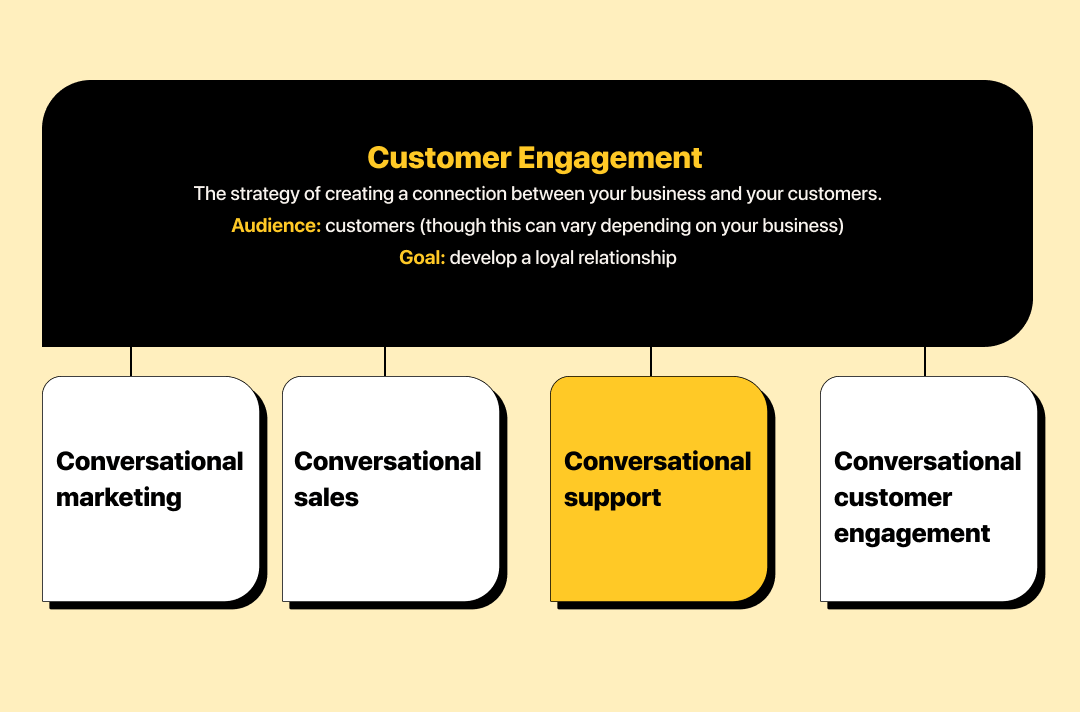 But, creating a conversational support experience for your own customers isn't as simple as adopting the right messaging channels. What businesses need in addition to the conversational channels themselves is the right guidance on how to build a stellar customer experience over messaging.
Having the right plan in place to launch, scale, and iterate your company's conversational messaging approach can make a massive difference.
Zendesk reports that 75% of customers will buy more from businesses with a strong customer experience. And Accenture underscores that fact, highlighting that 65% of customers are more likely to buy again from a retailer that remembers their name, what they bought before, and what they talked about last time they interacted.
Heymarket has helped thousands of businesses like BarkBox, U-Haul, Blue Bottle Coffee, and Cornell University adopt personalized messaging and comprehensive conversational support. From that experience, we know firsthand just how critical, and how challenging, it can be to get the right plan in place to support your customers.
In this blog post, we'll walk through why conversational support is so important for modern businesses, why you need a solid strategy for your business texting campaigns, and what to look for in a business texting platform.
To dive even deeper, read our guide on personalized customer messaging: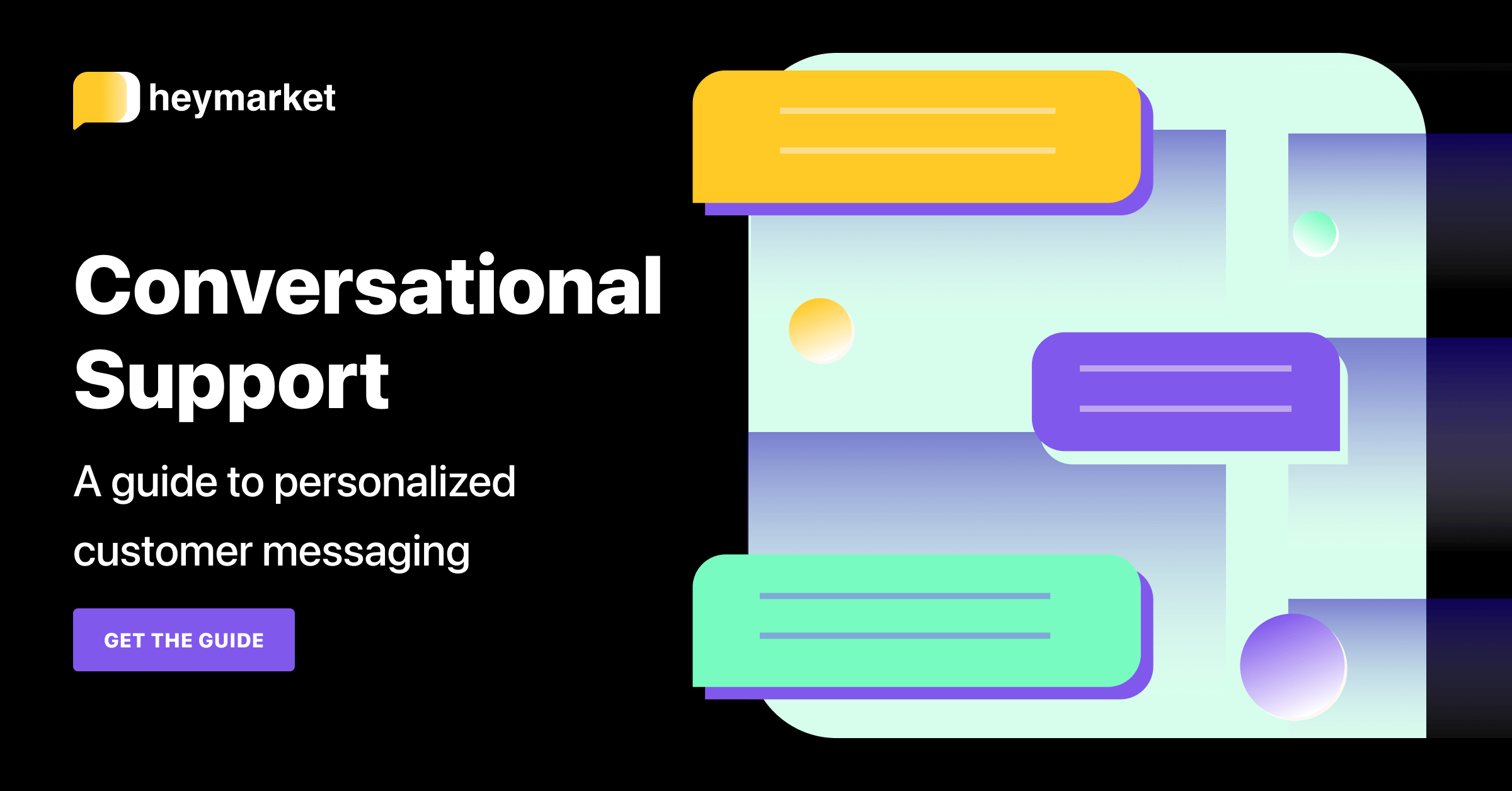 Why Conversational Support is Important Right Now
Let's rewind the clock to review one of the major factors that acted as a catalyst for conversational support.
Before the spring of 2020, businesses could meet with customers face-to-face and define their experiences in-person. They could meet customers with a friendly greeting as they came into a store, for example. A sales associate might recognize a regular customer, say hi, ask them how their day was going, double check that the last item they purchased is working out well, and ask them what they needed help with today. In the spring of 2020, when the pandemic hit, that type of interaction became impossible. And, the in-person infrastructure businesses relied on to make connections to customers vanished.
All at once, brick-and-mortar retailers rushed to adopt digital channels to bring what was formerly an in-store, in-person experience online. This big digital-first push meant adopting new messaging channels like SMS, Facebook Messenger, Instagram, and more in a matter of weeks or months.
This mass migration to digital channels was less of a shift and more of a sea change. Once customers got used to the fact they could reach the businesses they love using the channels they prefer, there was no going back. Even as brick-and-mortar businesses are opening back up, customers still expect the speed and ease of conversational support, in addition to in-person experiences.
While rapidly adopting these new channels was a feat for many businesses in the pandemic, the work doesn't stop once you start receiving messages from customers. You have to have a sound strategy to serve customers at scale, across all of these various channels. Turning on support for new channels without a strategy in mind is a bit like seating diners in your new restaurant, but forgetting to plan a menu for that evening's dinner. Without a plan, the customer's experience suffers.
Companies that started conversations with customers without a strategy in mind quickly fell into a few common problems. Their support staff might have been slower to respond to questions because it was unclear which member of their team would tackle a customer's question. Or, a company might have sent out impersonal replies to personal, specific inquiries from customers, simply because they didn't have a way to view the conversational history with that customer.
These companies missed out out on the cadence of a conversation and the personal details that make a customer feel like the company they're speaking to has a real connection with them.
When you have a well-planned conversational messaging strategy in place, you can make the most of every interaction you have with customers, so you never miss out on an opportunity to deepen customer loyalty.
Why is Messaging So Effective
Messaging reaches your customers where they are and moves at their pace. There's an inherent sense of immediacy and importance messaging that isn't present in other methods of communication like email or phone calls.
While most email open rates hover at around 20%, 98% of SMS are read by their recipient, with 45% of those recipients responding to the message they received. This year alone, Twilio predicts 2.7 trillion business-to-customer messages will be sent.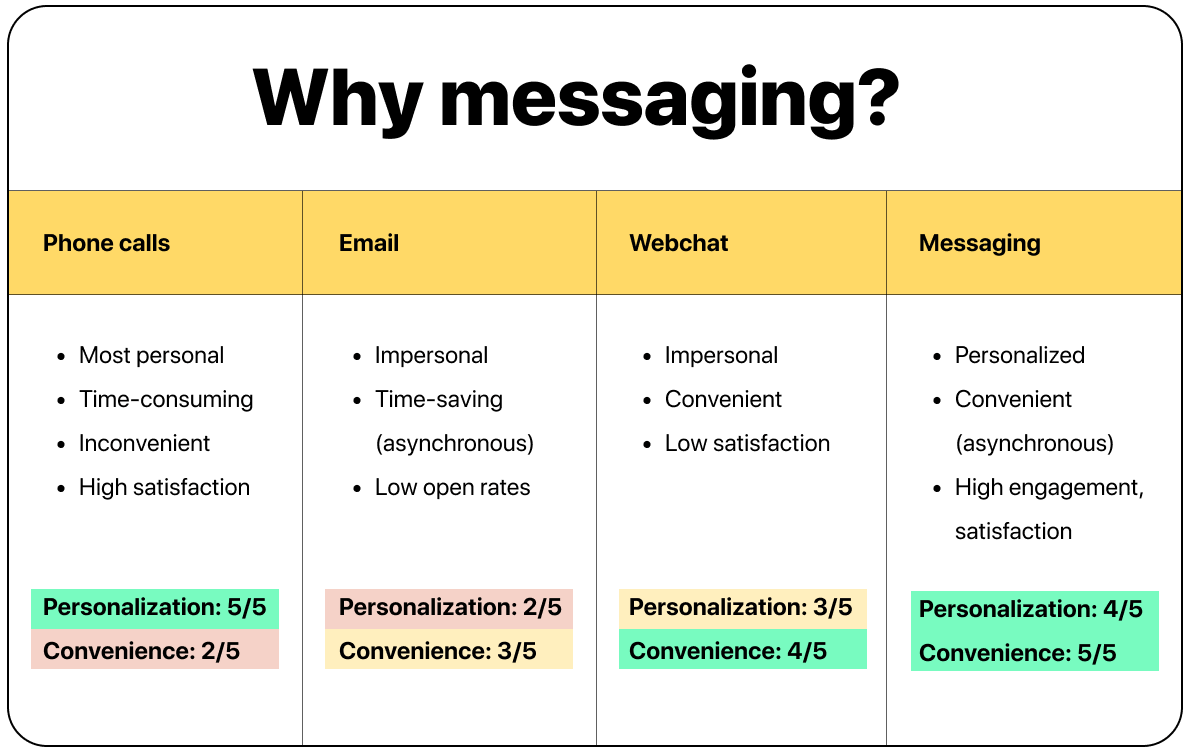 Let's say you're running a pet food company called Chow Dogs, and a customer has a question about their order. If the only way that customer can contact you is by calling in and waiting on hold, they're likely not having a great experience. They might feel that something as simple as checking in on the status of a food order has taken time out of their day.
Instead, let's say that customer can text your business and ask that question about their order. And, your staff answers their question promptly via text, while referencing the exact quantity, brand of food, and number of times that customer has ordered in the past. Now, that customer feels like Chow Dogs values their time and their business.
Messaging is the fastest growing channel, according to Zendesk, with support requests surging over messaging apps. Using messaging, agents can drastically expand their capacity, serving multiple customers all at once. This cuts down on contact center costs and lets companies reach more customers in less time, all on the channels their customers prefer.
Your team can work together to plan messaging campaigns whether you're trying to tell your whole customer base about a new product, or reaching out to customers who you haven't heard from in a while.
In the next installment of this series, we'll teach you how to build a conversational support strategy so you can hit the ground running.
To learn more about conversational messaging, read our guide on building personalized customer messaging here.