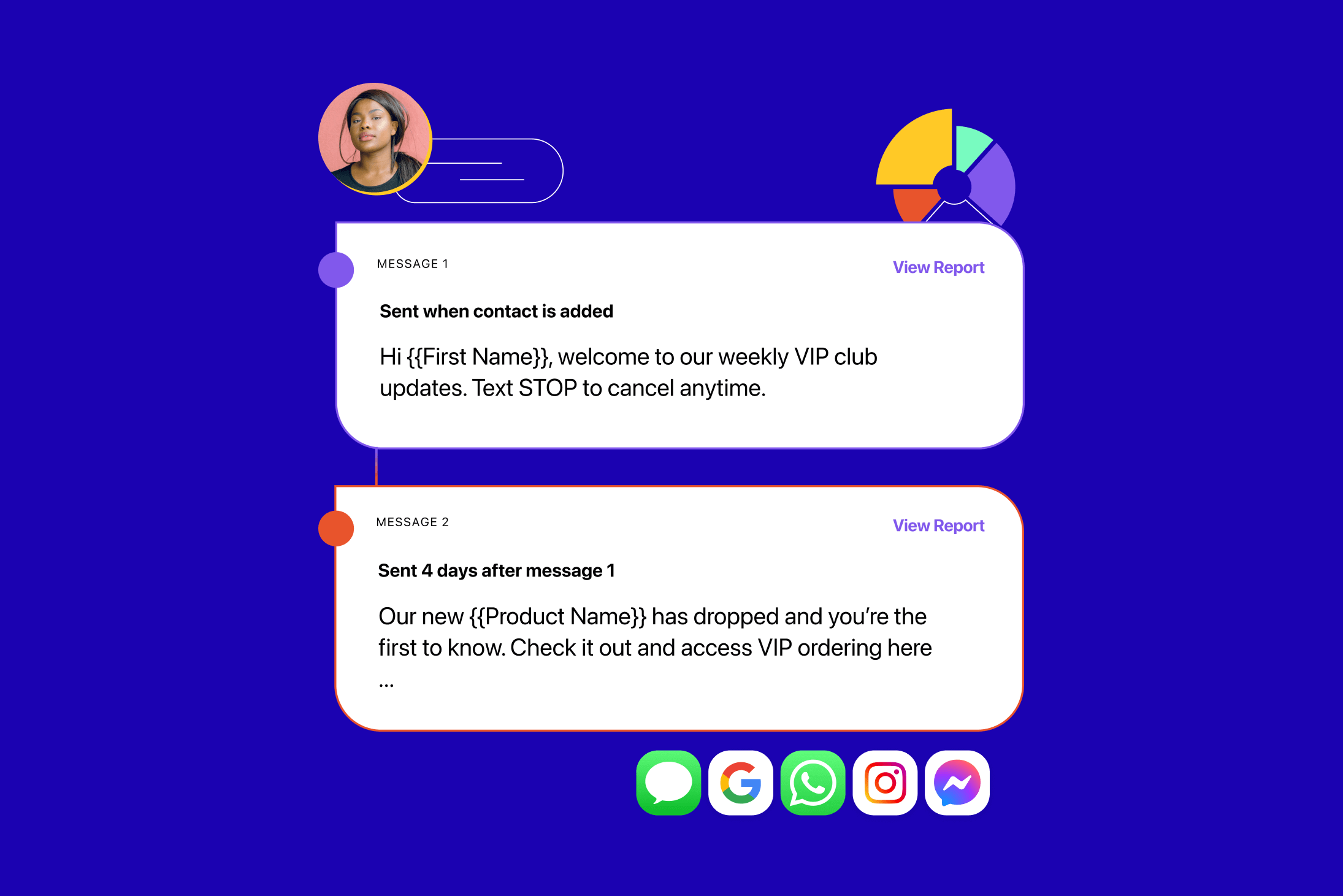 Marketing has never been more challenging. You've got more consumers to reach through more channels than ever before, from Facebook Messenger to texting and everything in between. Then there's the fact that 71% of consumers expect you to send personalized content through said channels.
Enter SMS marketing. Texting empowers you to form meaningful relationships through one-to-one conversational messaging across the most popular communication and social channels.
Now, Heymarket's SMS marketing platform provides an intuitive, scaleable, and secure way to connect with your leads and customers.
Reach more people
Getting more people to subscribe to your marketing content helps your team capture their information and start them on the customer journey. With Heymarket's full suite of SMS marketing tools, you can capture leads from anywhere.
Ask consumers for key information, from names to phone numbers, in:
Popular messaging platforms
Social channels
Webchats
Emails
Embeddable forms
In-person transactions
New contacts are silver, but old contacts are gold. Heymarket also empowers you to import unlimited contacts during set up to ensure you're connecting with new and old audiences alike.
Manage SMS opt-ins
Heymarket helps you stay compliant with text messaging opt-ins and opt outs. This not only helps you follow critical regulations like the Telephone Consumer Protection Act (TCPA), but helps you build trust by only sending customers the messages they want to receive.
Heymarket automatically adds opted-in leads to a new list. The platform removes them automatically if they choose to unsubscribe. When it's time to share SMS marketing content, you can find all customer information in a single inbox, create your message, and press send.
Segment your contacts based on their opt-in preferences to stay compliant. Build lists based on the types of messages that customers have opted into receiving, allowing you to easily send customers the information they requested.
Form connections that stick
Today's consumers want to make authentic connections with your team. Each lead wants to feel like you're treating them like a real person, not just one of many leads.
Heymarket makes it possible to maintain one-to-one connections with every customer. Form personalized connections at scale with: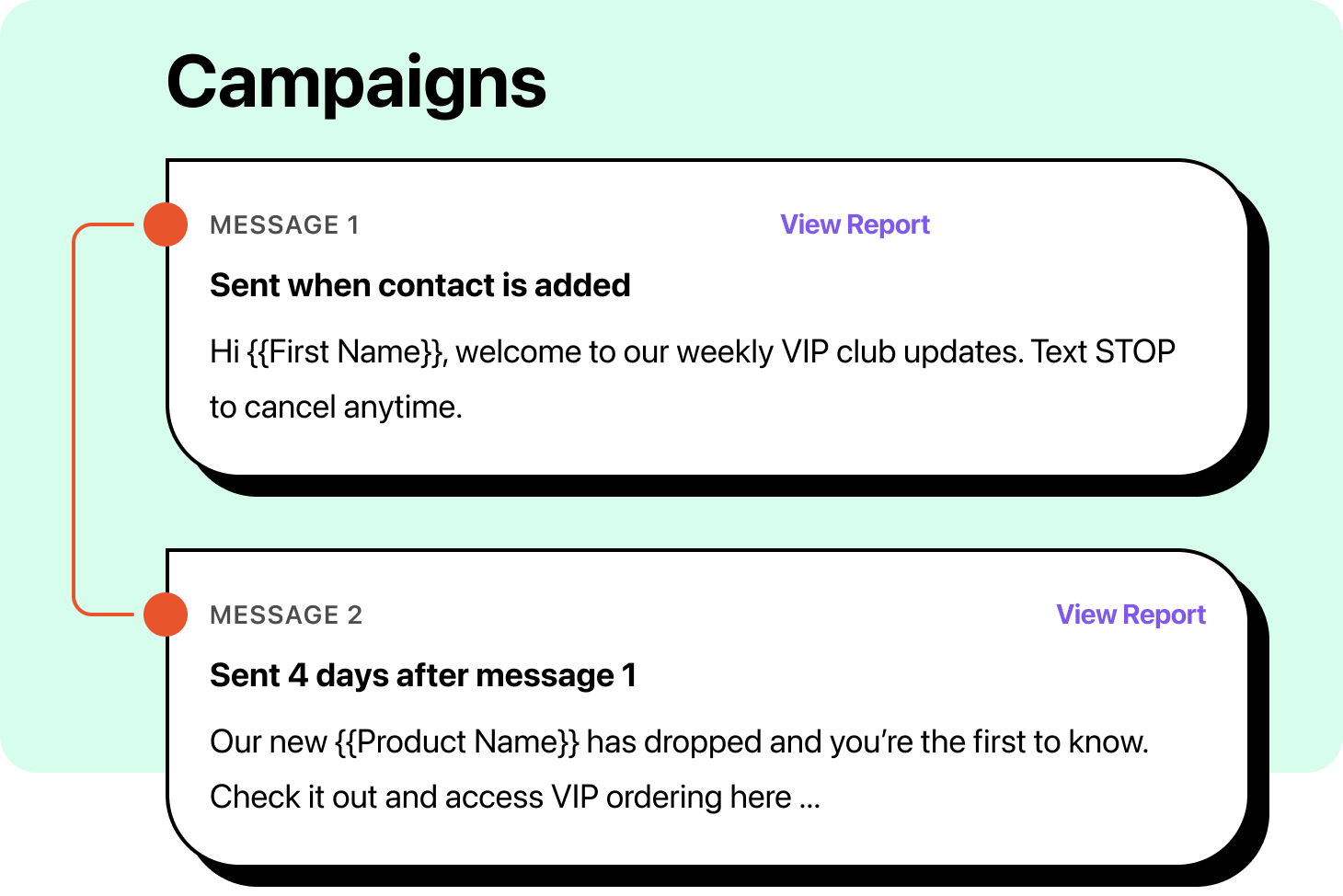 Your personalized SMS marketing content will spark conversations, starting two-way chats that boost conversions. With Heymarket's new sentiment analysis technology, you can identify high-priority messages faster. You can also use intent and keyword analysis to route messages to the appropriate team members quickly, whether they're in marketing or sales.
Personalize every message
Even when you're reaching leads at scale, Heymarket makes it easy to tailor every message to the recipient. Customizable text templates allow you to insert custom fields from your Heymaret contact records, including names, birthdays, purchases, and behaviors.
When you're ready to send your texts, these fields will automatically populate with your leads' information, saving you time while making each message count.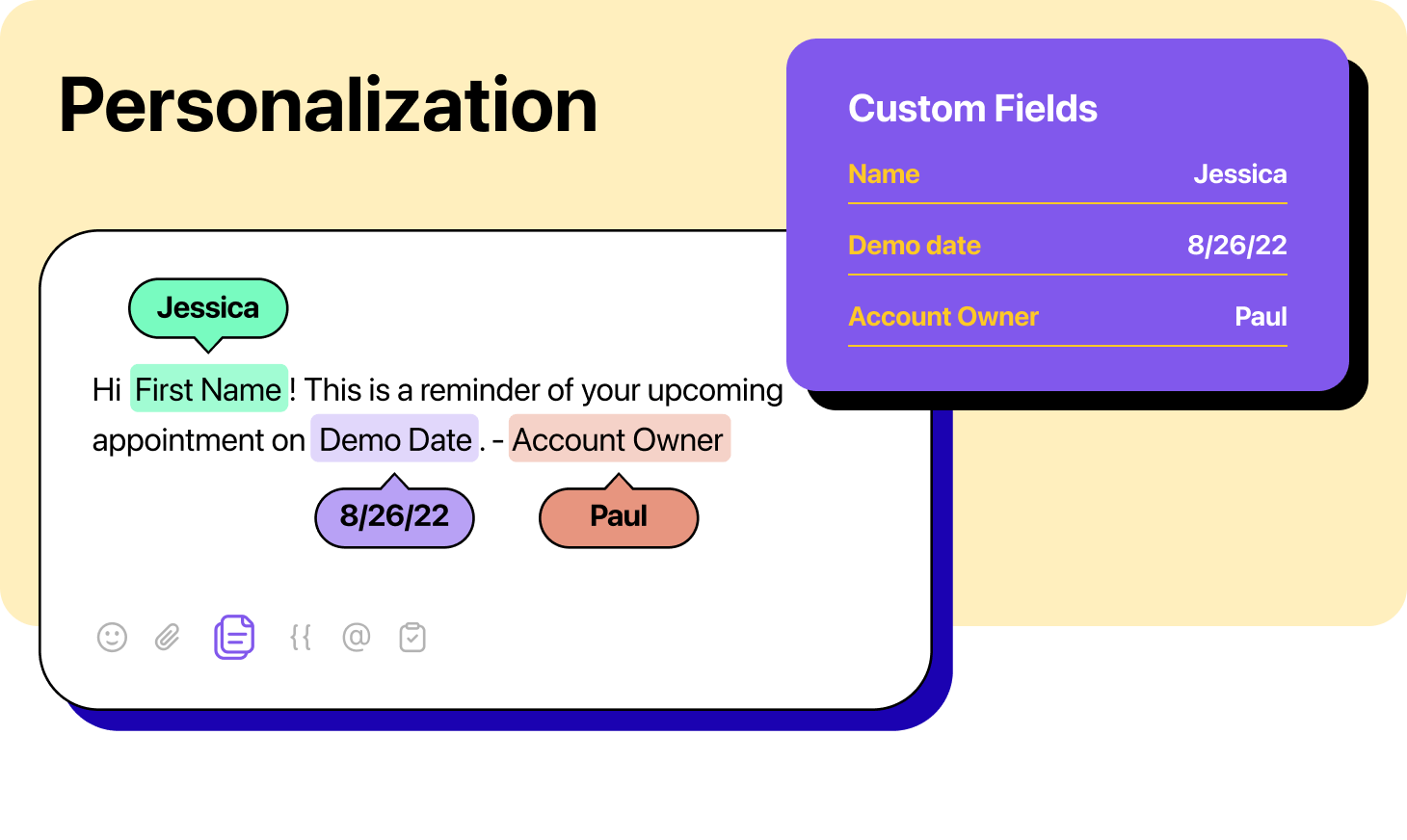 Talk to leads everywhere
Consumers love messaging, but they don't tend to stick to a single channel. It can be hard to figure out how to reach them all.
Heymarket's SMS marketing platform makes it easy to talk to leads through their preferred channels. You can connect with the popular channels they already use to manage all of your conversations from one inbox.
The platform accepts messages from:
No matter where your leads are—from Instagram to a web chat to WhatsApp—you'll be able to engage with them.
Work with tools you love
Every marketer has those tools they live in. The more you can stay within those platforms, the more focused and productive you remain.
Heymarket works seamlessly with the tools your team relies on, integrating to share data and work together. Use data from CRMs or other enterprise systems to create rich contacts, build powerful automations, and automate personalized campaigns that drive results.
Heymarket syncs with popular platforms like:
Whether you love HubSpot or can't live without Shopify, Heymarket streamlines your everyday marketing tasks.
Text with confidence
Every marketer knows that strong customer relationships are built on trust. If leads and customers don't believe that your brand will protect their data, they simply won't sign up for your marketing content.
Heymarket offers enterprise-grade security and administration tools like SAML SSO, custom user roles and permissions, configurable data retention, and restricted view. The platform is compliant with:
SOC 2 Type 2
the TCPA
HIPAA
A2P 10DLC
With Heymarket's security-first platform, you'll make trust (and SMS compliance) easier than ever before.
SMS marketing and beyond
With help from Heymarket's SMS marketing, your team can create meaningful relationships while seamlessly and securely integrating platforms. But that's just the beginning of their SMS journey.
Once your leads are ready to convert, your team can seamlessly hand off leads to sales or customer service for real-time support. Heymarket is a one-stop shop for the kind of seamless experience that consumers have come to expect, from first contact to conversion.