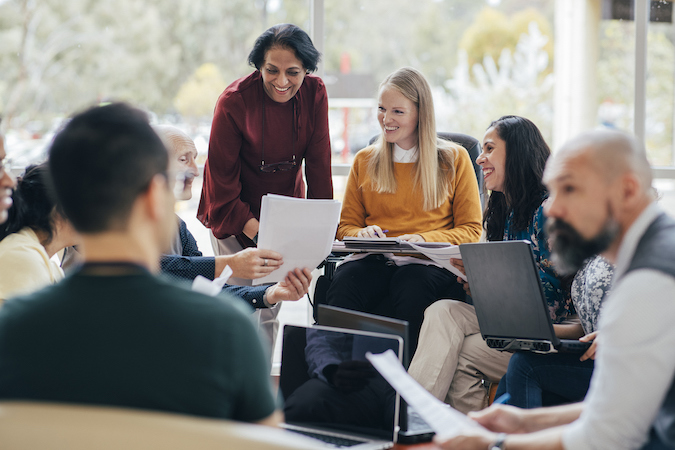 It's no surprise that over half a million organizations rely on Microsoft Teams to help facilitate collaboration with their coworkers and teams. Microsoft Teams' productivity apps take the tool's superpowers one step further. These third-party apps can help you with everything from organizing projects to managing your customer communications—all from within your favorite team collaboration platform.
In this article, we'll introduce the five types of Microsoft Teams productivity apps that will help boost your productivity.
Project Management App Integrations
Forty-one percent of organizations reporting poor project performance blame it on lack of project management. Microsoft Teams's collaboration tools can help improve project communications, but you also need a project management tool, where you list your ongoing projects, identify their owners, and assign moving parts to team members. A project management app integration with Microsoft Teams empowers you to access key project information without leaving Teams. Popular project organization integrations include:
Asana
Asana's integration with Microsoft Teams works similarly to Trello. With it, you can view Asana tasks and even transform Teams conversations into Asana tasks. It also works in Meetings, where you can access and review tasks together for a streamlined experience.
Trello
The Trello integration with Microsoft Teams lets you see your Trello assignments, tasks, and notifications within Teams. You can also easily have conversations about them with team members within the interface.
Poll and Survey App Integrations
Taking the temperature of your team's channel or Meeting can be difficult. That's where polls and surveys come in. With the right Microsoft Teams poll apps, you can put your finger on the pulse of your team (and boost meeting engagement) without having to leave your current conversations. These two polling software integrations offer easy-to-use tools right from your Microsoft Teams interface:
SurveyMonkey MS Teams
SurveyMonkey's Microsoft Teams integration brings a well-known messaging tool right to Teams. You can create a poll, survey, or quiz, share it within a channel, and view survey results and even share them in that channel. It's a great tool for checking on your team's ideas and preferences before taking action.
Polly
Polly's Microsoft Teams integration doesn't stop at accessible polls and surveys. It also empowers you to create a live Q&A session in a Meeting, collect truthful responses with anonymous feedback, and run quick rounds of trivia to break the ice.
Customer Communication App Integrations
Ninety percent of Americans decide whether to do business with a company based on their customer service. But you often need to check with coworkers to make sure your answers are right, and switching back and forth between Microsoft Teams and your customer communication apps can slow down response times. With help from a Microsoft Teams productivity app for customer communication, you can manage customer feedback and queries all from your favorite channel. Here are two of the most popular customer communication app integrations:
Heymarket Business Text Messaging
Heymarket's Microsoft Teams integration empowers you to receive and reply to texts from your customers' favorite messaging channels within the Microsoft Teams interface. All customer messages, whether they're from native SMS apps or third-party messaging services like Facebook Messenger, land in a single Microsoft Teams channel, where anyone can read them and reply. You can also collaborate on texts with other team members, and give specific team members the ability to reply to customers and assign chats to coworkers by @ mentioning them.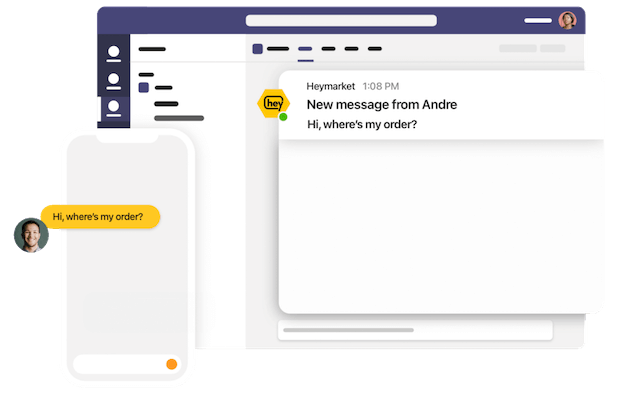 Help Scout
Help Scout's Microsoft Teams integration keeps you updated on the important customer service emails in your HelpScout inbox. When the status of a conversation in HelpScout changes, you'll get a notification right in your designated Teams channel. This integration helps you keep track of what's going on in your HelpScout platform so you can quickly make the switch between platforms and tackle customer queries.
Brainstorming App Integrations
Brainstorming is a critical team activity. That's one reason why meetings or conversations in Microsoft Teams often center around brainstorming in one way or another. Online brainstorming apps are helpful tools for organizing brainstorming sessions when you don't have a whiteboard handy. Use an integration with one of these popular brainstorming platforms to help you brainstorm from within Microsoft Teams and cut to the great ideas faster:
Freehand
The Freehand integration brings a whiteboard to your Microsoft Teams chats and meetings. You can share Freehand whiteboards in chats, show them during meetings, and invite contributions from all participants. Empowering team members to visualize their ideas can make meetings more effective—and efficient.
MindMeister
The MindMeister integration empowers you to create and edit mind maps within your Teams channels. In other words, you can take creative notes, brainstorm projects or pitches, and make plans or strategies come alive with visuals while you discuss ideas in Microsoft Teams channels.
Creative Work App Integrations
Microsoft Teams natively integrates with Word, PowerPoint, and Microsoft 365, which makes it easy to collaborate on important files with your team. But what about creative and technical work? You need to be able to review and comment on those items, too. (And quickly, as good feedback is timely, according to experts.) Enter Microsoft Teams productivity apps for creative work. Two popular options are:
Adobe Creative Cloud
Adobe Creative Cloud's integration with Microsoft Teams lets you share assets in a chat or even pin an asset to the top of a chat for easy access. Plus, you can get notifications in Teams whenever a team member makes a comment or change to an asset in Adobe.
GitHub
GitHub's Microsoft Team's integration brings developers' favorite code sharing tool into Teams. It alerts your team when GitHub projects are worked on, so you know right when you need to head back to the platform—and provides a direct link to the platform when you do.
Choosing the Best Microsoft Teams Productivity Apps for You
Microsoft Teams productivity apps add even more benefits to an already powerful tool. The best productivity app for Microsoft Teams will be the ones that empower you to live in the platform.
Integrate your Microsoft Teams platform with the third-party apps you use every day or those that fill a hole you've been noticing. With help from these top apps for Microsoft Teams, you can streamline your tasks and team collaboration—completing more tasks, faster, every day.
Looking for more information about using apps for Microsoft Teams? Check out our blog.