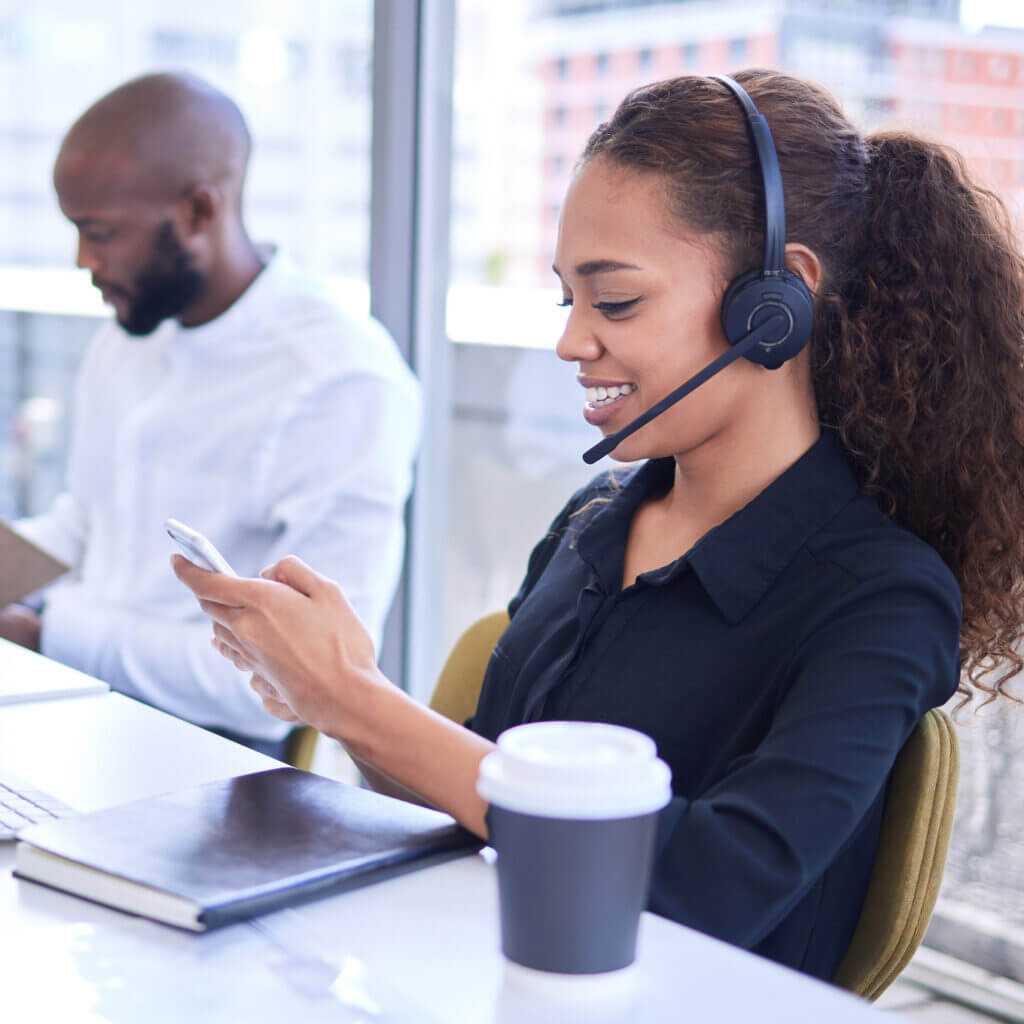 CSAT scores indicate how much your customers are enjoying their experience with your brand. So how do you boost them? Improving how you engage with them is a great place to start. 
Connect via Popular, Convenient Channels
Customers are more likely to connect with you if you offer channels that are easy and enjoyable for them to communicate through. You should still allow them to reach out through traditional channels, like phone calls and email, but spice up your offerings with newer, more popular options.
For example, you should let customers chat with you via:
Offering channels that customers actually like is a great way to encourage them to reach out and engage with you. Plus, if they already like the channel in question, they're more likely to enjoy the experience. This, in turn, can increase your CSAT scores.  
Want a step-by-step look at building strong customer relationships through texting? Read our Beginner's Guide to SMS Customer Engagement.
Get the guide
Reduce Hold Times
Average Americans will spend 43 days of their lives on hold. They can get understandably grumpy if they have to wait to hear back from you for a long time. Reducing their hold times helps you start each interaction on a positive note. 
No matter the channel customers connect with you through, speed up response times by:
Providing an

after-hours auto reply

that lists your business hours

Providing a during-hours auto reply that lists your average response time

Using an

omnichannel messaging platform

that accepts messages from all channels, so you don't waste time switching between them

Creating automations

to answer basic queries that don't need a live agent (most messaging platforms let you create automations based on message keywords or in response to customers' first messages)
These tactics will help you set customer expectations, then answer them as quickly as you can. Fast engagement starts customer interactions on the right foot, helping you boost overall CSAT scores. 
Offer Authentic, Person-to-Person Connections 
When faced with a phone tree, 73% of customers will press "0" to reach a real person. That shows just how much they want to speak to real people. But phone calls are time-consuming, as your team members can only chat with a single customer at a time. While you should always offer phone calls as an option, use your messaging channels to offer faster person-to-person connections. 
Be sure to:
Be upfront that some initial replies (welcome emails, notifications, etc.) will be automated

Emphasize that customers can reach live team members via SMS and messaging quickly

Direct customer responses to automated answers directly to live team members
Transparent, accessible communications that help customers reach your live team members fast are sure to boost customer satisfaction. When you review CSAT scores and any subsequent feedback, they'll be sure to mention the value of reaching your live team members quickly.
Provide Real Value with Outreach Content
When you reach out to customers to engage with them, you have to provide value. Otherwise, they'll consider your content spam. Sending content that customers consider spam can harm your CSAT scores. 
To provide real value, ensure that your outgoing content:
Focuses on customer service (e.g., ticket follow-ups and order notifications)

Is tailored to customer history (i.e., is focused around their loyalty status or recent orders if possible)

Provides product tips or

real-life examples

 

Offers deals or services customers can't find elsewhere (e.g., SMS-specific coupons or consultation services)

Asks and encourages customers to respond with questions and comments
Providing value with outgoing content is critical to engaging customers successfully. They're more likely to read, respond, and get use out of valuable content—further strengthening their positive view of your brand and boosting your CSAT scores. 
Measure Engagement Statistics Regularly 
You won't know how to improve CSAT scores if you don't know how your communication channels are performing. That's why it's so important to measure your performance regularly.
Be sure to:
Choose platforms with built-in reporting capabilities across channels (e.g., an omnichannel messaging platform that tracks stats across channels) 

Identify stats that need improvement (e.g., an email response time that's five times as slow as SMS,

or a channel with a customer waiting time of 30 minutes

)

Make changes by introducing new training or focusing efforts on fast messaging channels as opposed to slow phone calls

Monitor your results

for a month or so, then repeat the process
Measuring performance and constantly iterating on your engagement channels is a great way to improve how you communicate with customers. Ultimately, this ongoing process is one of the best ways for you to perfect the customer experience—and increase your CSAT scores.  
Ready to boost your customer engagement strategy with business SMS? Read our Beginner's Guide to SMS Customer Engagement.