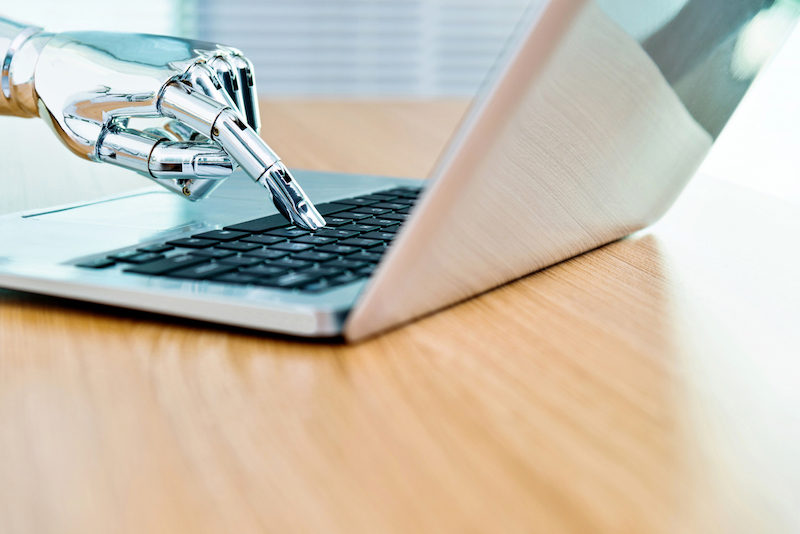 Omnichannel chatbots and business texting are sometimes presented as two opposing communication channels. But can you really compare a chatbot vs. human texting? Should you choose one over the other? Let's dive in. 
What Is An Omnichannel Chatbot?
An omnichannel chatbot (sometimes called an omni chatbot or an omnichannel bot) is a messaging tool that sends pre-written, automated responses to customer queries, no matter which messaging service the queries come from. It can greet customers, recognize frequently asked questions, and provide customers with basic answers, like business hours and return policies. 
Omnichannel chatbots are often used by omnichannel eCommerce brands since they can help manage a high volume of incoming customer queries from multiple online shopping channels. They are also useful for brands across industries that use an omnichannel strategy. 
They are often a prominent feature of omnichannel messaging platforms, tools that empower you to set up omni bots and also interact with customers personally. These platforms let you receive and reply to messages from a variety of messaging channels, including native SMS, Facebook Messenger, Instagram Messaging, WhatsApp, Google's Business Messages, Apple Business Chat, and website chatbots. 
Want to learn more about engaging with customers across all popular messaging channels? Read our omnichannel messaging guide.
Want to learn more about engaging with customers on their favorite channels? Check out our Omnichannel Messaging Guide.
Get the Guide
What Is Business Texting?
In the past, business texting referred to a short messaging service (SMS) or multimedia messaging service (MMS) that allowed you and customers to chat person-to-person. You could only text customers who had native SMS apps on their phones. 
Today, business texting is used to refer to messaging from all kinds of services. Business texting platforms empower you to text and message customers from the same messaging services that omnichannel messaging platforms do.
Business texting can be used to answer customer service questions and requests, manage returns, coordinate appointment scheduling, troubleshoot technical product issues, and for other more complex tasks. Due to its many use cases, it's a popular tool across industries. 
How Do The Tools Compare?
Omnichannel chatbots and business texting have a few clear differences. Omnichannel chatbots are automated while business texting most often means person-to-person messaging. (You can set up a business texting auto reply, but most texting is between customers and your team.) Omnichannel chatbots are great for answering simple questions while business texting can be used to manage more complex queries and tasks. As we mentioned earlier, business texting was once confined to SMS, but modern platforms empower you to connect with customers from all popular messaging services.
Which Is Better: Omnichannel Chatbot vs. Human Texting?
When comparing omnichannel chatbot vs. human texting, both tools are features of omnichannel messaging platforms and they are useful in different ways. In other words, you don't need to make a choice between them; you can choose them both. In fact, we recommend you do. 
How Do The Tools Work Together? 
You can capitalize on the benefits of both tools with ease. First, you'll need an omnichannel messaging platform. Next, choose the messaging services you want to integrate with. Then, you can set up an omnichannel chatbot with auto responses to FAQs. The omnichannel chatbot will send customers the same response no matter which channel the original questions come from. 
Keep in mind a few best practices for integrating your chatbot and human texting strategies:
Use your chatbot for basic FAQs.

Use your chatbot to answer simple questions only. It should be able to answer all of the questions you have listed in the FAQ section on your website. 

Let your chatbot open conversations

. Use an auto response as soon as customers text in. Your auto response can say hello, introduce your team or company, and let customers know how long they can expect to wait for replies. Your chatbot can even open conversations, asking customers how your team can help. 

Route customers to live team members for complex questions

. Your omnichannel messaging platform should empower you to route customers to live team members for more complex questions. For example, your chatbot might say hello to a customer, but once it detects a phrase (like "frayed shirt") that it doesn't understand, it should seamlessly direct that conversation to your

shared inbox

, where you

r team

can reply. 
You don't have to choose between omnichannel chatbots and texting (or any other messaging channel). With both tools working together, your team can answer more queries, faster than ever before. 
Want to learn more about engaging with customers across all popular messaging channels? Read our omnichannel messaging guide.