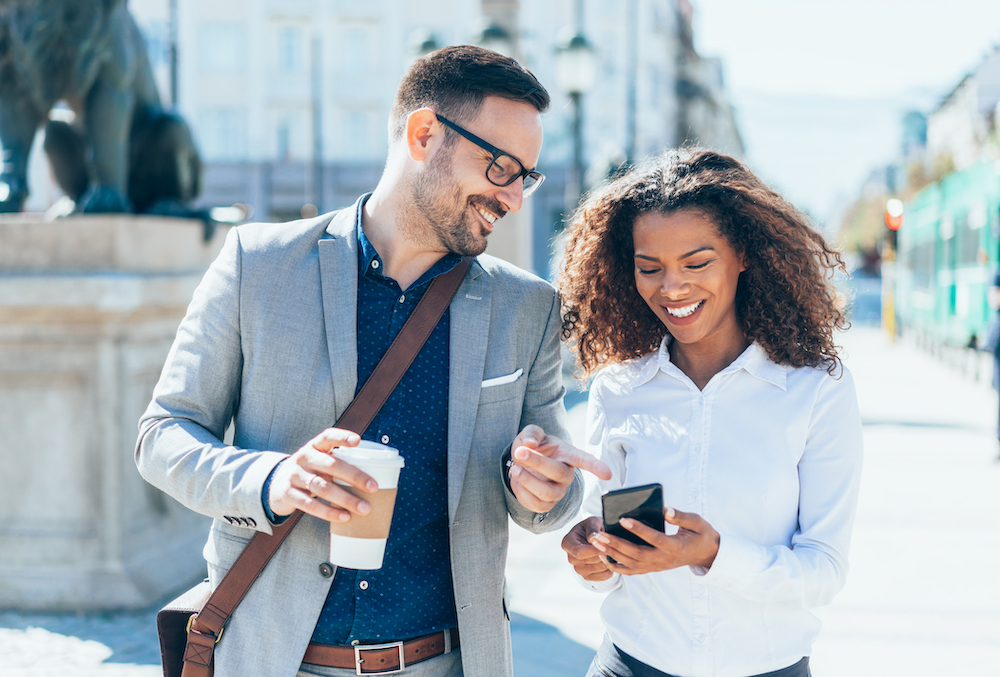 Consumers are looking for more personal connections with brands. Brands are responding with conversational customer engagement (CCE), a new strategy that centers on creating personalized relationships with customers through person-to-person chats. But once you're up and running with your conversational customer engagement strategy, how do you improve it? Here are nine ways to deliver better customer experiences and drive more conversions.
What is Conversational Customer Engagement?
We love when local shops remember our orders. Gestures like a barista remembering your order are small, but they give the kind of personalized touch that'll gain your loyalty for years to come. 
Conversational customer engagement builds on that same idea. It involves having one-on-one conversations with your customers through messaging channels.
Examples of conversational customer engagement include:
Responding to incoming queries with customers' names and details on past interactions

Doing personalized follow-ups for support tickets

Conducting customer surveys

Encouraging one-on-one conversations by publishing your messaging entry points on your website
Creating these personalized interactions builds rapport and helps your team understand customers better and make relevant recommendations based on their needs.
Why Should You Care About Conversational Customer Engagement?
Consumers today have more choices than ever. Do the bare minimum in terms of customer experience, and your once loyal customers will look for alternatives. 
Developing a conversational customer engagement strategy helps your business:
Deliver more positive experiences and increase customer loyalty

Reduce churn rates by demonstrating genuine interest in your customers

Gather customer feedback that you can use to improve your products or services

Uncover more upselling and cross-selling opportunities
Experiences matter more than ever. By holding one-on-one messaging conversations with your customers, you can deliver better experiences and generate more revenue.
How to Improve Your Conversational Customer Engagement Strategy
Having great products alone isn't enough to set your business apart. Building brand loyalty and driving business growth starts with a solid conversational customer engagement strategy.
1. Create a Customer Journey Map
A customer journey map is a graphic that illustrates key touchpoints that a prospect has with your brand to achieve a specific goal. Examples of a goal include making a purchase or signing up for a newsletter.
The main stages of the customer journey are:
Awareness

Consideration

Decision

Retention

Advocacy
Mapping touchpoints across each stage will help you understand your customers and how they engage with your brand.
For example, a prospect in the awareness stage may discover your brand on Facebook but still have questions. You could enable Facebook Messenger on your page and make it easy for visitors to send a message.
2. Optimize the Website Experience
Your website is often the first point of contact that prospects have with your brand. Fail to make an impression, and your visitors will bounce before you get a chance to start a conversation.
Ask the following questions to help you evaluate your website:
Is the website

discoverable in search engines

?

Are there any issues that may prevent users from navigating your site?

Is the website accessible on mobile devices, like tablets and smartphones?

Is the content well-written and structured properly?

Is the checkout process optimized? 

Does the website load quickly?
Take a critical look at your website and note down areas for improvement. 
The first step toward opening a conversation with customers often entails collecting information on the nature of their query. Well-optimized web and mobile forms are essential for workflow automation and will ensure that you don't lose leads due to poor user interface design.
3. Implement a Chatbot
Omnichannel chatbots are changing how customers interact with their favorite brands online. They help answer visitors' basic questions, or connect them with a live agent for more complex queries. An omnichannel chatbot is an asset to your CCE strategy because it helps your team support more customers while spending more of their time on conversations that require a human touch. 
Visitors to Track-POD's website, a service that offers route optimization software, can use the chatbot to learn more about its services and even book a meeting.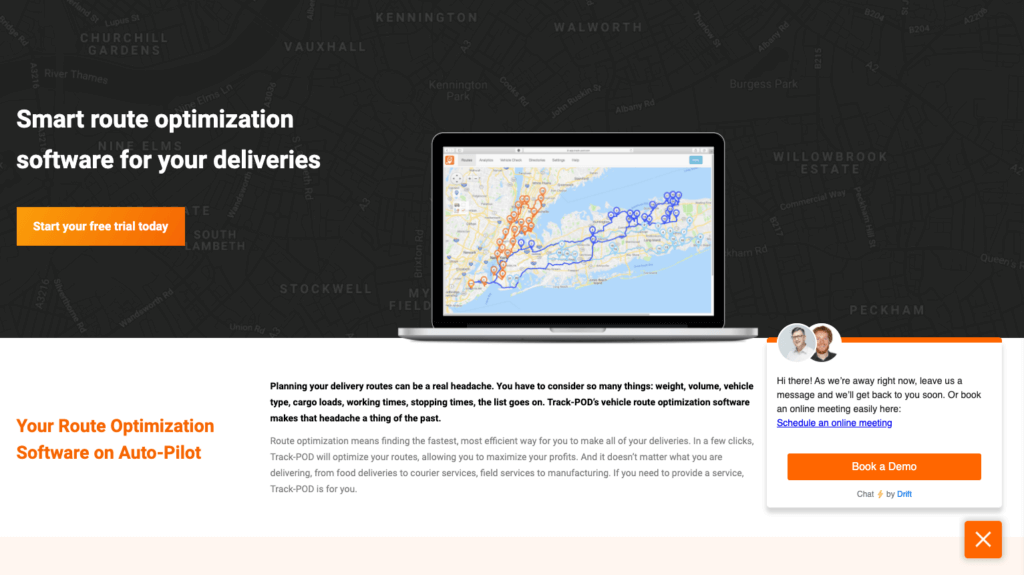 Implement a chatbot on your website and give it a "personality" to help your conversational customer engagement strategy. Use your brand guidelines to inform whether your bot should be more fun, professional, or a combination of both. 
4. Offer Omnichannel Support
Offering omnichannel support is a must. It allows you to connect with your customers on the channel that is most convenient to them.
A good place to start is a business texting platform that allows you to manage conversations from popular messaging apps like WhatsApp, Facebook Messenger, Instagram Messaging, and more, all from one place.
5. Enable Social Media Messaging 
More consumers are turning to social media for product research  — eight out of 10 Instagram users use it to research their purchases. Another way to improve your conversational customer engagement strategy is to enable messaging on the platforms they're already using.
If someone has a question about your products or services, they can send a quick message instead of dialing the phone or waiting for an email response. Convenient one-on-one messaging facilitates more personal conversations.
6. Personalize Your Offers
Taking customer engagement to the next level means personalizing customer interactions based on their specific interests. If a prospect has a question about a product, you can use that as a starting point for future conversations. This helps you make customer interactions more relevant and personal.
But a word of caution here. Keeping customer data safe is essential, especially with the increase in cyberattacks in recent years. Use secure data centers to store and protect customer data against unauthorized access safely.
7. Use Videos
Customers will likely have questions about your products or service. If a customer reaches out via text with a question, you can reply with links to videos and stand by to provide assistance.
As an example, PandaDoc regularly uses videos as an educational tool. Their clients can learn about how their services work with videos thanks to "Getting Started Guides."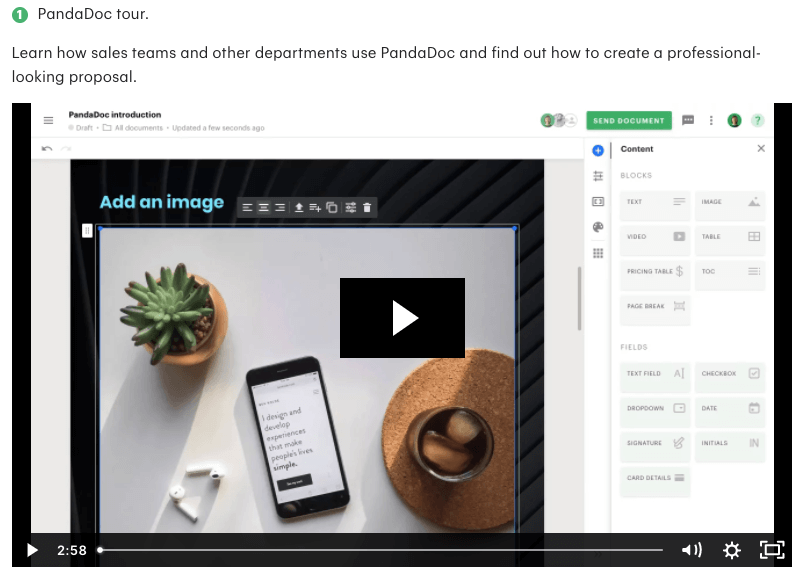 Similarly, using video can be a great way to increase conversational customer engagement well after you've made a sale.
8. Measure Customer Engagement
Now that you've implemented ways to improve your conversational support strategy, you need to measure customer engagement. Otherwise, how would you know if your efforts are working?
Here are some customer engagement metrics you'll want to track:
Net Promoter Score (NPS)

Customer satisfaction score (CSAT)

Visit frequency

Churn rates
Of course, you can also take a proactive approach and reach out directly to customers and ask for feedback. This shows that your company is committed to improving their experiences.
9. Empower Your Team
The more equipped your team is to interact with customers, the more seamlessly and valuable their conversations with customers will be.
Empower your team to have great chats by:
Providing adequate customer support training to all employees

Giving employees the authority to make decisions on resolving issues

Equipping your team with the right tools to manage customer interactions

Encouraging your team to work together to solve problems
Implementing these strategies undoubtedly takes time and effort. But they'll help your business deliver more value in the long run.