A Business Grade, Shared Inbox for Facebook Messages
More businesses than ever before are now making their Facebook business page their de facto web page. Everything that you once could do with a website, you can do with a Facebook page – and that includes being able to communicate with clients, customers and prospects in real-time. The Facebook Messenger feature has been embraced by a wide range of businesses for everything from customer service to client relations, and now Heymarket makes it possible to integrate this Facebook Messenger functionality into all of your other business text messaging.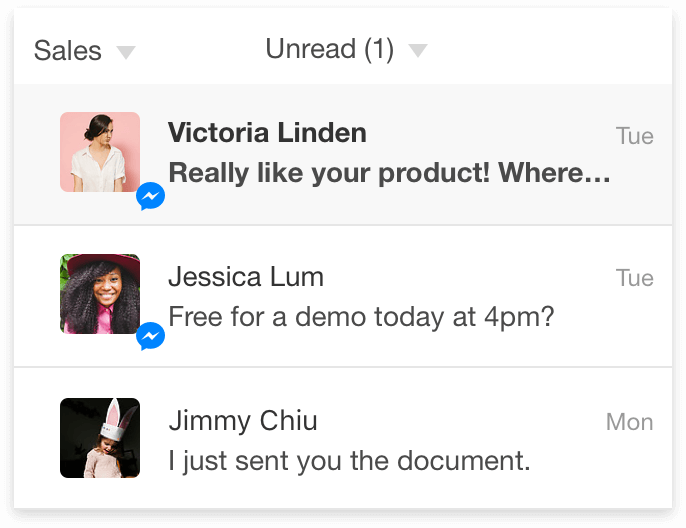 Using Facebook and Heymarket for High Volume Businesses
For example, imagine that you're a pizza restaurant with several different locations in one city (or several cities). By enabling Facebook Messenger right on your Facebook page and integrating with Heymarket, you could make it easy for customers to send a quick message to your restaurant. Do you deliver to their neighborhood? What's the latest you can order a pizza at night? What are the most popular toppings to include on a pizza pie? All of those are questions that customers routinely send over Facebook.
And when they do, they expect a fast reply. That's where the Heymarket integration is so valuable. You can take advantage of Heymarket's advanced features, like assigning customer chats to specific members of your customer service team or even being able to create templates that are ready to go for a promotion. When a message comes in from Facebook, it can be immediately picked up by the right team member. If photos have been added to your Heymarket template, you can not only tell the customer what to expect – you can show them!
That same type of functionality can be extended to just about any type of business – the local real estate broker, the design and interior decor store, or the neighborhood florist. Being able to respond quickly in real-time to any message coming in over Facebook is absolutely essential. Fast responses mean that you can close the sale, right there on the spot.
Facebook and Heymarket for Complex Orders
The more complex your product and service offerings are, the more helpful it is to have Heymarket managing all of your business messages. Unlike a pizza restaurant, furniture store offerings are not as standardized and easy to order. Some customers might prefer modern furnishings. Others might want vintage or antique items. Not to mention the fact that customers are spending hundreds, if not thousands, of dollars on every purchase. Imagine the kind of customer loyalty you can create by making it possible for customers to get personalized design help right from within Facebook without having to step foot into a physical store!
Best of all, Heymarket is completely seamless with the whole Facebook experience. As long as Facebook Messenger has been connected to the Facebook page, Heymarket will work. A customer sending a brief message with Facebook Messenger – especially when they are doing so from a mobile device – now expects brands and small businesses to be just as responsive to their queries and comments as their friends and family. And that's exactly what Heymarket delivers – a superior, real-time customer experience that improves the entire Facebook communication process for businesses everywhere.