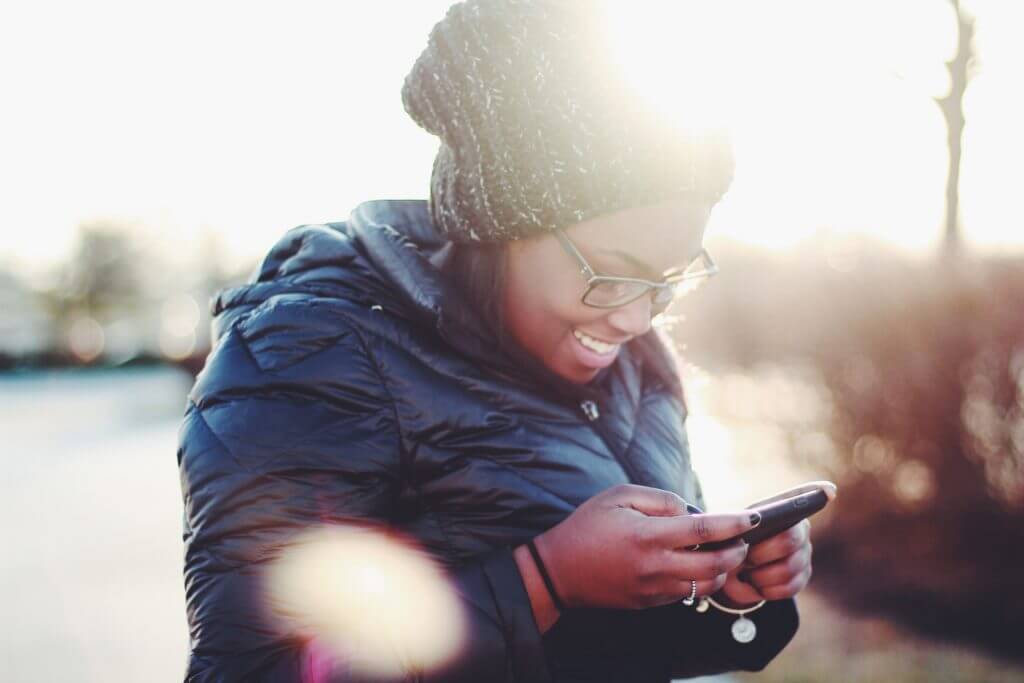 Customer satisfaction is a priority for modern businesses, which explains why CSAT (short for "customer satisfaction") is one of the most commonly measured key performance indicators (KPIs). Many businesses use a CSAT-centric survey to measure the level of satisfaction a customer feels toward a specific product, transaction, interaction, or service. These surveys usually ask customers to choose a number on a 5-point scale, ranging from "very unsatisfied" to "very good." 
But while brands have improved their customer service over the past few years, customer expectations have increased, too. For example, 54% of all consumers and 66% of consumers aged 18 to 34 years old have higher expectations for customer service today compared to one year ago. 
So how can businesses keep up? Business SMS just may be the answer. Read on to learn how. 
Looking for more ways to streamline your customer service with texting? Read our SMS Customer Service Handbook.
Get the guide
Respond Immediately, Even After Hours
Business SMS empowers customer service teams to respond immediately to all incoming messages. Even when a customer texts late in the evening, they expect some sort of reply (can be automated); after all, messaging etiquette says waiting more than 20 minutes to respond to a text can be seen as rude. With a business SMS platform, teams can set up both after-hours and during-hours replies. During-hours replies can mention average wait times, and after-hours replies can list hours of operation.
Pro tip: Teams can set up multiple after-hours replies that respond to different keywords. For example, incoming texts with the words "complaint" can receive a different response than texts with the word "opt in."
Get Answers to Customers Faster
When your team's inbox is overflowing, the simple act of figuring out who should answer what becomes a challenge. Even with the help of a shared inbox, agents might struggle to assign themselves and their co-workers chats. With a business SMS platform, teams can enable automated routing, which automatically directs texts that contain certain keywords to relevant agents. This feature empowers teams to answer incoming messages far more quickly, boosting customer satisfaction with your services. 
Pro tip: Advanced platforms provide SMS integration capabilities that allow agents to integrate business SMS into their current workflows. For example, a Slack SMS integration allows team members to read and send text messages from within Slack. This can expedite agent response times further.
Offer a Personal Touch
When you use automations, you'll want to personalize as many aspects of your messages as possible to make customers feel like your agents personally wrote each text. First of all, agents should always include signatures within their messages. Additionally, advanced business texting platforms use merge tokens to insert personalized customer information based on their custom fields, which allows your teams to send templated messages to lists. These messages arrive with full customizations, making it seem as though your teams sent each text individually. 
Pro tip: While you can manually fill out customers' custom fields within your business texting platform, there's an easier way to add this information. When you integrate your texting platform with your CRM platform, custom fields are automatically updated in real-time. 
Never Miss a Chance to Circle In
Earning high levels of customer satisfaction has a lot to do with making customers feel as though you really care what they think. To do this, agents often circle back in with customers who they've already served to ensure that they were wholly satisfied with the product or service they received. With scheduled messages, business SMS empowers team members to schedule follow-up texts for the future, so they never forget to check back with top customers. 
Pro tip: Drip campaigns are useful for teams that need to send multiple follow-ups. These automated features can be used for messages like delivery notifications and appointment reminders, among others.
Add Some Personality
Customers aren't interested in old-fashioned, corporate branding anymore—they want transparency and authenticity. This is especially true of business SMS; customers want to text with humans, not bots. To give customers more of what they want, try to add some personality to your business texts while remaining professional. This can include livening up your tone, including the occasional emoji, and even adding GIFs where appropriate. 
Pro tip: Use emojis and GIFs in positive, simple conversations. These features should never be used in the middle of serious conversations, such as complaint resolutions.
Get More Feedback with an SMS Customer Satisfaction Survey
One of the best ways to improve your customer satisfaction scores is to keep regular data on it. And the best way to collect that data is through surveys. Business SMS is one of the most effective channels for collecting customer feedback about your products or services, boasting an impressive 31% response rate for SMS customer satisfaction surveys. Be sure to regularly measure your CSAT scores, especially after implementing new automations or tactics.  
Pro tip: It can be difficult to choose which kind of SMS customer satisfaction survey to send. Use CSAT surveys when measuring short-term customer satisfaction and NPS surveys when measuring long-term customer loyalty. 
Want more ideas for building an excellent customer experience with texting? Read our SMS Customer Service Handbook.