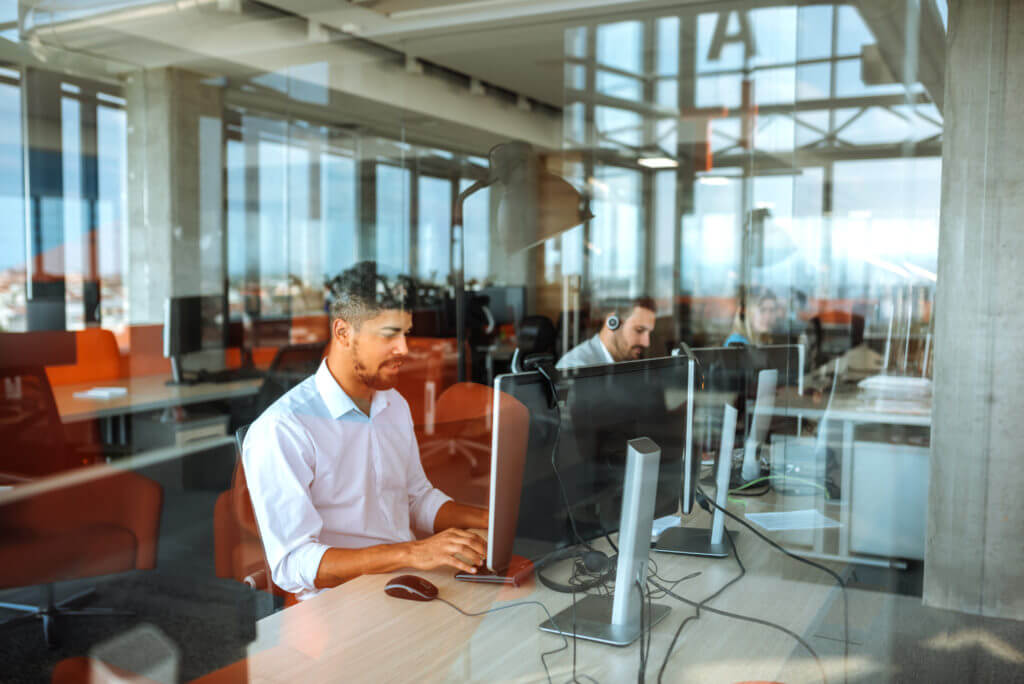 There's no denying that business communications are changing. Today, 80% of people are currently using texting for work-related purposes and one in five consumers is likely to prefer a business text message to a phone call. But no part of business communications has changed quite as much as call centers—better known today as omnichannel contact centers. 
Originally call-based, customer service contact centers have changed drastically over the past few years, particularly in reaction to new messaging channels, like email and web chat. But with the additional help of sleek new business text messaging platforms, contact centers have become more efficient and streamlined than ever before.
How has business text messaging transformed omnichannel contact centers? Read on to find out.   
Want to learn more about engaging with customers on their favorite channels? Check out our Omnichannel Messaging Guide.
Get the Guide
Increasing the Volume of Resolutions 
Back when contact centers were call centers, customer service agents were forced to focus on a single customer service conversation at a time. A phone call requires an agent's full attention—even while a customer searches for the right words or looks for their order number that they wrote down on the kitchen fridge. 
When agents use business SMS to communicate with customers, they automatically spend less time focused on each customer—without sacrificing the quality of service. For example, while a customer searches for their order number, an agent can quickly send an order notification to another customer or start a new chat with the next customer. 
Business text messaging platforms also help streamline omnichannel contact centers. Cutting-edge platforms, for example, allow agents to receive all of their messages in a single inbox, whether they come from native texting apps or third-party apps like Facebook Messenger. Agents can reply through the business text messaging app and customers receive responses from within their original channel of choice. Because agents don't have to flip through different interfaces to answer messages, they save even more time.
The ground-breaking efficiency of business texting platforms doesn't end there. With the help of automations, teams can send personalized messages to customers without needing an agent to initiate the action. Agents can schedule messages to be sent to large lists, reducing the amount of time they would spend either calling or messaging customers individually for small tasks like appointment notification or order updates.  
Each of these time-saving features of business text messaging platforms has helped omnichannel contact centers increase the volume of queries that agents solve—without increasing staff. 
Increasing Customer Satisfaction
Even though omnichannel contact centers are increasing the volume of customer resolutions without increasing staff, customer satisfaction isn't declining. In fact, for most companies that use business texting platforms, it is increasing. Customers are receiving:
Faster Responses
Texting is a fast-paced channel. Ninety percent of texts are read within the first three seconds of receipt, and the average response time for a text is 90 seconds. With the additional help of auto-replies and automated routing, customers receive responses faster than ever. 
More Personalized Replies
Mass texting today is a lot different than it looked in the past. Using merge tokens, business text messaging platforms can draw on customers' custom field information to automatically include personal information in mass texts. Agents also draw on third-party integrations to share data seamlessly between platforms, so that customer data is always accurate. 
Increased Contact Options
Business text messaging platforms have also increased the options customers have when they want to contact businesses. Because these platforms can integrate with so many other messaging channels, customers can use any channel they feel most comfortable with to contact their favorite brands, increasing both their willingness to communicate and comfort while doing so.
Build an Omnichannel Rapport
A lot of businesses struggle to make the leap from multichannel contact centers to omnichannel contact centers. What's the difference? 
Multichannel contact centers or SMS contact centers offer customers the option of connecting with a business through many different channels, like phone calls, email, native texting apps, and third-party messaging apps. Omnichannel contact centers also offer customers the option of multiple channels—but, in addition, they provide a seamless, uniform experience, no matter what channel the customers choose. 
Business text messaging platforms fix a lot of these problems. For example, because they can integrate with other platforms, they can sync customer data. Agents can quickly review a customer's past interactions no matter through which channel, and tailor conversations to incorporate comprehensive background data.
With this kind of integration, any business can transform its multichannel contact center into an omnichannel contact center.
Want to learn more about engaging with customers across all popular messaging channels? Read our omnichannel messaging guide.