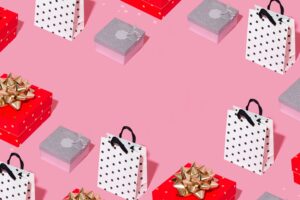 Rolling out a new tool across all of your stores is a monumental task. Before taking the leap, you need to make sure your brand can actually make the most out of it. This is especially true when it comes to a new technology, like retail SMS.
Retail SMS is text messaging managed through a text service for business. The platform helps teams send, receive, and organize texts on a mass scale. This fast-paced, convenient channel is a must-have for retailers that need to manage communications on a mass scale. 
Let's explore the top 10 ways enterprise retailers use retail SMS, from answering customer questions to increasing the number of online reviews. 
Answer Customer Questions with Retail SMS
Customer service teams for large retailers receive a lot of incoming customer messages from multiple channels—all at once. With help from a retail SMS platform, messages from most channels (such as native SMS and over-the-top (OTT) apps like Facebook Messenger, Apple Business Chat, Google's Business Messages, etc.) are accepted into a central, shared inbox. Agents respond through the central inbox, and customers receive their replies through the same channel they were sent. To ensure no customer messages slip through the cracks, agents with the correct permissions can see each incoming customer message. 
Share Order Updates with Retail SMS
Due to consumer services like Amazon Prime, customers expect to receive order updates quickly, and through a convenient channel. Retail SMS is the perfect way to get your order updates to customers no matter where they are. With a retail SMS platform, your team can send order updates en masse. As each message exits your platform, it uses merge tokens to draw on custom field information (such as their product name) and personalize each text. Customers receive personalized texts that look as though they were sent individually. 
Coordinate Returns with Retail SMS
While the ordering process often receives a lot of support from retailers, customers are often left in the dust when it comes to returns. Retail SMS is a great way to improve your returns system. You can use text messaging for retail to offer assistance for any questions during the customers' return process, provide confirmations when returned items are received, and send notifications when payment has been posted to customers' credit cards. You can even create an initial instructional auto reply that sends when customers text in with specific keywords.
Follow Up with Retail SMS 
After a customer conversation, delivery confirmation, or return confirmation, it's always a good practice to check in and see whether your customer is satisfied. With retail SMS, team members can streamline the process, simply scheduling out messages to lists of customers who have made orders recently or just completed a customer conversation. By scheduling these messages out, team members can ensure they won't forget to check in. 
Ask For Feedback through Retail SMS 
Enterprise retailers often send feedback requests via email, but receive few replies. This is because email has a low open rate of 20% and a response rate of 6%. On the other hand, retail SMS has a 98% open rate and a response rate of up to 80%. Sending feedback requests through retail SMS gets customer attention quickly, increasing the likelihood that they actually respond to your feedback requests. (For example, you can send a quick text asking customers to rate a recent order from 1-5.) Be sure to acknowledge suggestions. Actively listening to your customers' feedback can boost customer satisfaction. 
Get Online Reviews through Retail SMS 
It's important to get customers to leave product reviews on your website or, depending on your business, on a review website like Yelp or Google My Business. An astonishing 76% percent of people trust online reviews as much as they do personal recommendations. Retail SMS empowers your teams to quickly send requests for online reviews to the most convenient channel possible for customers. Customers can easily go from your text to your website or a third-party website, leave a quick review, and help attract more loyal customers to your retail stores in the future. 
Let Customers Know What's In Stock with Retail SMS
If your business has an item that is continually out of stock, you'll probably have customers text in with questions about it often. With a retail text message marketing platform, you can simply add those customers to a designated list. When the item comes in stock, it'll be easy to shoot them a quick text letting them know that it's available in stores or online. 
Offer Product-Related Tips with Retail SMS
Fifty-four percent of customers will think about patronizing a different company if you don't offer engaging content. SMS marketing for retail allows your teams to engage with customers in an authentic way. For example, you can offer useful tips for your products' care. You can even include emojis or GIFs to seem more casual and friendly. For example, if you sell designer purses, send leather care tips. If you sell hair products, send styling tips, including a relevant emoji. 💇
Announce Events with Retail SMS
If your business has brick-and-mortar stores, you want your customers to get through your doors more often. One of the best ways to entice your customers into stores is to invite them there. Be sure to announce any upcoming store events—or online video events—via retail SMS. You can even create special events that are exclusive to your SMS customers. This kind of VIP treatment can boost foot traffic. 
Give Seasonal Greetings with Retail SMS 
It's important to let your customers know that you're thinking of them, even outside of a shopping context. Consider sending quick holiday greetings or similar holiday-adjacent texts to engage your customers and remind them about your brand right when they might be looking for a few gifts. 
Ready to test out retail SMS? Try our text service for business for free today.