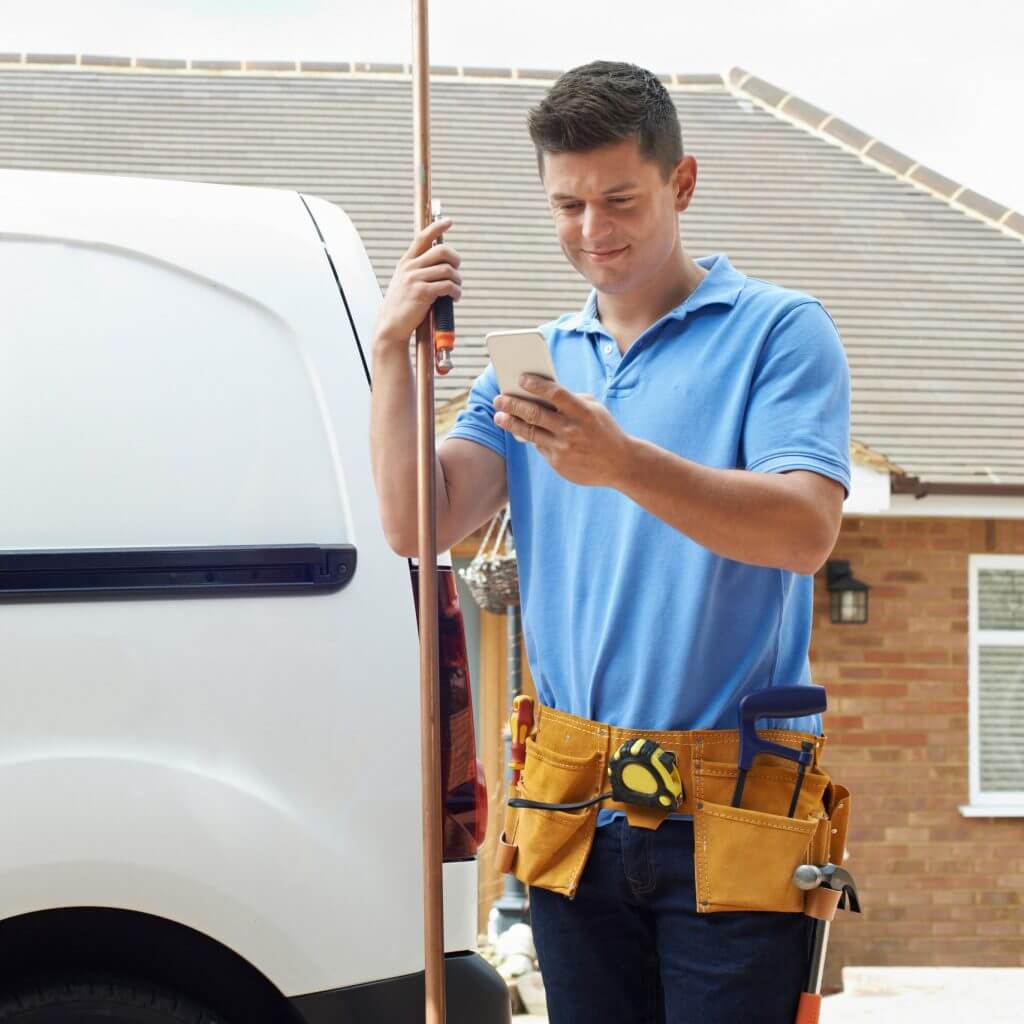 The COVID-19 pandemic forced home services teams to rethink how they communicate, and many adopted text messaging for home services. Read on to learn how you can use these learnings to improve safety and efficiency during pandemic-free operations.
Contactless Customer Communications
COVID-19 made face-to-face customer interactions risky. Customers were no longer keen to have contractors on their premises when it wasn't absolutely necessary—especially inside their homes. Texting for home services helped businesses and customers adapt. 
Teams began to use home services SMS for more tasks than ever before, including:
Scheduling appointments

Evaluating pictures and videos of customer requests

Sending quotes

Answering questions

Asking for feedback
Relegating all of these tasks to home services SMS had two results. First, home services businesses were able to achieve safe, contactless customer communications. In addition, teams were able to decrease quote-to-job times since teams managed evaluations, quotes, and scheduling all via home services SMS. 
Pro tip: If you decide to keep (or adopt) contactless communications, be sure your home services SMS platform offers a shared inbox. All customer messages will arrive in this inbox, no matter whether they're sent from native SMS apps or messaging services like Facebook Messenger, WhatsApp, Apple Business Chat, or Google's Business Messages. A shared inbox will also offer efficiency tools that make it easy to manage a lot of messages, like private comments for collaboration. 
Remote Staff Management
During COVID-19, staff management became more challenging. Teams couldn't gather and coordinate in person, especially in office buildings. Texting for home services empowered managers to organize their teams from afar. 
Managers began to rely on home services SMS to connect with team members. For example, they used it to:
Share shift schedules 

Provide upcoming home appointment details

Answer questions and concerns from field workers

Coordinate last-minute shift changes

Offer training tips 

Send procedure and safety reminders
Texting for home services made coordinating with team members a lot safer. Plus, it showed managers that they don't need to see team members face-to-face in order to share shift details, reinforce training, or share timely information. Remote communications have made staff management far more efficient than ever before.  
Pro tip: Use personalized mass texting to send shift information to your team quickly. The process is simple. First, choose or write an SMS template, leaving space for custom fields. Then, select a list of recipients (e.g., "All Staff" or a specific department) and press send. Your home services SMS platform will personalize each outgoing message with custom information like first names and shift times. 
Distanced Home Services Appointments
Distance became a must-have during the COVID-19 pandemic—even during home services appointments. Home owners tried their best to stay away from their homes while professionals were working on them. Sometimes, they simply kept to another side of the house. Texting for home services allowed providers to coordinate on-site appointments in real-time but without face-to-face conversations. 
Teams began using home services SMS to manage all things related to home services visits, including:
Announcing arrivals

Coordinating home or yard entry 

Relaying real-time notifications about changes to jobs or timelines

Confirming job completion 
Home services SMS empowered customers and teams to work together from afar, improving safety. Now that teams and customers are confident about working while homeowners are away from their sites, they have a lot more flexibility when choosing dates for on-site work. This can lead to faster job completion, and increased customer satisfaction overall.  
Pro tip: Choose a home services SMS platform that works as a web app and a smartphone app. With help from the smartphone app, your field staff can coordinate with customers while they're on the go. 
Want to learn more strategies for texting messaging for home services? Check out our guide to business text messaging for home services.