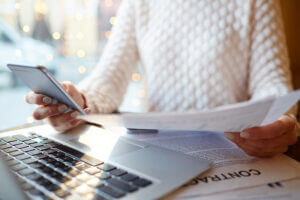 More and more communications are moving online, and the insurance industry is no exception. Whereas in-person chats and information sessions were the most common way for agents to connect with potential clients before, all that has changed. Clients prefer faster, contactless marketing communication methods. But insurance agencies are finding that online tools are effective, inexpensive, and easy to integrate into existing strategies. Take SMS marketing for insurance agents, for example.
Potential clients would much rather receive SMS messages than chat in person. In fact, 90% percent of leads would rather be texted than called. Texts are also more efficient for insurance firms. SMS marketing for insurance agents relies on powerful business text messaging platforms. These platforms make it easy for insurance agents and staff to send, receive, and manage potential client messages. 
On top of all that, it's easy to integrate SMS marketing into existing marketing strategies. The addition of SMS marketing only makes marketing strategies more robust—and effective.  
Let's learn how SMS marketing for insurance agents fits with your existing strategies. 
Amplify Your Marketing Campaigns
You probably have a few email, social media, display, or other advertising campaigns in the works for existing clients and leads. SMS marketing for insurance agents is an effective way to amplify these campaigns. After all, the more channels your clients and leads see your messaging on, the more likely they are to remember and respond to it. 
For example, you can use SMS marketing to emphasize messaging you might have used in a recent YouTube ad. By tweaking the content, you'll ensure it isn't too repetitive. But by using the same sentiment, you'll be sure that your message gets across. You can also use SMS marketing to:
Remind clients and leads about an upcoming offer

Refer clients and leads to an email newsletter

Ask clients and leads to check out various pamphlets or website pages.
SMS marketing for insurance agents can help your team amplify your advertising campaigns, ensuring that your messaging sinks in.
Follow Up with Social Media Leads
Social media ads are powerful lead generation tools. They get potential clients' attention, and often prompt them to provide their contact information. But it can be difficult for insurance agents and staff to follow up through phone calls or email. Leads rarely answer phone calls from numbers they don't know, and email is too slow to keep leads hot. SMS marketing for insurance agents is a fast, convenient way for team members to follow up with social media leads. 
Social media platforms often integrate directly with SMS platforms. All your team has to do to follow up with leads is:
Ask for leads' contact numbers within the social media ad. 

Request an SMS opt-in via a web form. (Alternatively, they can text in a keyword.) 

Set up an auto reply so that as soon as a lead signs up, your platform will send them a confirmation text.

This is known as a double opt-in; it helps with

TCPA compliance

.

Start a conversation with opted-in leads. 
Using SMS marketing for insurance agents to quickly connect with social media leads makes your campaigns more effective—and turn more leads into clients. 
Answer Google Ads Queries 
Google Ads is a powerful tool. Right as leads are searching for a business like yours, they can see what you have to offer. With Google Ads SMS, you can encourage leads to reach out directly from your ads to your team. 
Google Ads SMS empowers your team to add an SMS number to a Google search ad, along with a CTA asking leads to text in with their questions. As soon as leads tap the click-to-text button, their phones prefill a text directed to your SMS number. Once they press send, your team will receive the text in your platform's inbox. 
Because SMS is such a fast and convenient channel, leads are more likely to text in. Plus, the Google Ads click-to-text format eliminates an entire step: typing in your phone number. This makes it even easier for leads to send a quick text message with their questions. Then, your team can answer their questions and set them up with a follow-up appointment or call. 
Want to learn more ways to adjust to online sales? Check out our blog.