Do you ever plan to send someone a text for a birthday or occasion but then totally forget? Are you notorious for late-night texts that could have waited until morning? Or, have you ever been yelled at by friends or family for not answering their texts and "worrying them sick" during a long car ride or when you take too long of a nap? If so, then you would have benefited from automated text messaging from your Android device.
Automated text messages can help you avoid those awkward "happy late birthday" or "sorry, I was in the middle of something" texts by letting you communicate at certain times without actively sending a text. You can schedule (then forget about) important texts and answer incoming messages automatically to save yourself time and make it more convenient to maintain both personal and professional relationships.
Keep reading to learn more about what automated texts are and how you can send automated text messages with Android phones to help simplify your communication.
What are automated text messages?
An automated text is any kind of message that is sent without direct human involvement to improve response times, convenience, and communication quality for both the sender and the recipient. Smartphones like Androids and iPhones can send automated text messages, but Android devices support the two primary forms of automated text messages, auto-reply texts and scheduled texts, while iPhones can just send auto-replies.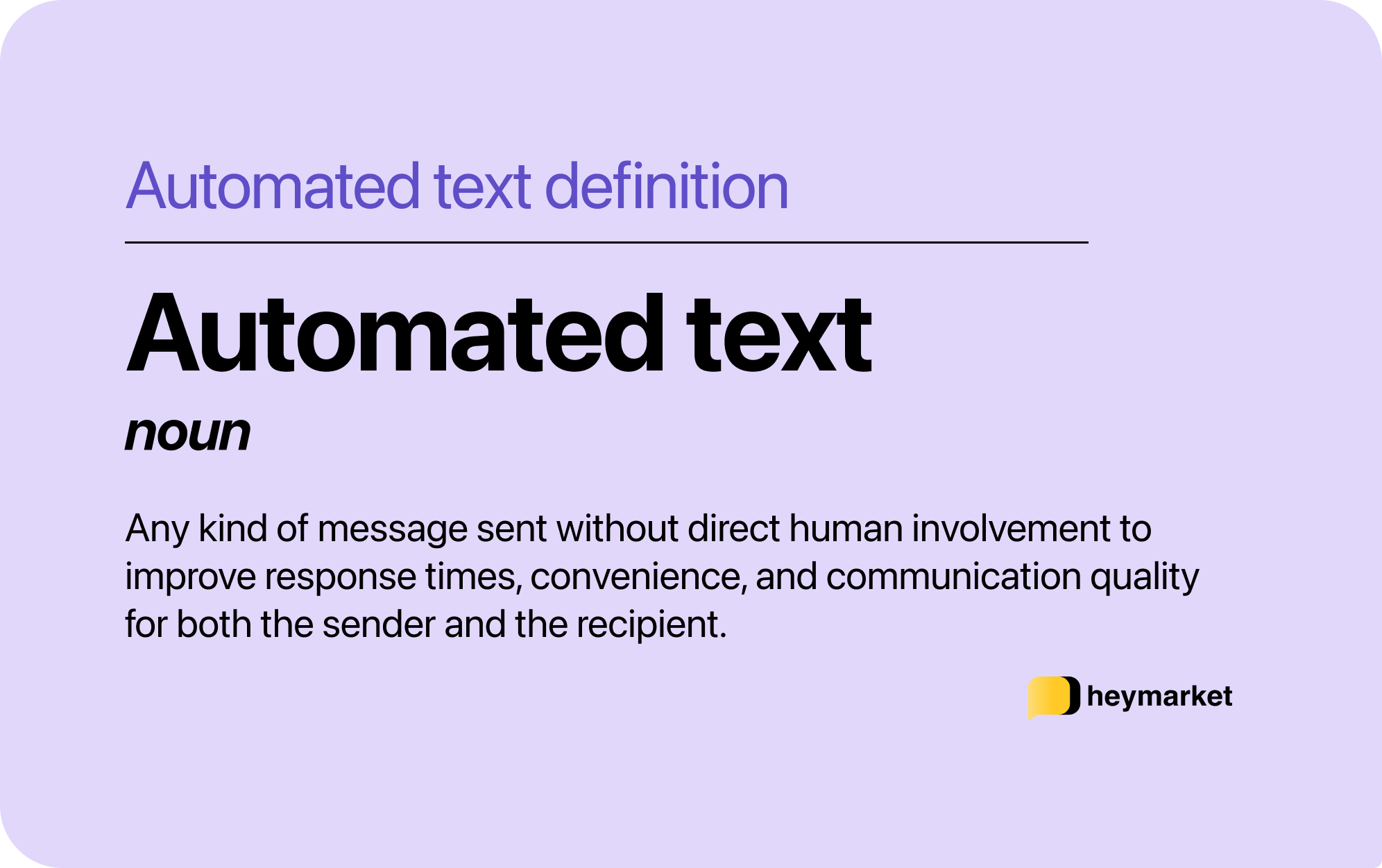 An auto-reply text is sent automatically in response to an inbound text or specific action taken by you or the person you're texting. They're often used by individuals to let you know when they're unavailable and by businesses to provide prompt customer service that doesn't require an agent's input.
Scheduled texts are pre-written messages that are delivered at a designated time. They're used to send texts at the right time for the recipient without requiring you to be available to send the message manually at that moment. With them, you can communicate across time zones and reach contacts during regular business hours regardless of your own schedule.
Why automated text messages on Android?
Sending automated text messages on your Android device is all about convenience, saving time, and improving your communication. Android's native texting apps, Google Messages and Samsung Messages, both include tools for scheduling texts while third-party apps offer auto-replies, scheduled texts, or both depending on which you choose.
Automatic texts save you time by allowing you to send complex messages quickly through the use of text templates that certain conditions will trigger. You can establish an auto-reply that sends the right text for each situation, and can customize your texts based on who you're talking to so that your message and tone can match the situation.
Automated text messages also improve your communication by allowing you to address inbound texts immediately rather than when you're free. You'll be able to save your loved ones the stress of being unable to respond during long car rides, or if you're in a meeting, your auto-reply text can alert coworkers that you'll be unavailable for a certain period of time. You can also schedule a text that's delivered during reasonable hours so that you aren't waking up your friends, family, or coworkers with your late-night brainstorms.
How to send automated texts on Android using Google Messages
Google Messages, the native texting option for non-Samsung phones, allows you to send scheduled text messages from your Android to new contacts or directly from your conversations.
To schedule a text with Google Messages:
Start a new conversation or navigate to an existing conversation. Type out your message.
Tap the '+' icon to bring up the "schedule send" menu. Alternatively, you can press and hold the "send" button to bring up the "schedule send" menu (but be careful not to accidentally send the text before you're ready).

Choose a preset delivery time or choose your own by tapping "pick date and time" and entering the timing information.
Double-check your text, look for the banner stating the scheduled time, and then press the paper plane icon with a clock next to your message to schedule the text.

Google Messages does not allow for the configuration of auto-replies for Android devices.
How to send automated texts using Samsung Messages
Samsung's native texting app, known as Samsung Messages, can also schedule texts to new or existing contacts.
To schedule a text with Samsung Messages:
Create a new conversation or choose an existing one.
Write your message.

Tap the chevron on the left side of your message.
Tap the '+' icon to bring up the text menu options.

Select "schedule message" to access the date and time options.
Set your date and time within the provided range or choose "set schedule later" for more options, then press "done."

Review your message and ensure the time shown above your text is correct, then press the paper plane icon to the right of your message to schedule your text.

Samsung Messages doesn't allow you to create auto-replies within the app.
How to send automated texts using SMS Auto-Reply
SMS Auto-Reply is a texting app that lets you create and implement custom auto-replies using multiple templates and conditions. You can personalize specific messages for individuals and groups of contacts, choose who each template shouldn't send, and set when the auto-reply is active based on times, dates, and even actions like connecting to your car's Bluetooth.
To create an auto-reply with SMS Auto-Reply:
Press the large '+' icon to begin building your auto-reply.
Type a name in or choose one from the dropdown list to help identify your templates.
Write your message in the text box.
(Optional) Adjust the "personalized list" or "don't reply list" list by tapping the pencil, choosing your contacts, and writing a custom message, if applicable. Then tap "save" or "OK," depending on the chosen option to return to the editing screen.
(Optional) Set a time and schedule for the auto-reply to be active by tapping "set time" and entering your conditions, then press "save" to return to the editing screen.
Tap "save" in the bottom left of the screen to create the auto-reply.
SMS Auto-Reply doesn't offer the ability to schedule messages from the app.
How to send automated texts using Pulse SMS
Pulse SMS is a versatile personal texting app that enables both auto-replies and scheduled texts. You can create auto-replies based on the date, time, contact, and other conditions, as well as schedule texts for any time to ensure timely delivery.
To schedule a text with Pulse SMS:
Select an existing conversation or start a new one by pressing the '+' icon in the bottom right of the screen.
Tap the ellipsis (…) in the top right corner to bring up the text options menu.
Choose "schedule a message".
Enter the time and date to deliver the text.
Draft your text and hit send to schedule it.
Note: To view your scheduled texts, tap the "hamburger" menu icon in the top left corner and choose "scheduled messages."
To create an auto-reply in Pulse SMS:
Tap the hamburger menu in the top left corner to open the sidebar.
Select "settings."
Choose "advanced features."
Scroll down to the "messaging features" section and tap "auto-reply configuration."
Choose "driving mode" or "vacation mode" to edit your reply-all auto-replies, or "create a new auto-reply" to create your own with conditions.
For custom auto-replies, choose your trigger contact or keyword.
Type your message.
Press "save" to complete the auto-reply template.
Toggle the slider to enable or disable the template.
How to send automated texts using SKEDit
SKEDit is an autoresponder and scheduling app that enables you to send automated text messages on Android devices, including SMS, WhatsApp, and Telegram.
To schedule a text with SKEDit:
Tap the arrow in the bottom right corner to select a channel.
Select "SMS" from the pop-up menu.
Enter the contact(s) you want to send a text to.
Type your message.
Choose the date and time for your message. You can also have the automation repeat.
Save the scheduled text by tapping the check mark in the top right corner.
SKEDit also offers auto-replies, but only for WhatsApp and Telegram conversations.
Choosing the right tool to send automated texts
You can send automated text messages on Android phones through a variety of different apps depending on your goals. The app that you choose will determine what automations you can perform, how complex you can make triggers and actions, and how easy it is to achieve the functionality you need, so consider these factors in your decision. Some options only offer auto-replies or scheduled texts, while others offer both, but more robust options may come with a steeper learning curve or additional costs.
When choosing your automated texting app for Android, consider how you plan to use the app. Do you just want one automation type, or can you see yourself using both types? Our list includes both individual and combined features with an option for every use case.
Samsung Messages and Google Messages are great for anyone who just wants to schedule texts. They're native apps, so you don't have to install anything else, and their integrated interface is something easy to add to your regular texting process.
SKEDit provides similar functionality for scheduling texts to the native apps with the added ability to further customize your contact list and integrate other communication channels like WhatsApp and Telegram. You can also use the auto-reply feature for these channels, but not for SMS.
SMS Auto-Reply provides you with the tools to create complex trigger conditions to determine who receives your auto-replies. You can use contacts or keywords as triggers and enable the automation only for certain times so that you don't need to remember to turn it off, making it easy to use regularly.
Pulse SMS combines both scheduled texts and auto-replies into a single app so that you can do everything in one place. You can create triggers based on multiple conditions, personalize who receives your auto-replies, and set specific scheduling conditions to ensure you send your texts at the right time. However, the free version of the app includes frequent ads and limits on how many scheduled texts you can send, so full functionality may come at a cost.
When deciding which Android automated texting app to use, it's never a bad idea to go with the option that has more features that you can learn and use over time as long as it fits your budget. It's also a good idea to try out all the app choices so that you can see which works best for you.
Best practices for sending automated text messages
When creating auto-replies or sending scheduled text messages, especially for professional or business uses, it's essential to adhere to texting best practices just like when texting regularly.
You must always respect consent, value privacy, and be conscious of your recipients when scheduling texts. You can't text people from your business without receiving their consent, so opt-in management is important when using scheduled texts for targeted mass texting.
Additionally, you don't want to spam people with multiple notifications or wake them up with a text unless it's an emergency, so consider their timezone and schedule as well as your texting frequency to avoid bothering contacts. Fortunately, auto-reply texts trigger based on texts you receive or actions taken, so they're unlikely to cause a disruption.
Finally, no matter your use case, you should always emphasize personalization when texting outside of personal communication. Personalizing scheduled texts to professional contacts, clients, or leads helps to make your texts more friendly and engaging, which can help generate favorite responses. You can take personalization even further with a business texting platform that integrates with your CRM to add personal information to your one-to-many texts.
Real-world use cases
Automated text messages from Android devices are used in a wide range of personal, professional, and business-related applications.
Personal and professional uses of automated text messages include:
Auto-replying to friends when you're busy studying and can't be bothered
Scheduling a birthday text for 12:01 AM so that you're the first one to wish them happy birthday
Using an auto-reply to let professional contacts know when you're in a meeting
Setting an out-of-office message to bosses and coworkers for when you're on your break
Scheduling a text to tell your kids to defrost dinner before you get home from work
Creating an auto-reply to let friends and family know when you're driving and when you'll arrive
Scheduling a text for the morning to remind your team of an important meeting that day
Automated texting for business helps improve customer service and expand marketing outreach by:
Using auto-replies with keyword triggers to answer FAQs to save your agents time
Scheduling marketing texts to deliver when they're most likely to be read
Setting an after-hours auto-reply that provides business hours and alternative contact information
Creating a drip campaign with scheduled texts that update customers on order statuses
Triggering an auto-reply to new SMS list opt-ins to confirm their subscription
Scheduling appointment reminders at regular intervals before their appointment date
Acknowledging an inbound message and providing an estimated response time
Send automated text messages on Android for any occasion with the right solution
Automated texting on Android is a convenient and time-saving strategy for improving your communication. You'll be able to stay better connected to friends, family, coworkers, and clients through the use of auto-replies and scheduled texts that ensure you never forget another important date. With the right automatic texting app, you can also create complex personalized automations that you tailor to individual use cases with triggers that ensure you're always sending relevant texts in both personal and professional use cases.
If you need more advanced features like personalization tools, action-based triggers, app integrations, and multi-step workflows or plan to text for business, consider using a business text messaging platform like Heymarket that lets you tackle SMS marketing and customer service with the best tools, features, and automations for improving engagement and customer satisfaction.
---