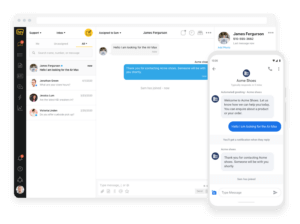 Google now offers a cutting-edge business messaging platform: Google's Business Messages. 
With Heymarket's support for Google's Business Messages, customer messages sent through Business Messages will arrive right in any of your Heymarket shared inboxes. Your teams can answer these messages alongside those from native SMS apps.
"We're excited about Heymarket's support for Google's Business Messages. The integration empowers brands to provide a richer, more intuitive customer experience while centralizing all messaging communications in one place."




—Shruti Venugopal, Partner Development Manager, Google 
Read on to learn how the Google's Business Messages integration can help your company better serve customers. 
Let Customers Connect When They're Interested
Google is a popular search engine. There's a good chance most, if not all, of your customers use it. In fact, many of your customers may have found your business through Google Search or Maps. After all, 150M+ businesses are featured in Google Maps, according to Google's 2020 Economic Impact report. With Google's Business Messages integration, customers can message your business as soon as it shows up in their Google Search or Maps results. Your team will receive incoming customer messages within your Heymarket shared inbox, where they can easily reply. Fast replies, using Heymarket's templates, help your team connect with customers when they're most interested in your brand. 
Offer Robust Messaging Options
Google's Business Messages chips allow customers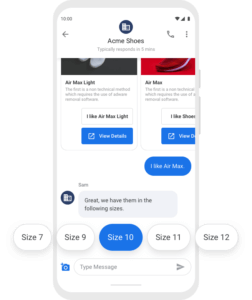 to have more interactive messaging conversations. For example, they can use Business Messages to schedule appointments, select product and service options, or be routed to a relevant team. Heymarket supports these quick responses, empowering users to offer each of these services when they manage Google's Business Messages through the Heymarket platform. 
Enhance the Customer Messaging Experience
Business text messaging platforms enable teams to offer special messaging extras, like GIFs and emojis. Now, Google's Business Messages allows teams to enrich messages with cards that support configurable images, text, and buttons. These features help customers browse options and explore landing page links right from within their chats. Heymarket's integration supports these features when team members respond using Google's Business Messages. 
Provide Multiple Entry Points for Discovery and Reach
Google's Business Messages allow customers to message your company from multiple entry points. This enables customers to message businesses however it is most convenient to them at the moment of highest intent. They can access your brand through local search in Google Maps, organic search on Google, answer cards on Google, or a Google widget on your website.
Boost Team Productivity while Messaging
Team members can use the Heymarket web app or native mobile app to message customers. Shared inboxes, templates, and reminders help teams stay organized while messaging with customers. Heymarket is intuitive and immediately familiar to anyone who has used messaging before, which simplifies training. Heymarket was designed for teams, so features like private comments, collision detection, and assignments ensure agents and managers can work together seamlessly on customer conversations.
Automate Google's Business Messages Workflows
Businesses love to use Heymarket's automations framework to optimize their teams' workflows. Heymarket's trigger and action framework works with Google's Business Messages, too. Teams can automate their platform to trigger actions based on keywords, date, day, time, and more. Actions can include sending auto replies, routing messages to team members, or even adding brand-new contacts to a list.
Access Enterprise-Level Security Options and Integrations
Heymarket was designed from the ground up for enterprises. With its robust roles and permissions framework, businesses have full control over which customer messages and contacts each team member can access. Built-in reports can map Google's Business Messages usage to department KPIs. Heymarket also integrates Google's Business Messages into other popular enterprise services such as Salesforce SMS, Slack, and Zendesk.
Have questions about our integration with Google's Business Messages? Ask our team.