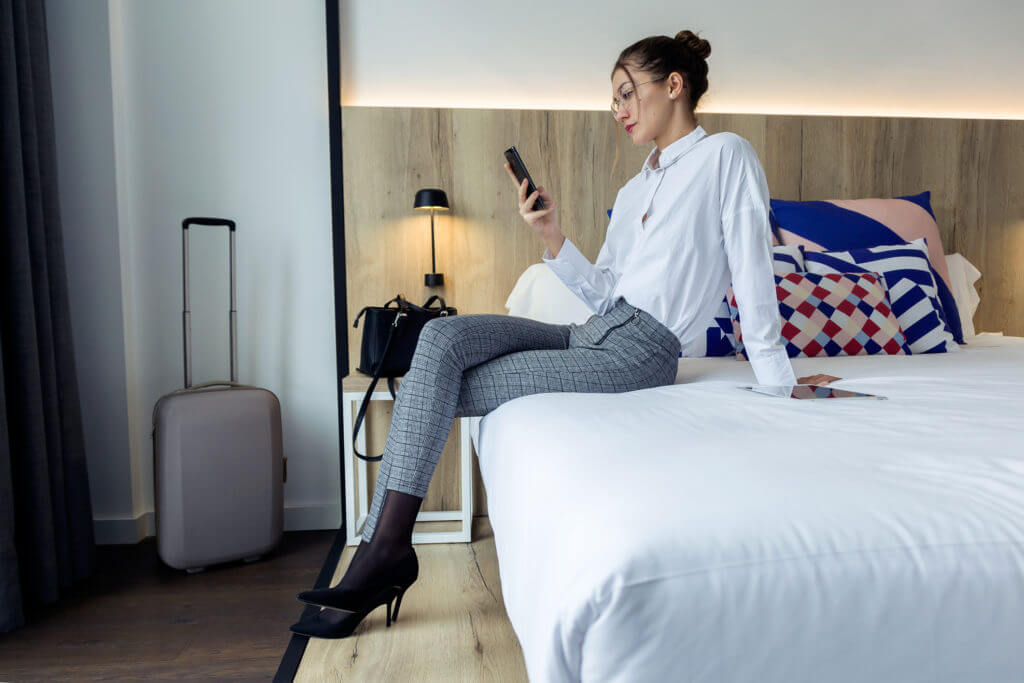 Today, over 76% of travellers consider their phones their most important travel companions. In fact, a survey conducted by BookingSuite revealed that hotel guests wish they could do even more with their phones during their stays, like ask for detailed information about local activities (80%) and request extra items for their rooms (76%). It's no wonder that hotel SMS has emerged as a force to be reckoned with in the hospitality industry.
Business text messaging is known as hotel text messaging or SMS hospitality services within the industry. It helps hotels and resorts provide their guests with the convenient and personalized stays they expect. But newcomers to SMS for business can be concerned. After all, how does texting scale for hotels? What can hotels use it for? How can hotels get started? 
Using hotel text messaging isn't exactly like messaging on a personal phone, but with the help of business SMS platforms, it's just as easy. Read on to learn how. 
Want a step-by-step look at building strong customer relationships through texting? Read our Beginner's Guide to SMS Customer Engagement.
Get the guide
Guest-Facing Use Cases
Guests are already clamoring to use business text messaging during their hotel stays. Staff can use hotel text messaging to:
Manage Check-In and Check-Out
Most guests reserve their stays via a website, and there aren't many signs that they want that to change. But some guests still feel that the check-in and check-out process is a hassle. For example, guests who arrive early sometimes find that their rooms aren't ready, and might be asked to circle in later. Guests who have to drop by the front desk to turn in their room keys can end up running late to their next destination. With hotel text messaging, staff can either ask for guests' confirmation numbers via SMS or send links to website forms. To gain room access, guests can pick up keycards after showing ID or, for cutting-edge hotels, use a mobile key. 
Answer Guest Questions
Guests often have many short questions or requests during their stay. While these can be answered with phone calls or front desk visits, in many cases, guests prefer the convenience of texting. With SMS hospitality services, hotel staff can receive all queries into their shared inbox from either native SMS apps or third-party apps and send fast replies. Guests can easily ask questions, schedule appointments, make reservations, and process requests for extra items. 
Send Appointment or Reservation Reminders
Whether guests are travelling for business or pleasure, they are often busy and distracted during their stays. To help guests remember the appointments or reservations they make, staff can send reminders or notifications via hotel text messaging. Hotel staff can send these reminders en masse through a business texting platform, which automatically personalizes each message using merge tokens that draw on custom fields.  
Publicize Upcoming Events
Large hotels or resorts usually provide guests with many options for entertainment. But with so many activities on offer and, of course, the appeal of the locations to which they have travelled, guests sometimes miss the events that they were interested in. With SMS marketing for hotels, staff can offer guests who opt in a daily text summarizing upcoming events. Because SMS has such a high open rate (98%), guests are likely to read the messages and consider attending. If they attend, the events might increase the quality of their stays. 
Automate Feedback Requests
Hotels and resorts often solicit feedback from guests, but rarely receive replies via email. Business text messaging, on the other hand, has a response rate of up to 80%, according to Heymarket research, and about 1 in 5 people will click a link in a text compared to just 4.2% for email. In other words, guests are more likely to see and complete feedback requests sent via SMS hospitality services. 
Ask for Online Reviews
Online reviews are one of the best ways to attract new guests to your hotel. After all, 84% of people trust online reviews as much as they do recommendations from people they know. Take advantage of business text messaging's high open and response rates to send requests for online reviews. You'll get more reviews—and some of them might even mention your convenient SMS service. 
Internal Use Cases
While hotels often focus on external use cases for hotel text messaging, SMS can also help streamline hotel operations. Hotel staff can use business text messaging to:
Send Timely Notifications
Hotel staff members are often on the move, whether they're in storage picking up a guest's new toothbrush or showing a guest the pool. While calling a team member does get their attention, it takes time to call the entire hotel staff. With SMS hospitality services, teams can send quick questions or notes and receive fast replies, since the average response time to texts is 90 seconds. Hotel text messaging works well for emergency alerts, holiday reminders, event notifications, or any timely guest information. 
Arrange Shifts
Hotel or resort managers find SMS hospitality services especially useful for scheduling and team management. If hotel staff work on various schedules, managers can compile lists of employees for certain shifts and send reminders to all of them at one time. Any responses from employees will arrive into the business text messaging platform's shared inbox individually, allowing managers to address any concerns in private. 
Organize Contractors
Finally, business text messaging is an excellent tool for coordinating with contractors. Hotel staff can simply provide contractors with their business SMS number and receive incoming messages into their shared inboxes. Contractors often prefer this system, since they don't need to download any new apps to connect with hotel staff immediately. Teams can use hotel text messaging to coordinate with caterers, plumbers, electricians, musical guests, or any other professionals working within the hotel. 
Business Text Messaging Setup
Since your hotel already has a landline, it'll be easy to enable texting. Once you have adopted your business text messaging platform, follow their quick instructions for text-enabling your number. Throughout the short process, your guests can still call your front desk, but once the process is complete, they'll have the choice of either texting or calling. Incoming messages will arrive straight into your hotel text messaging platform's shared inbox for your team to answer from either the web app or phone app. If your hotel wants to use a new number entirely, your business text messaging provider will be able to set that up, too. Additionally, if your business has multiple locations, you can set up separate inboxes to avoid confusion. 
Growing Hotel Text Messaging Lists 
To encourage your guests to text, publicize your SMS hospitality services on all guest communications, like your reservation confirmations and check-in reminders. Include your number on your website and social media pages, too. Be sure to mention the speed with which hotel staff answers queries, and your hours of operation. If you find that SMS hospitality services help you improve guest satisfaction or speed up operations, consider some call deflection strategies to encourage guests to text even more.
Legal Considerations 
While your hotel should consider and review regulations with your legal team, the most important thing to remember is that guests must opt in before receiving communications from hotel staff. Offer various ways for guests to opt in (such as by keyword or web form) and note that opting out is always possible. The opt-out process must always be included in your initial texts, and the hotel text messaging platform you use must be able to opt out customers who text in key phrases like STOP, STOPALL, UNSUBSCRIBE, CANCEL, END, or QUIT.
Ready to boost your customer engagement strategy with business SMS? Read our Beginner's Guide to SMS Customer Engagement.