The COVID-19 pandemic has changed the healthcare industry. Providers' need for contactless interactions led to a digital transformation, with the adoption of new tools like messaging and telehealth appointments. Now that patients know what's possible, their expectations for healthcare experiences have changed, too.
Today, 60% of consumers expect their healthcare experience to mirror that of retail. They want better customer service, including the convenience and personalization that modern businesses provide. Provide good patient customer service, and you'll attract more patients, improve outcomes, and increase retention. Otherwise, you'll lose patients to competitors who do.
In this article, we'll cover:
What customer service in healthcare is and why it's important
How to provide excellent customer service
Real-life examples of good healthcare customer service
You'll come away with new ideas for providing high-quality customer service that takes the patient experience to the next level.
Looking for more ways to streamline your customer service with texting? Read our SMS Customer Service Handbook.
Get the guide
What Is Customer Service in the Healthcare Industry?
Healthcare customer service includes all aspects of the patient experience outside of medical care.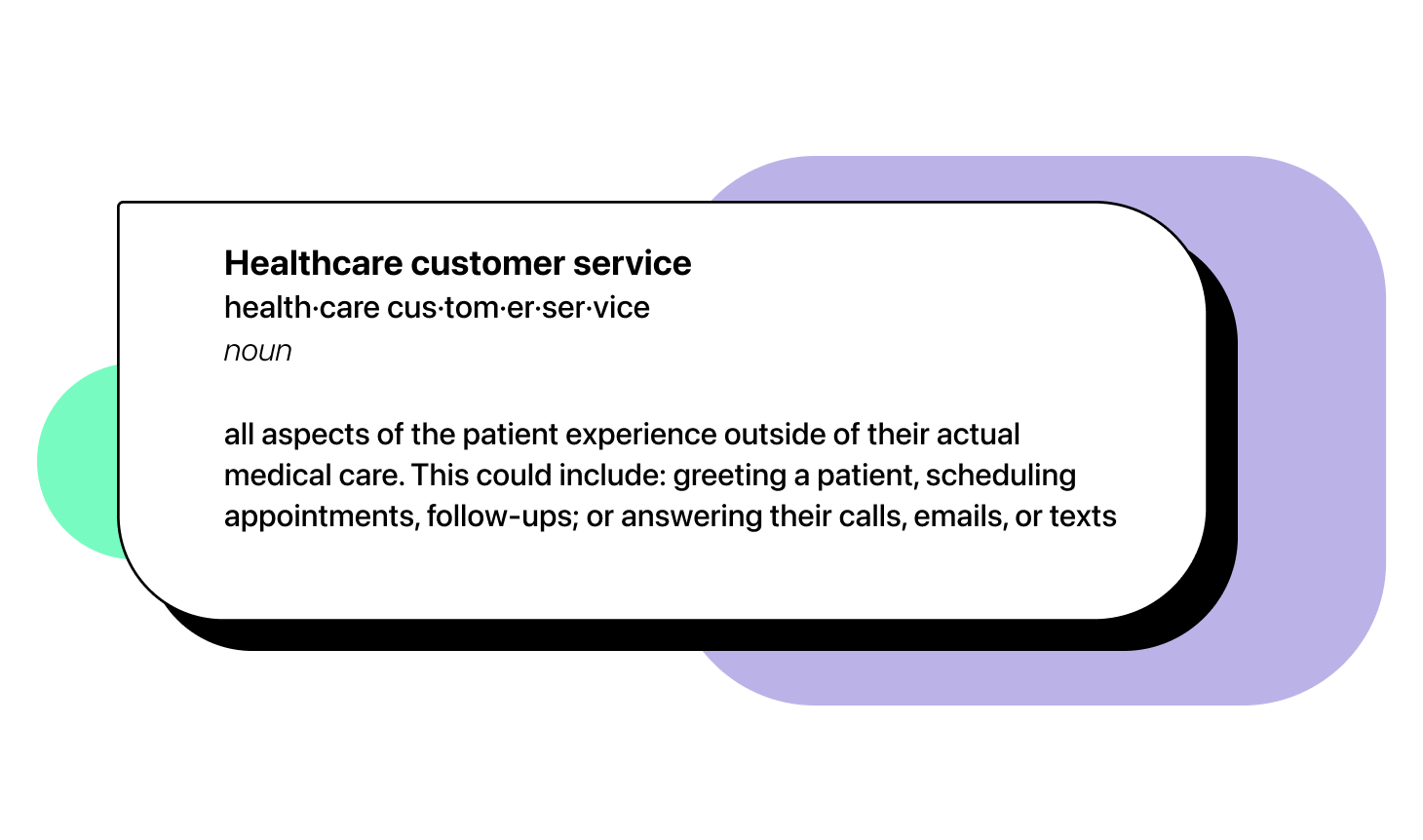 Your team provides customer service when you:
Greet a patient
Answer a patient's call, email, text, or message
Schedule or reschedule an appointment
Provide follow-up information after an appointment
Give an explanation of a bill or invoice
Healthcare customer service differs from patient care, which includes actual medical care, like diagnosing a patient's broken bone, taking blood, prescribing medicine, or performing a surgery. Patient care success is measured in outcomes, like mortality rates. Customer service success is often measured through surveys and reviews.
Why Is Customer Service Important in Healthcare?
Customer service strongly influences the overall patient experience. That's why fifty-seven percent of healthcare executives believe improving the customer experience is a top priority.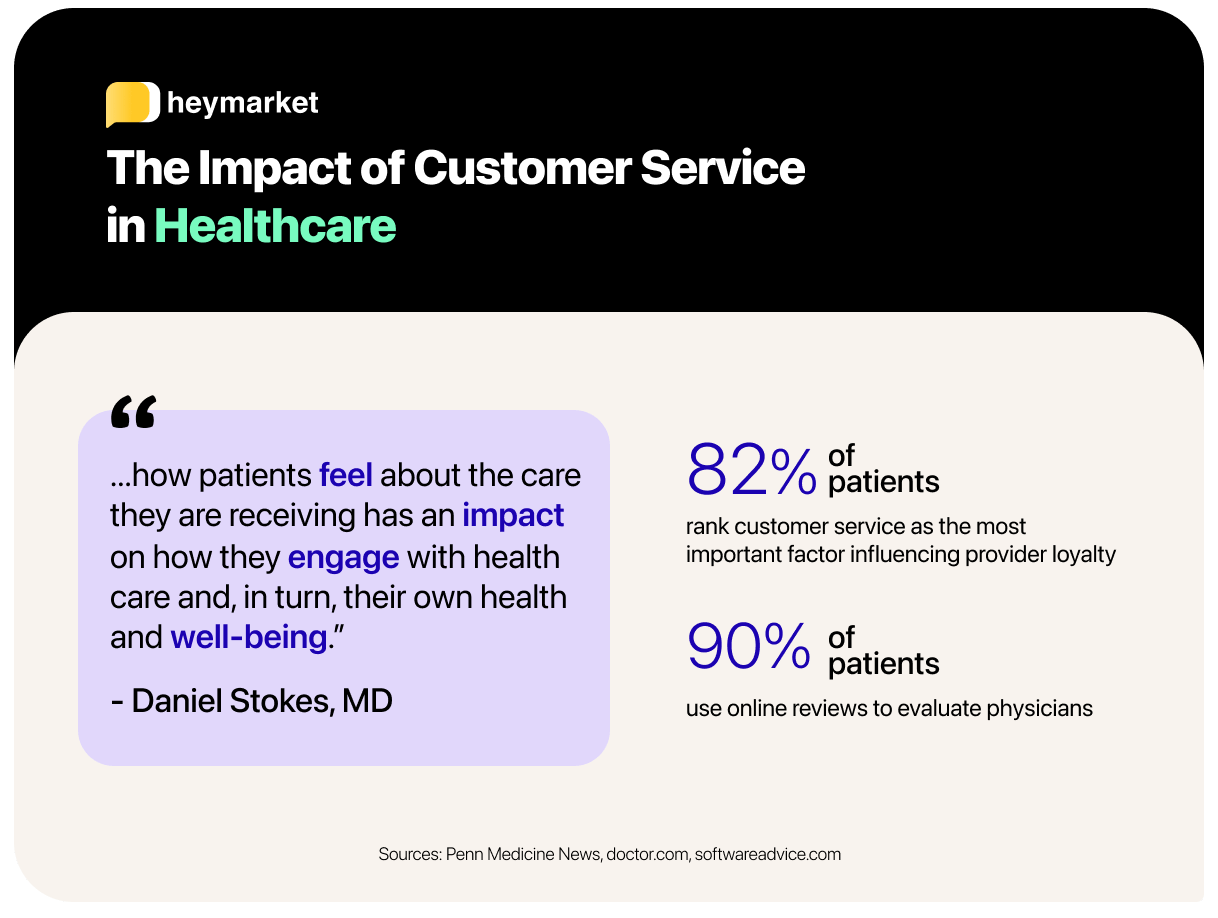 Customer service influences patients' perception of care quality
Your physicians may solve patients' medical problems, but poor customer service interactions can overshadow otherwise excellent care. Case in point, some of the U.S.'s biggest hospitals are known for their quality of care, but suffer from low Yelp reviews.
Customer service influences patient outcomes
Customer service affects patients' perceptions of care, which, in turn, affects how they act on that care in their day-to-day lives. As researcher Daniel Stokes, MD, notes, "…how patients feel about the care they are receiving has an impact on how they engage with health care and, in turn, their own health and well-being."
Customer service influences retention
Continuity of care helps hospitals build revenue and, most importantly, create bonds with patients that help them live healthier lives. Customer service is a key factor in patient retention. Eighty-two percent of patients rank customer service as the most important factor influencing provider loyalty.
Customer service impacts attraction
Ninety percent of patients use online reviews to evaluate physicians, and 71% use online reviews as the very first step to finding a new doctor. Good customer service can lead customers to leave positive reviews, encouraging others to seek care with your team.
Why call them customers?
The term customer helps humanize patients. It helps providers remember not only that patients need the correct kind of medical treatment, but that they also need it delivered in the right way. Just like any customer, patients require effective communications and fair treatment in order to get the most from their experience.
In addition, patients have more healthcare providers to choose from than ever before. Referring to patients as customers helps healthcare organizations center their needs as they address business initiatives, like outreach, marketing, and barriers to health.
How to Provide Excellent Customer Service for Healthcare
To provide good customer service, healthcare teams should turn to foundations that work across industries. Here are five tips for providing an experience that will meet patients' needs and expectations: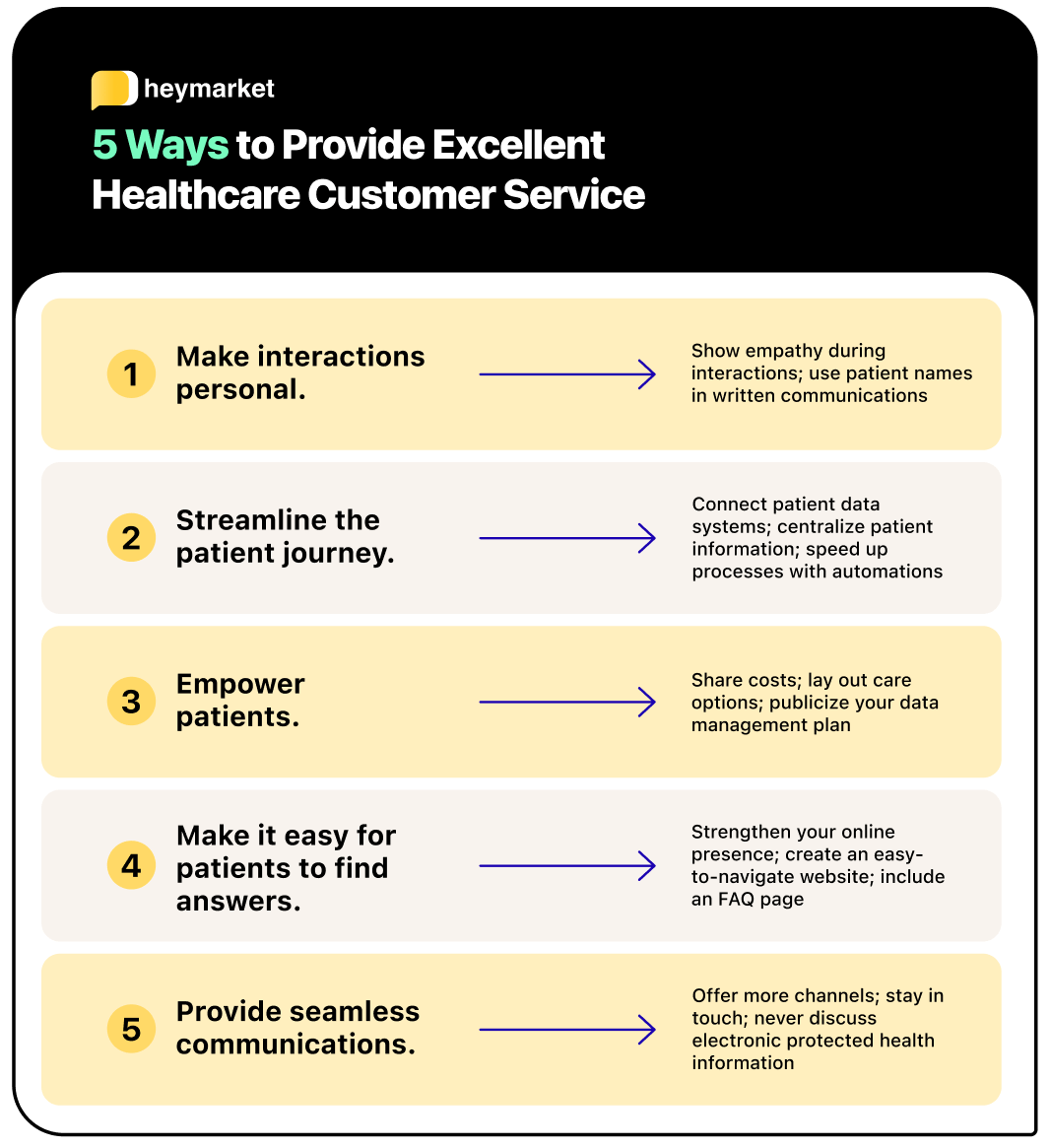 1. Make the patient experience personal.
Your patients want to feel like people, not science experiments. Seventy-five percent of patients want more personalized healthcare experiences, and 44% want a doctor who makes it clear that they care.
Personalize the patient experience by:
Encouraging front-desk staff to positively engage with patients
Ensuring doctors are trained in soft skills like conveying empathy
Including basic patient information in all written communications (e.g., first names)
Personalizing both in-person interactions and written communications shows patients that you are focused on their individual care.
2. Streamline the patient experience.
Patients expect a streamlined healthcare journey that's convenient from appointment scheduling to hospital discharge. For example, 68% of patients say they're likely to choose medical providers that offer the ability to manage appointments online.
To streamline the patient journey:
Connect patient data systems so patients don't have to repeatedly record their basic information
Ensure all appointments, notes, and messages are accessible in a central patient portal
Use automations to speed up basic tasks, like scheduling and answering FAQs (experts estimate that AI can automate 73% of healthcare admin tasks)
Connecting, organizing, and automating data and processes makes it easier for patients to get the care they need, without any friction slowing them down.
3. Provide seamless communications.
Patients want to connect with healthcare customer service teams when they have questions. Over half of patients prefer digital interactions—in part because digital channels are faster than traditional channels, like phone calls.
To improve patient communications (while adhering to HIPAA):
Offer more channels, especially those that are popular with patients (e.g., messaging through text messaging customer service and web chat)
Stay in touch with patients (65% of millennial and Gen Z patients want daily check-ins from providers, and 70% prefer providers who can follow up via text message)
Communicate administrative information only; never discuss electronic protected health information and stick to channel-specific guidance (like text messaging compliance)
With more streamlined communications, patients will interact more frequently with your team. You'll create stronger, more trusting patient relationships.
4. Empower patients to take control.
Patients want more control in their healthcare experience. For example, they want to know how much healthcare costs, what their options are, and what's happening to their data. They also want to be able to make changes based on this knowledge.
Give patients control by:
Sharing costs ahead of time for prescriptions, procedures, and surgeries. Providing price transparency online is a requirement under the Centers for Medicare & Medicaid Services (CMS). Make your price list easily accessible and clear so they can decipher it themselves.
Clearly laying out care options in a patient portal. Patients should understand what actions they can take after a diagnosis or visit. Ensure that physicians and nurses clearly write down options and make them accessible via a secure portal.
Sharing your data management and protection plan, especially for patients who sign up for communication services like SMS. While your communication tools should be HIPAA-compliant already, ensure patients know they can opt out at any time so they know they are ultimately in control of their data.
Empowering customers to take control of aspects of their care helps them feel less helpless in situations that they're often fearful, anxious, and stressed about.
5. Make it easy for patients to find answers.
Patients can become frustrated if they can't access answers to basic questions, like how to contact your team or get an appointment. A strong online presence makes it easier for customers to find the information they need.
To help patients find answers easily:
Bolster your online presence, ensuring you have a website and all social media account set up (63% of patients choose one provider over another because of strong online presence)
Ensure your website is clear and intuitive
Include an FAQ page on your website and where possible on your social media accounts
If patients can find the answers they're looking for, they're more likely to look favorably on your healthcare organization.
Examples of Excellent Customer Service in Healthcare
Providers and payers alike should—and do—prioritize customer service. Here are four examples of excellent healthcare customer service.
Telehealth Customer Service
The Ohio State University's Wexner Medical Center's telehealth services became popular during the COVID-19 pandemic. Now, their system is optimized for online services. Patients can make appointments by calling or online through a portal. There, they can access appointment information (e.g., dates and times), pre-registration forms, and link to video calls right from the portal. After appointments, patients can review after-visit notes, or directly message their doctors or billing team through a messaging portal.
Takeaway: Simplify the customer journey by keeping patient telehealth resources in a single place.
Clinic Customer Service
Cleveland Clinic makes it easy to connect with their team. On their Contact Us page, they provide a phone number to call for questions, an online form for easy appointment access, and a map of locations for in-person customer service. They also provide text message appointment reminders, and have social media accounts, like Facebook and Twitter, through which users can message them.
Takeaway: Offer multiple easy-to-find contact options to empower patients to connect with team members quickly.
Hospital Customer Service
Emory Saint Joseph's Hospital Emergency Department knows how stressful a visit is for patients and family members. With help from Vitaler software, patients can track their progress through the emergency room journey. They receive updates on their status in the intake process (from triage to admissions, discharge, or transfer), including time estimates and physician names. This app puts family members at ease while reducing the number of questions front-desk staff have to answer.
Takeaway: Empower patients and their families to track their medical situations to reduce anxiety and increase their sense of control.
Payer Customer Service
Oscar Health wanted to engage its network members, making sure they were staying on top of their health. But they knew that patients don't respond well to blanket emails. Their new technology identifies personalized steps based on patient data, then sends personalized health tips through email, in-app messages, push notifications, SMS, letters, faxes or phone calls.
Takeaway: Personalize the patient experience to stay in touch, boost satisfaction, and improve outcomes.
Adapting to Healthcare Customer Service
When it comes to customer service, medical teams have a few special considerations that don't apply in other industries. Remember that:
Protecting health information is a priority. Don't forget about HIPAA when you adopt new communications channels to improve patient relationships. Each channel will have specific data-related requirements. Ensure the communications platforms you choose are HIPAA-compliant.
Patients' health comes first. Even though you're aiming to provide good customer service, your role as a healthcare provider is first priority. Listen to patients and deliver important information considerately, but remember that protecting their health comes first.
Patients are particularly vulnerable customers. As we discussed earlier, patients are customers—but they are unique customers. The people in your facility (or their loved ones) aren't feeling well. Try to maintain empathy if you run into an angry patient.
Ultimately, healthcare customer service is a critical part of the patient experience. Providing good service benefits both your organization and your patients—and improves the health of your community overall.
Want more ideas for building an excellent customer experience with texting? Read our SMS Customer Service Handbook.