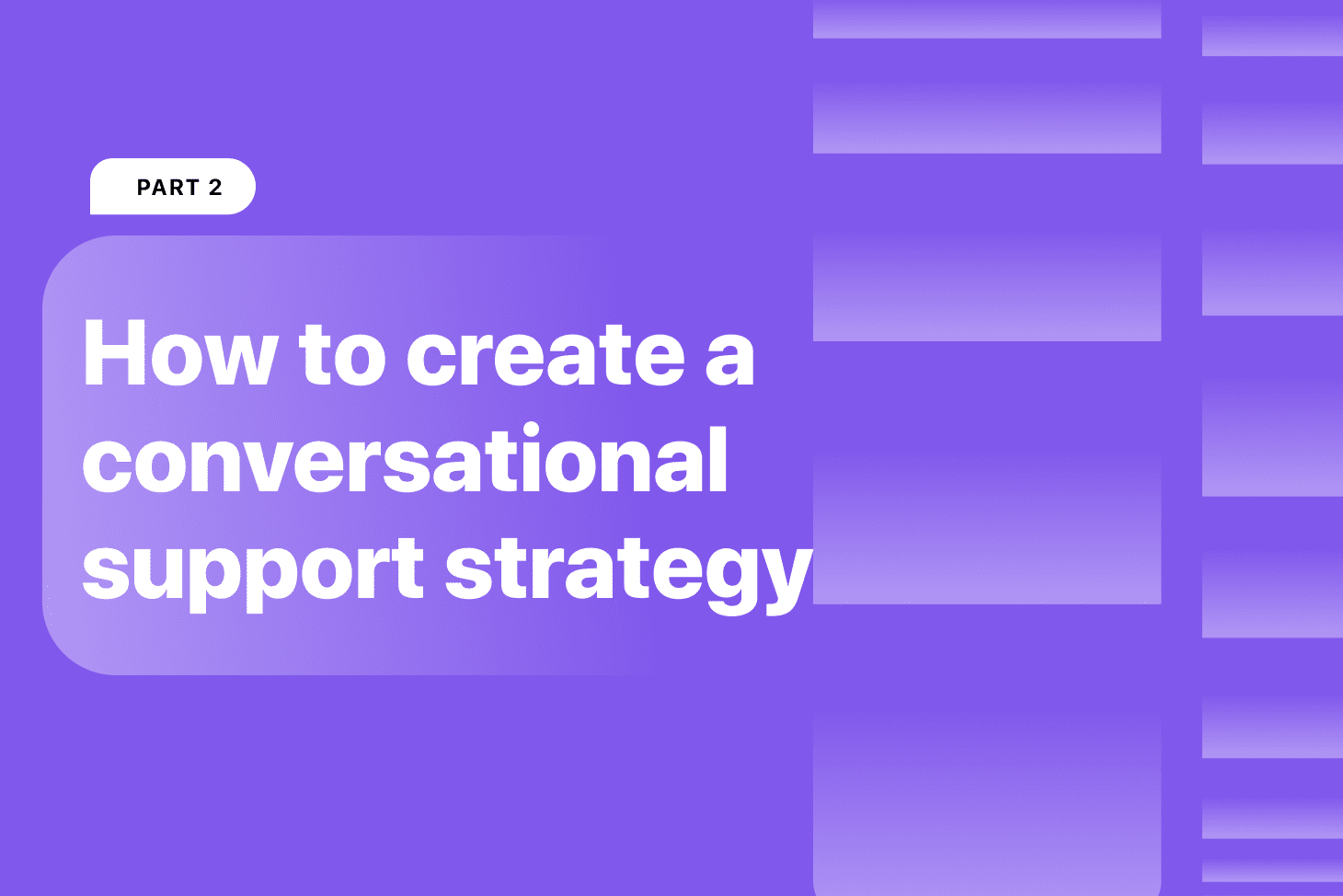 For a refresher, read part one of our series on conversational support, Why Businesses Need Conversational Support Now. 
Creating a conversational support strategy is a lot like building a house. Before you get to work, you want to make sure you have a great team in place, along with the schedule, materials, and expertise you need to make sure the build is a success.
Along the way, you'll discover areas for improvement. You'll work with your team to improve on your original plan and ensure that the house you build is greater than the sum of its parts.
The same dynamic applies to developing your conversational support strategy.
When you're putting a conversational support strategy together, you should rely on your two secret weapons — your company's unique competitive advantage, and your company's unique knowledge of your customers.
These two assets will serve you well in both identifying the goals of your new strategy, and achieving those goals.
In this installment of our series, we'll go over the four crucial building blocks of building a conversational support strategy: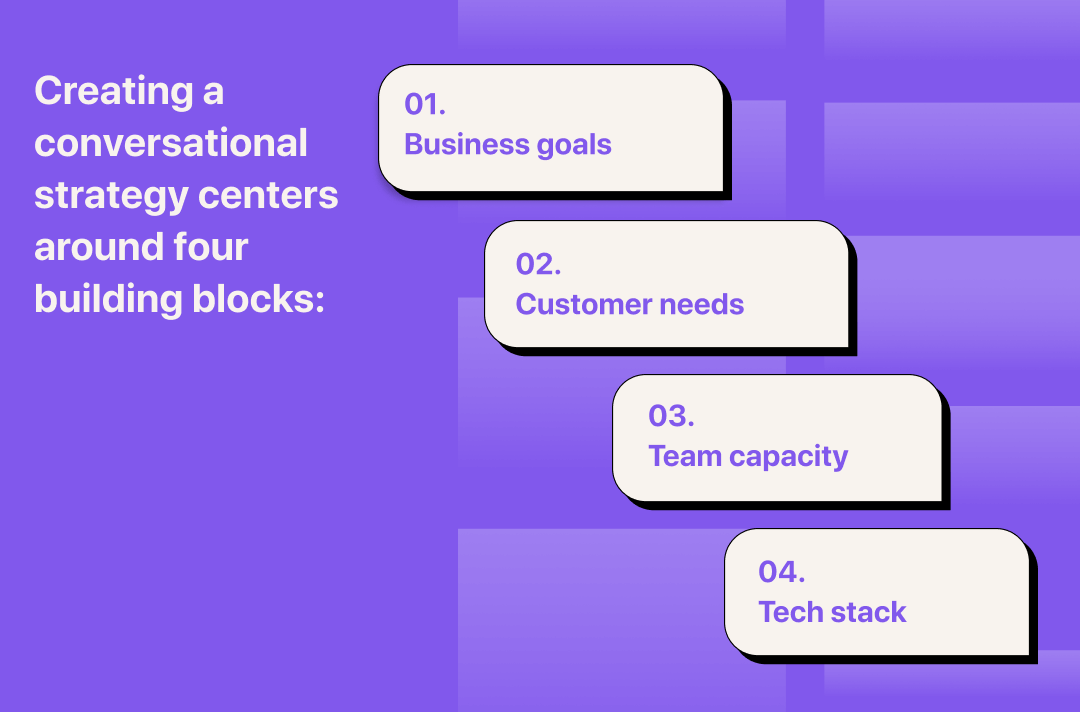 After learning about the building blocks, you can put them to action with the help of our guide on personalized conversational messaging.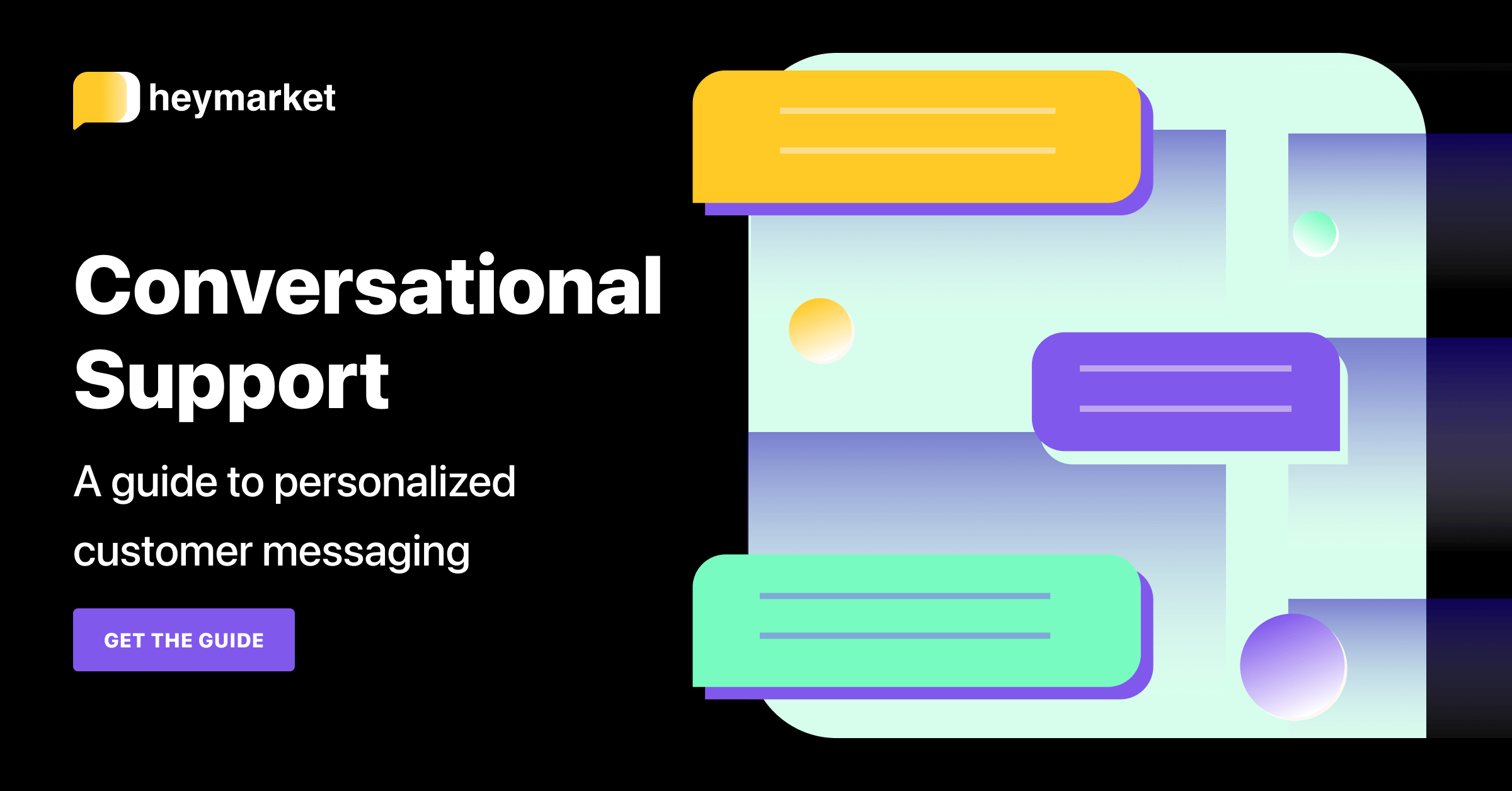 Building Block 1: Business Goals
Start planning your conversational support strategy by mapping out your business goals for customer conversations. Keep customers at the center of this process: offering messaging is an opportunity to make your company more customer-centric. You'll dive even further into their needs in Building Block 2.
Here are a few questions to consider when drafting your business goals:
Goals: Why are you rolling out conversational support? What business needs does it address?
Outcomes: How do you want your customers to feel, and what do you want them to do after having a conversation with you?
Competition: What can you do to stand out from the pack and provide an experience competitors can't match?
Before you assemble your team, wire up your tech stack, fire up your messaging platform, and start conversations with customers, you should have both qualitative and quantitative goals in mind for what those conversations should do for your business.
Document what type of feeling you want your customer to have at the end of a conversation with your business. If you're an e-commerce company, maybe you want your customer to come away from a conversation confident and worry-free, knowing exactly when their order will arrive. If you're a SaaS business building APIs, you might want the developers you serve to feel like they have the documentation, support, and access they need to harness the full power of your API.
Tie these goals to hard metrics that you can track and use to determine how your conversational support strategy is functioning. Metrics like CSAT, agent reply times, and time to resolution can be great north stars to use to guide your strategy.
Building Block 2: Customer Needs
After setting your goals, start building your conversational support strategy by assessing why your customers get in touch with you, and what outcomes they're looking for. You have those two secret weapons — what you know about your customers, and the unique benefit you have to offer them — and should use them. Here are a few things to keep in mind when building for your customers' needs:
Needs: When and why do your customers want to reach you via messaging channels? What problem are they trying to solve when they contact you?
Behavior: How many customers do you expect to message you on a daily basis? How and when do you expect your customers to reach you?
Expectations: How fast do your customers expect you to reply? What do they expect you to know about them in your conversations with them?
Think of your messaging strategy as a map you're using on a road trip. A finely detailed map will be much more useful than one that's more high level. A great messaging strategy anticipates and answers specific questions customers might have in advance. It accounts for the type of experience a customer wants, what their prefered channels are, and the cadence of conversation a customer expects from your business.
One of your primary challenges in bringing your strategy to life will be addressing variables that are constantly in flux from CSAT, to message response time, to the number of agents you have available to serve customers that day. When you have a plan in place to guide your response and management of those variables, you're more likely to be successful.
Let's say you have a customer base of primarily Millennials and Gen Z. It's statistically likely that your customers would prefer to reach you on their mobile phones over messaging channels like SMS, Instagram, WhatsApp, or Facebook Messenger rather than using email. So, you should account for that preference, and make sure that you're well equipped to reply promptly to their messages simply because the cadence of messaging is much faster than email.
Very quickly, a customer's preference can unravel to reveal a series of gaps your company needs to fill before launch. That Millennial or Gen Z customer base might expect your company to reply within 5-10 minutes of receiving their text. You might have 1,000 customers all texting you every day. Some of those customers might text you outside of business hours. So, how do you account for that?
By first mapping out your customers needs, behavior, and expectations, you can get a better sense of how to assemble your team and what they need to do to provide an excellent customer experience.
Building Block 3: Team Capacity
A team works incredibly well as one unit because each individual member of the team knows exactly what they should accomplish, and has the proper training, tools, and direction they need to do just that. Your support staff, customer experience representatives, managers, and directors should adopt a similar strategy.
Consider asking these questions before implementing your team capacity strategy:
Capacity: How many team members will be available to serve your customers, and what time will they be available?
Collaboration: How does your team share information and find the information they need to support customers?
Training: Do you plan on training staff in-house or with a third party?
Tracking: What KPI metrics will you track and report on to gauge success?
Every member of your team should feel empowered to do their best work. To get staff up to speed, you might hire an outside agency to train your staff on critical tools like HubSpot, Shopify, Salesforce and other key tools that complement a conversational strategy well. Or, you might prefer to do that training in-house. In either case, your focus should be on making sure you have the tools your team needs in place to delight your customers at scale.
Speaking of scale, you want to make sure you have enough agents to satisfy the customer messaging demand we previously discussed. The size of your team will likely be dictated by the volume of messages you receive from customers and the ideal reply time your targeting.
You should also consider how your team will work together to help resolve customer issues in tandem. Instead of making a customer wait hours for a reply as one agent tries to track down the background information they need to serve a customer, you can use internal notes pinned to customer conversations within a chat. Instead of having agents work around the clock, maybe you turn on auto-replies to inform customers when they can expect a response from a representative. These choices highlight how your team has to work in tandem with your tech stack.
Building Block 4: Tech Stack
Your tech stack is the engine that drives your entire conversational support strategy. While your staff is actually interacting with your customers, your tech stack is supplying the information and powering the processes that make those interactions successful.
For example, a conversation might suffer if an agent can't pull up a customer's previous order history fast. But, if you have your business messaging platform tied to your Hubspot instance, that agent will be able to find that information faster and get the customer the information they need faster.
When you're building your tech stack you should consider how many communication channels your team will use, how many individual phone numbers your team will need to serve customers, and how you'll store the information your customers provide securely.
An online coffee retailer might have different information security requirements than an online pharmacy, but both need to factor in how they'll address information security before launching their conversational support strategy.
When you map the layers of your tech stack and how they all fit together, you'll be able to find the areas for improvement that you need to shore up prior to launch. Once your plans are in place, your tools are primed, and your team is ready, it's time to launch.
If you want to triple check you're ready for launch you can follow along with your in-depth guide to conversational support, including worksheets for businesses launching new messaging channels right here.
We'll go over how to put your strategy into action in part three of our guide on conversational support, Implementing Conversational Support.