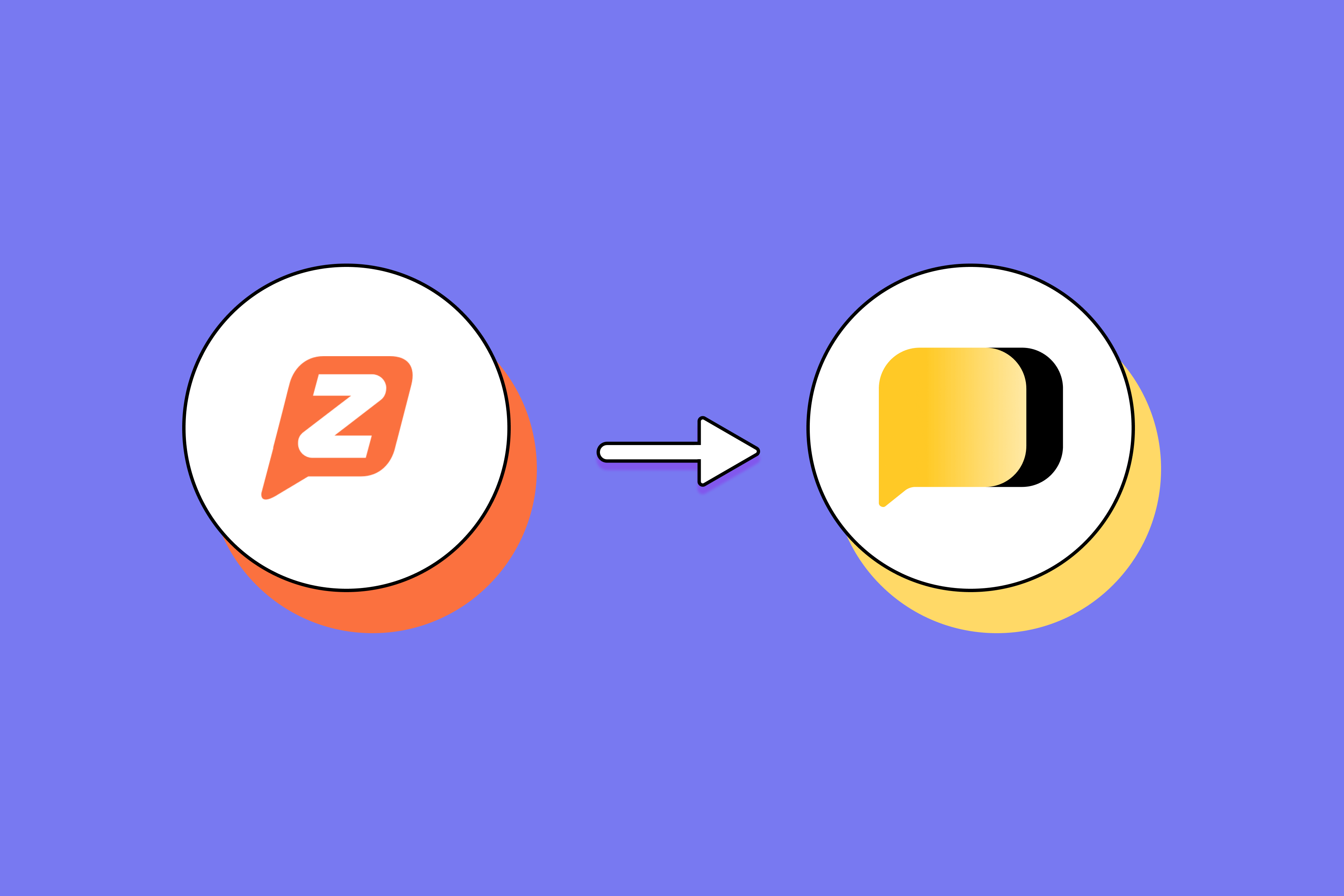 In July 2021, Twilio announced that it acquired text messaging provider Zipwhip. With the $850 million acquisition, the future for businesses using Zipwhip to text their customers became uncertain. Then in November 2022, Twilio confirmed it would permanently sunset Zipwhip's business texting service.
Zipwhip Shutting Down
The Zipwhip acquisition left at least 30,000 businesses in need of a new business texting provider. Not only did these customers need a new solution, but it left some unanswered questions about when Zipwhip would shut down and why.
The good news is that Twilio has recommended preferred Zipwhip alternatives. Heymarket is one of them because it offers the same core features plus robust additional features that Zipwhip users can use to grow their texting reach.
When is Zipwhip shutting down?
Currently, Zipwhip's planned shutdown date is December 1, 2023. It had previously been December 1, 2022, and the deadline was extended to allow customers more time to find a suitable alternative. Zipwhip customers have until the end of this year to migrate their customer and messaging data to a new texting platform.
Once Zipwhip shuts down, "user logins to the software will be deactivated, and you will not be able to use or access the Zipwhip software product to send or receive texts on any of your registered phone numbers," according to Zipwhip's end-of-life resource guide from Twilio.
Zipwhip alternative: Heymarket
After Twilio acquired Zipwhip, the company officially recommended Heymarket as a preferred alternative to Zipwhip. That's because Twilio recognizes that Heymarket offers the same core texting features that Zipwhip customers rely on for communicating with their customers.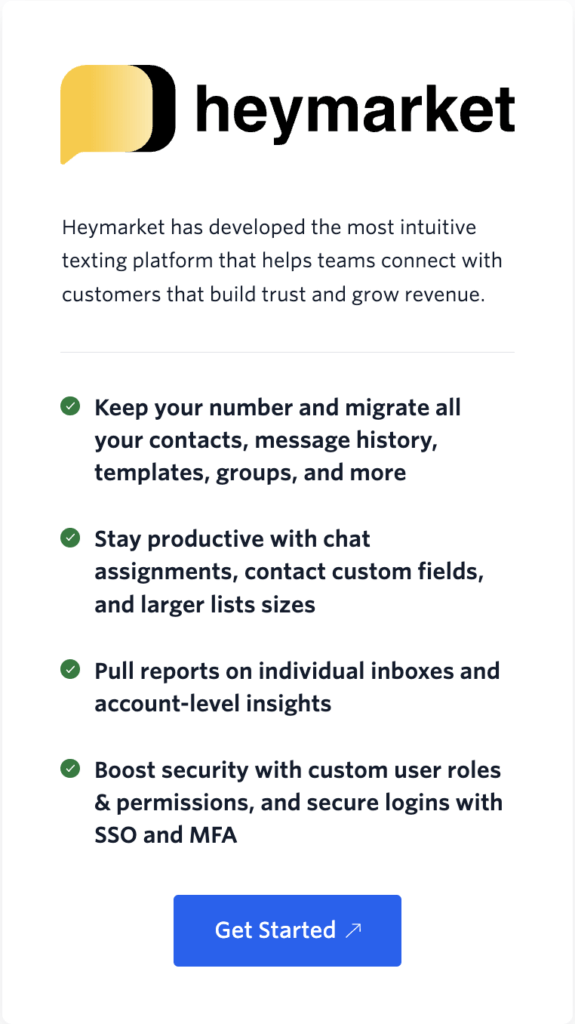 Heymarket feature comparison
Here's a look at some of the same crucial features that Zipwhip users can expect to use in Heymarket:
Keep your current phone number: Port your existing Zipwhip number to Heymarket without interrupting your texting
Group messaging: Send texts to a large group of customers. In Heymarket, this feature is called "lists"
Schedule messages: Program texts to send at a date and time of your choosing
Auto-replies: Create automatic responses based on keywords or after office hours
Mobile and web app: Access your texting platform on your computer or on-the-go on your mobile device
Heymarket invests heavily in feature development based on feedback from its customers. Here are a few new features that Zipwhip users can take advantage of with Heymarket:
Larger list sizes: Zipwhip's list sends were limited to 100 messages per group. Heymarket does not have this limit, allowing you to send messages to larger groups of customers.
Conversation management: Collaborate with your team on messages in your shared inboxes. Use private comments to communicate behind the scenes and assignments to route texts to the right team member.
Advanced automations: Automatically send texts based on a variety of triggers. In addition to keywords, Heymarket allows you to program automated texts based on a customer's first incoming message, message timing, an incoming call, the channel the message came through, or when a chat is closed.
Campaigns: Plan a sequence of messages to send over a set period of time to nurture leads and customers. Use Heymarket's campaign reports to track engagement.
Flexible custom fields: Use fully customizable merge fields to track the customer information you choose. Create custom fields for loyalty status, preferences, and any other information. Build personalized templates using these fields or use them to create lists and automations.
Heymarket's business SMS solution also can seamlessly integrate into popular applications such as Salesforce, Shopify, HubSpot, Slack and Microsoft Teams. See all of Heymarket's integrations here.
Here's a full breakdown of how Heymarket and Zipwhip's features compare:
Heymarket
Zipwhip

Outbound

Campaigns

✅

❌

Reports

✅

✅

Templates

✅

✅

Smart Attributes

✅

✅

Recurring Messages

✅

❌

Automation/Triggers

✅

❌

Import Contacts

✅

✅

Surveys

✅

❌

Tags

✅

❌

Inbound

Templates

✅

✅

Auto Reply

✅

✅

Reports

✅

✅

AdWords Click to Message

✅

✅

Typing

✅

❌

Presence

✅

❌

Keyword Reply

✅

❌

Reminders

✅

❌

Notes

✅

❌

Omnichannel

SMS Web Widget

✅

❌

SMS

✅

✅

MMS

✅

✅

Facebook Messenger

✅

❌

Instagram Messenger

✅

❌

Google Business Messages

✅

❌

Apple Business Chat

✅

❌

WhatsApp

✅

❌

Integrations

Hubspot

✅

❌

Microsoft Teams

✅

❌

Salesforce

✅

✅

Shopify

✅

❌

Slack

✅

❌

Zapier

✅

✅

Zendesk

✅

❌

Help Scout

✅

❌

Security And Compliance

Configurable roles and permissions

✅

❌

SAML SSO

✅

❌

Multi-factor authentication (MFA)

✅

❌

Data retention

✅

❌

SOC 2 Type 2 compliant

✅

✅

HIPAA compliant

✅

❌

CCPA and CPRA compliant

✅

✅
For a full comparison of how Heymarket compares to other Zipwhip alternatives, download our vendor comparison here.
Heymarket's migration option empowers Zipwhip users to seamlessly transfer their phone number, customer information, and administrative data without having to pause their text messaging.
"Heymarket is a seamless replacement after using Zipwhip for years," a mid-market business leader wrote on G2 after the migration. "The whole rollout of transferring numbers was smooth, thanks to our account representative. Would highly recommend this platform for large-scale texting."
To learn more about the simple steps for migrating or to get started, book a demo with the Heymarket team.