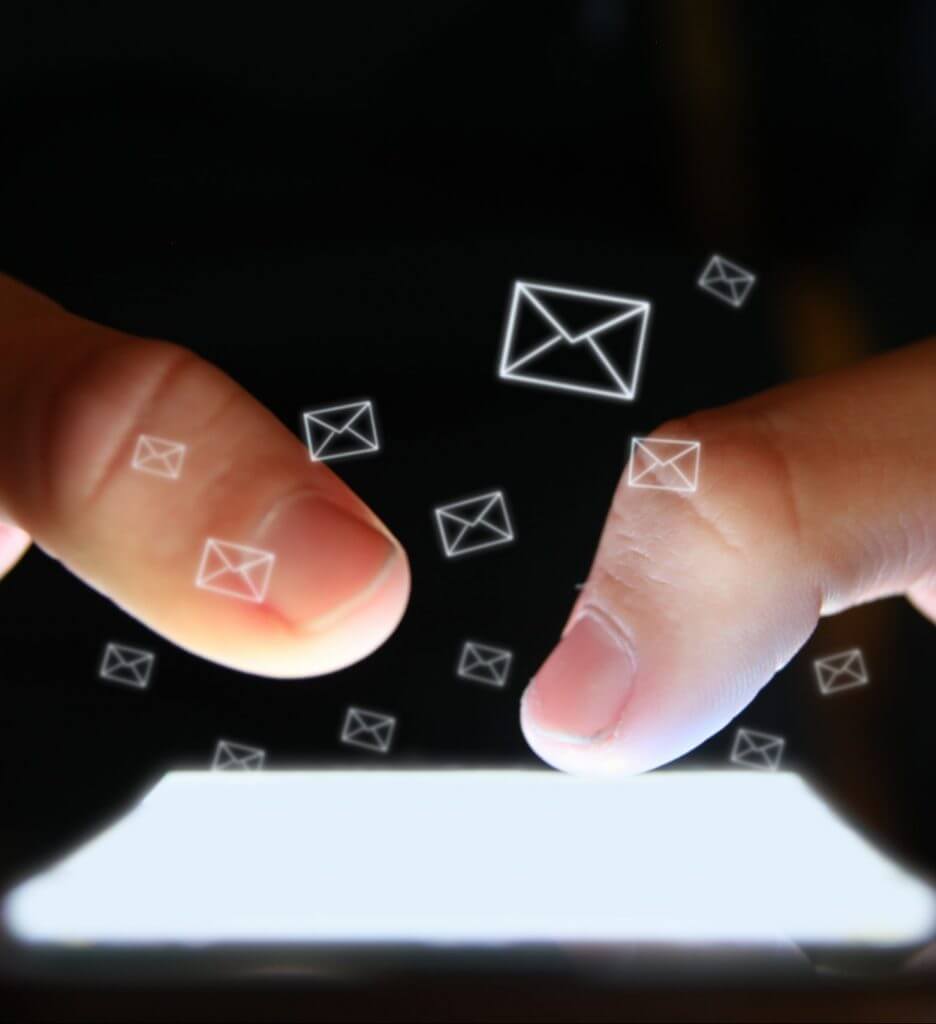 Conversational customer engagement centers around person-to-person interactions through messaging channels. But should you be using certain messaging channels? Should you be avoiding others? 
As a general rule, try to offer customers as many entry points as possible. That way, customers are more likely to be able to reach out through their favorite channels. You can integrate each of these channels with your business text messaging platform so you can manage all messages from a single shared inbox.  
That being said, you'll want to be sure you at least offer the following five key channels. Read on to explore why each is important for your conversational customer engagement strategy. 
Native SMS
The vast majority of Americans (96%) have cell phones, and most cell phone owners have native SMS on their phones. That means that nearly all of your customers can text. 
Native SMS is the most important channel for conversational customer engagement, bar none. You'll receive most of your incoming customer queries via business SMS. It's also a flexible channel, allowing you to answer incoming lead and customer questions as well as follow up with opted-in customers. You can reach out to opted-in customers first as long as you're offering valuable, customer-centric content. 
Pro tip: Publicize your business text messaging number everywhere possible. Add it to your website, your social media pages, and at the bottom of any email communications. Business SMS visibility will encourage customers to initiate conversations. 
Google's Business Messages
Google Search has around 70% of the world's search engine market share. Google Maps has around 154.4 million users monthly. In other words, there's a good chance your customers use one or both Google products.
Google's Business Messages empowers your customers to message you right from Google Search or Maps. It's a great way to meet customers where they are—and conversational customer engagement is all about making it easy for customers to chat with you. Google's Business Messages is also made specifically for business communications. It allows you to customize your channels with your branding, like your logo. It also allows you to offer a rich messaging experience, complete with cards that include configurable images, text, and buttons. A feature called "smart reply chips" enables easy appointment scheduling and product or service selection. 
Pro tip: Google's Business Messages makes it easy for customers to reach your team through features like Google Maps and Search. In addition, you can add a Business Messages widget to your website, in case customers prefer that channel to the other available entry points you have displayed. 
Apple Messages for Business
Apple offers some similar products to Google. For example, Apple Maps has around 23.3 million monthly users. While it doesn't have quite the user base Google Maps does, it's a substantial market share. 
Apple Messages for Business (formerly Apple Business Chat) lets your customers message you from Spotlight Search, Maps, or Safari. Just like Google's Business Messages, Apple's Messages for Business allows you to brand your channel with your logo and color palette. It also offers features like time pickers and Apple Pay checkout for a seamless experience. Ultimately, it's a powerful tool for connecting with customers right when they're interested in your products or services. And that's what conversational customer engagement is all about. 
Pro tip: Like with Google's Business Messages, you can add an Apple Messages for Business widget to your website. Customers will be able to access Messages for Business from all Apple features, like Spotlight Search and Maps, as well as your website, expanding entry point options and making your communications channels more accessible. 
Facebook Messenger
Facebook Messenger has around 1.3 billion users. It's a popular channel for leads and customers who review businesses' Facebook Pages and want to ask quick questions before visiting. That's a golden opportunity for your brand. 
With Facebook Messenger, customers can message your brand from Facebook. Then, you can quickly reply from your shared inbox. Like with native SMS, you can reach back out to customers after their initial questions are answered. Follow ups are a pillar of conversational customer engagement. They're a great way to ensure customers enjoyed their visits to your store or felt satisfied with their ticket resolutions.
Pro tip: Customers can reach out to you through Facebook Messenger by clicking on the "Message" button on your Facebook Page. You can also encourage customers to reach out by frequently using a CTA in your Facebook posts. Ask customers to message in with any questions or concerns.
WhatsApp
WhatsApp is similar to Facebook Messenger. The channel has 2 billion monthly active users. While it's more popular in Europe, it's still used in the U.S. for customers who have questions for businesses before they convert. 
WhatsApp for Business lets you set up a business profile where customers can review your information and decide whether to reach out. Like with native SMS and Facebook Messenger, you can follow up with customers through WhatsApp after they finish asking questions. Keeping follow ups within WhatsApp makes it easy for customers to recognize and continue conversations. They'll be more likely to respond, leave feedback, and exit chats with a positive feeling toward your brand.
Pro tip: You can send follow ups to lists through WhatsApp to save time. This is a great way to start multiple conversational customer engagement chats quickly. 
Want to learn more about conversational customer engagement? Check out our blog.