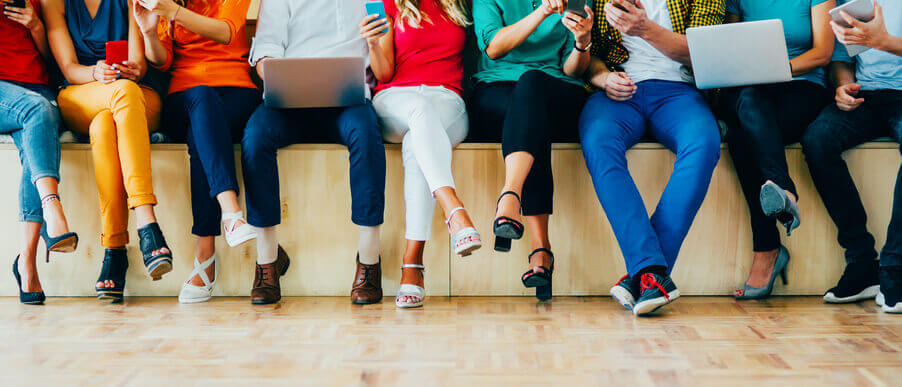 Reaching leads and customers is harder than ever before. They're shopping across all sorts of devices, from cell phones to tablets, across a wide variety of channels. In fact, more than half of consumers engage with three to five channels on their path to making a single purchase. But the majority of them have one channel in common—texting.
Sixty-eight percent of consumers prefer messaging businesses. Texts deliver results, too; consumers who receive texts are 40% more likely to make purchases. In response to consumers' enthusiasm, many brands are adopting the channel. However, they're finding that sending texts one-by-one is time-consuming.
Some businesses are turning to text blasts—single texts sent to a large number of recipients—to connect with their target audiences. But before blasting messages to all of your leads, it's important to understand what they are, if they're right for your business's goals, and how to use them strategically.
In this guide, you'll learn:
Let's get started.
What Is a Text Blast?
A text blast is a single text message sent to a large group of people, all at the same time. Text message blasts usually contain words only, though they may include a link or even emojis, images, and videos. They are sent to large lists of contacts, and typically do not include recipients' information (e.g., names or loyalty statuses).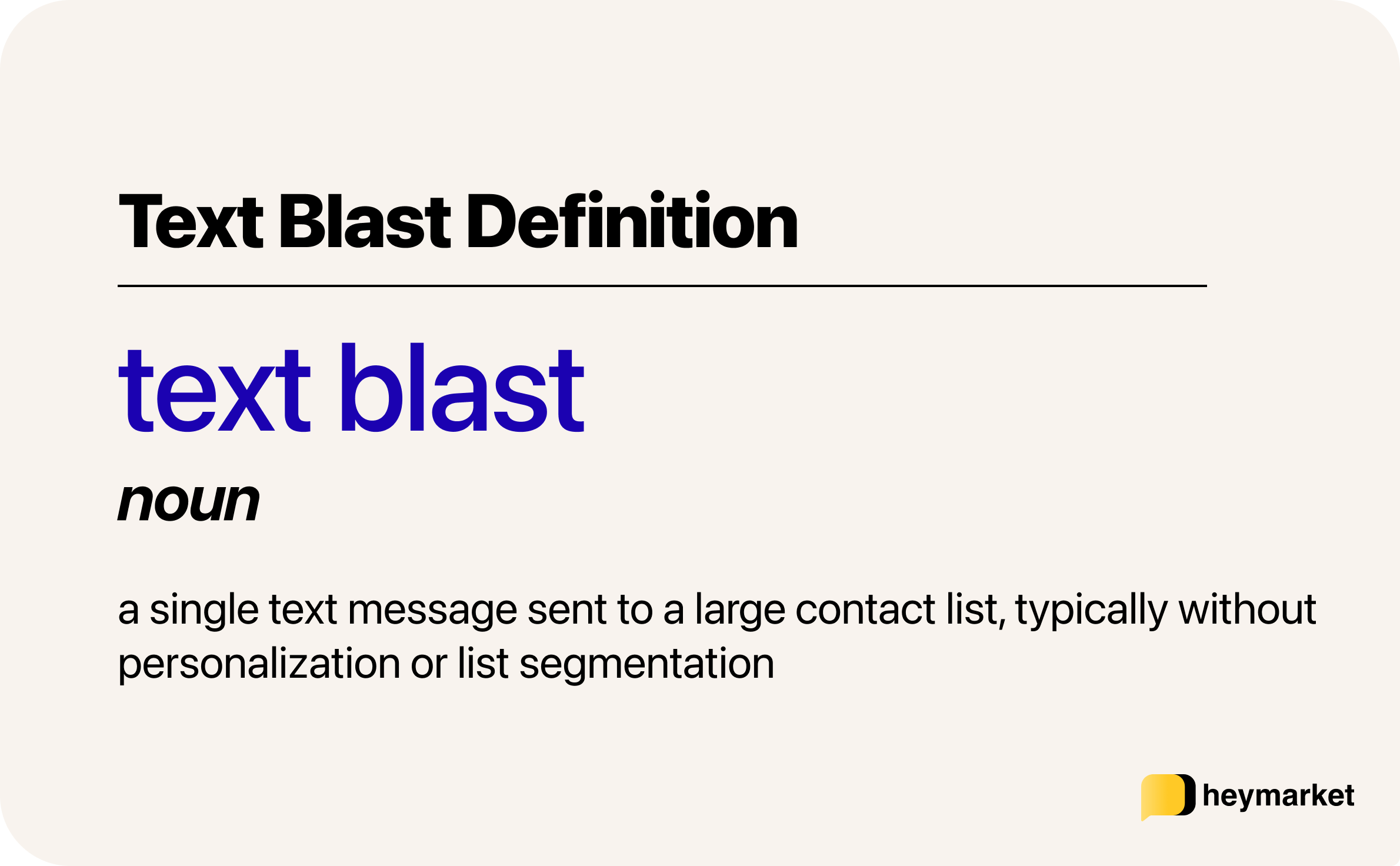 Businesses—most often retail brands—often send SMS blasts to promote coupons or products. Other organizations, from local governments to charities, may send them to increase turnout for events (e.g., elections, fairs), raise awareness for causes (e.g., charities, fundraising), or even share emergency information (e.g., inclement weather).
Text blasts vs. mass texting
Mass texting refers to the act of sending a single message to a list of contacts. A text blast is a type of mass texting.
However, the term text blast implies impersonal messages sent to a large contact list. Mass texting can also refer to the strategy of sending personalized, targeted messages to a segmented list of customers. (More on that soon.)
Text Blasting: Pros and Cons
While you may be considering sending text blasts for their impressive reach, unpersonalized messages can lose you leads and customers—and even violate certain regulations. Here's a full rundown of text blasting's merits and shortcomings:
Benefits
Ninety-seven percent of Americans own some type of cell phone, and they check their phones once every 10 minutes. As we mentioned earlier, they read 98% of text messages they receive. If you send your list of contacts a text, there's a good chance they'll read it.
Plus, texts rarely go undelivered. (Though undelivered texts can happen, and sometimes carriers filter out messages that they perceive as spam.) SMS is a highly reliable channel as long as your recipients have cell coverage.
That brings us to the main benefit of text blasts: if you send your leads and customers one, most of them will read it soon after they receive it.
Challenges
Sending unpersonalized messages to a large list of customers can lead to some problems with big and small implications. Here are the top challenges to sending text blasts:
These shortcomings might make you think twice about sending text blasts. However, there's another solution that can help you capitalize on the benefits of texting at scale while minimizing the downsides.
Sending Targeted Text "Blasts": Dos and Don'ts
Text blasts do help you reach a lot of your audience. But there's a better way to reach them without making your texts seem spammy, risking your customers' trust, losing subscribers, or violating texting regulations: conversational marketing.
Conversational marketing is sending personalized messages to targeted audiences. While you still send the same basic information to lists of customers, the goal is to segment your audiences and provide value for their specific needs. In addition, the strategy encourages sending messages that ask customers to reply and start conversations, instead of just sending messages without expecting any engagement. Conversational marketing helps your teams engage leads, starting conversations that build long-term trust and loyalty.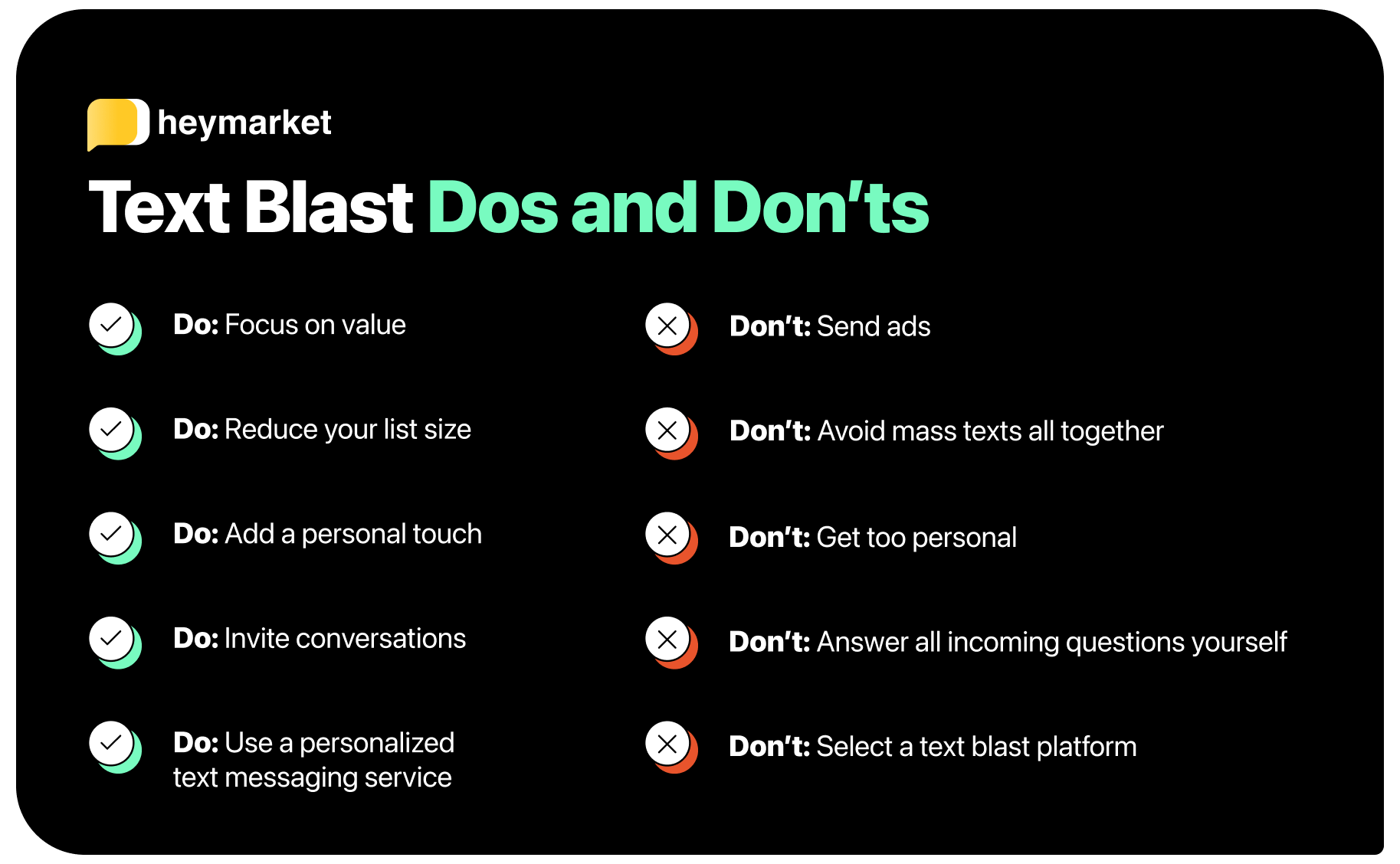 Here are ten dos and don'ts when it comes to sending effective targeted texts:
Do: Focus on value.
As we explored earlier, your list members want messages that provide value. Ensure each text you send is useful. For example, if you want to boost brand awareness, send product tips, subscription or service updates, or invitations to VIP services (e.g., chatting with a stylist or a gift concierge).
Don't: Send ads.
List members are more likely to unsubscribe from your messages if they feel like they're over-promotional. Avoid sending coupons, sale information, or any other direct ads unless customers specifically request them or opted in to receive them.
Do: Reduce your list size.
Segmenting your lists allows you to write more specific messages that have a better chance of resonating with your recipients. In general, the smaller the list, the more specific and resonant the message. Create lists by demographic (e.g., age range, gender, location), journey stage (e.g., lead, prospect, customer), loyalty status (e.g., new loyalty card holder or gold-level member), or recent interaction (e.g., event attendee).
Don't: Avoid mass texts all together.
Text blasts come with a lot of downsides, which we've already discussed. But mass texts can be an extremely effective way to connect with a lot of customers at once—as long as your texts are targeted and personalized. They're a great tool for sparking interactions.
Do: Add a personal touch.
If you don't personalize messages, customers might look unfavorably on your brand. Leads and customers want to know that you're writing messages specifically to them. It makes them feel as though your team tracks and appreciates prior interactions. Beyond creating a message that directly addresses their experiences, include custom fields in your messages. For example, use their names and mention loyalty statuses, events (if they attended them), and past orders.
Don't: Get too personal.
There's a limit to personalization. Don't share order information, like addresses, or any other personally identifiable information (PII) in your texts. Sending this information via text may endanger your SMS compliance with multiple regulations, including the TCPA and HIPAA.
Do: Invite conversations.
Conversational marketing emphasizes the importance of starting conversations about your products and services. Conversations help your team build strong, long-lasting relationships with leads. Write messages that encourage chats, like opinion polls or stylist Q&A announcements. Each of your outgoing texts should invite leads and customers to reply and engage in two-way chats with your team.
Don't: Answer all of the questions yourself.
If you're part of a marketing team sending promotional texts, you may have customers who respond with support-related questions. You may also receive questions better suited to your sales team. Don't try to answer all of these questions yourself. Instead, smooth the handover process by simply assigning the messages to them.
Do: Choose a text messaging service that makes personalization easy.
In order to make the strongest customer connections possible, choose a full-featured SMS marketing platform. Ensure that it allows you to personalize outgoing messages, create targeted lists, and engage in two-way conversations. To help you adhere to the TCPA, it should also automatically opt out customers who text in with certain keywords (e.g., STOP and NO).
Don't: Select a text blast platform.
Text blasting services are available, but they often lack the tools you need to create resonant mass texts. They may not allow you to personalize outgoing messages or respond to customers' texts. Instead of one of these traditional, basic text message blast services, choose a texting service like the one we explored above.
How to Skip the Blasts and Send Targeted Texts
Now that you've learned best practices behind targeted texts, it's time to learn the mechanics of sending them. They're easy to send with help from a text service for business. While the steps might differ depending on the platform you choose, they'll look something like these four steps:
Get a text messaging platform. Choose a platform based on the best practices above. If you've already got one, sign in.
Select a list of customers. Your list should be small and segmented. Ensure the list members have something in common (e.g., location or loyalty status) so you can target the message you write in the following section.
Choose or write your message. Create an SMS template, leaving space for each contact's custom fields. Remember that each text should speak directly to the list you've chosen.
Send now, or schedule for later. Finally, press "send" or schedule the text for a later time.
If you'd like to send multiple texts on a schedule, you can also create a series of texts in an SMS drip campaign. A string of connected, targeted messages will keep leads and customers engaged for the long run.
9 Examples of Effective, Targeted Texts
Learning the rules of effective mass texting is one thing, but writing them is a different matter. For inspiration, here are five examples of targeted text messages across three industries.
Retail brands
Brands in the retail industry tend to send coupons—and can see high opt out rates as a result. Stand out from competitors with high-impact, conversational messages that invite interactions and boost conversions:
Subscription companies
Text blasts are one of the best ways to remind subscribers to take advantage of their subscription—and level up when it's time to renew. Send a mix of reminders and subtle upgrade messages to encourage them to make the most of your products:
B2B businesses
B2B businesses thrive on person-to-person communications. Send your prospective customers and point people highly personalized messages to stay in touch and keep them engaged with your team.
Conclusion: From Text Blasts to Targeted Texting
Text blasts get your message in front of your recipients, but they come at a high cost. The lack of personalization can decrease lead and customer trust, and even violate telecom standards in some cases. On the other hand, targeted texting still gets your message across while increasing trust and building loyalty.
Before you start sending targeted texts, there are three last things to consider in regards to SMS compliance. Even if you're sending to small lists, there are rules you must follow:
Ensure leads and customers are opted in to your marketing messages before you message them. Your business can use texting for everything from marketing to conversational support. But customers must opt in to messages from a specific team before you can send them. For example, if customers have opted into customer support messages, you may not send them marketing texts.
Clearly describe what information you'll be texting. Wherever you decide to include opt-in instructions, whether it's on your social media or email newsletter, add a thorough description of what recipients can expect. For example, mention how many messages they will receive monthly, and explain that standard texting rates will apply.
Allow message recipients to opt out easily. Leads and customers must be able to opt out whenever they'd like. Remind recipients of your opt-out instructions in each of your outgoing messages. As soon as a customer opts out of your messaging services, your texting platform should be able to remove them from your lists.
Sticking to these TCPA requirements will only improve customer relationships. They'll know you're only going to send them texts they want—making them excited about opening each message that lands in their inbox.