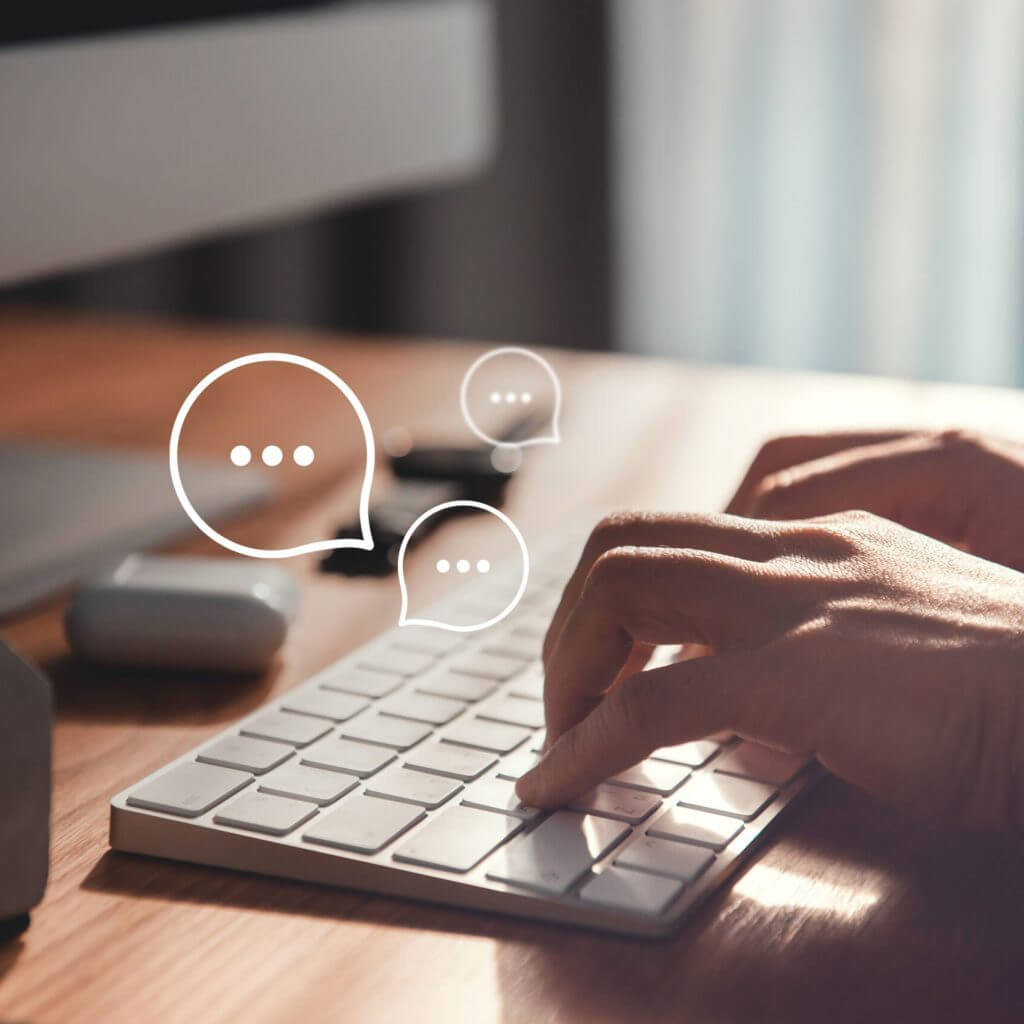 Conversational customer engagement is a new strategy that focuses on person-to-person messaging sessions between businesses and their customers. It has two components: inbound content and outbound content. 
The goal of conversational customer engagement is to establish strong relationships between you and your customers through these person-to-person interactions. This goal applies to both inbound and outbound content. However, there are a couple of specific tactics you can use for each type of content. 
Want a step-by-step look at building strong customer relationships through texting? Read our Beginner's Guide to SMS Customer Engagement.
Get the guide
Managing Inbound Content with Conversational Customer Engagement
Conversational customer engagement is all about encouraging customers to text in. You should post your business text messaging number on your website, social media pages, and other outbound content. You should also offer entry points through Facebook Messenger, WhatsApp, Google's Business Messages, and Apple Business Chat. But how should you manage incoming customer queries? 
Be Responsive
Customers want fast replies. In fact, waiting more than 20 minutes to reply to a text can be seen as rude. You can boost reply times by using:
A

shared inbox

to centralize incoming messages from every channel (including native SMS and other messaging services)

Assignments

to help agents focus on a specific set of chats

Private comments

to quickly coordinate on difficult queries



You will also want to create during-hours and after-hours auto replies to immediately let customers know how long they'll have to wait. 
Rely on Customer History
Customers expect you to know all about them if they've shopped with your business before. Ensure you have the right SMS integrations with your CRM system. These integrations will automatically sync key custom fields information so you can access it from your business text messaging platform. This information may include:
Past orders 

Recent tickets or returns

Loyalty statuses

Subscription levels
Refer to this information as soon as you can in conversations. That way, customers will know that your brand truly prioritizes their experience. 
Use an Authentic, Friendly Tone
Conversational customer engagement prioritizes person-to-person interactions. To ensure customers know that you're a human and not a bot, use an authentic, friendly tone while texting. For example, be sure to:
Text like you would speak to a new acquaintance (casual yet polite)

Stay professional (check your grammar!)

Include emojis or GIFs where appropriate
Using this natural language will let customers know that there's a real person on the other end of the line. They'll be more likely to finish their conversations and reach out the next time they have questions.   
Managing Outbound Content with Conversational Customer Engagement
Conversational customer engagement centers on inbound content, but there's an outbound component to it, too. (And don't forget that you can only text customers if they have opted in first.) While you should use the above tactics where possible, you should also: 
Focus on Value
Conversational customer engagement content must provide value. Otherwise, customers aren't likely to respond. They may even unsubscribe from your SMS service. There are plenty of types of valuable content you can send, including:
Experience, order, or ticket feedback requests

Customer satisfaction surveys

Opinion polls
However, be sure to focus on customer order or ticket follow–ups. This foundational customer service content helps customers understand that you prioritize their satisfaction. 
Send Content at the Right Time
When you follow up with customers is just as important as how you follow up with them. You need to reach out at just the right time in order to achieve high response rates. For example, you should:
Request order feedback as soon as your CRM platform logs packages (or online content) as delivered 

Schedule ticket feedback requests for 1-2 business days after resolution

Send customer satisfaction surveys after customers have been part of your loyalty program for a month or so

Send opinion polls when loyal customers haven't engaged with your brand in a month or longer
Send this content at just the right moment, and customers will be more likely to appreciate your team checking in—and to send favorable replies. 
Send Interactive Texts
All of your conversational customer engagement content needs to be interactive. In other words, it needs to specifically encourage customers to reply. You can create interactive content by:
Including a clear

CTA

(e.g., "Text back with questions!") in each text 

Offering an incentive for customers to respond (e.g., let them know that your team will offer expert advice or allow them to vote on an upcoming

product

decision)

Making it easy for customers to reply (e.g., let them know that they can respond to your message at their leisure)
Interactive texts will garner more responses, empowering your team to make more connections with customers. 
Personalize, Personalize, Personalize
Each and every one of your texts must be tailored to the person receiving them. Customers are more likely to respond to content that seems as though it was created specifically for them. Personalize your texts by:
Using a friendly tone (just as you would for incoming texts)

Adding an agent's signature to the end of each outgoing text  

Include ample

custom fields

(e.g., first names, loyalty statuses, order numbers)

in your

SMS templates
When you send mass texts, your business text messaging platform will insert the relevant custom field information into each outgoing text. Personalized texts are far more likely to receive responses from customers.                                               
Ready to boost your customer engagement strategy with business SMS? Read our Beginner's Guide to SMS Customer Engagement.