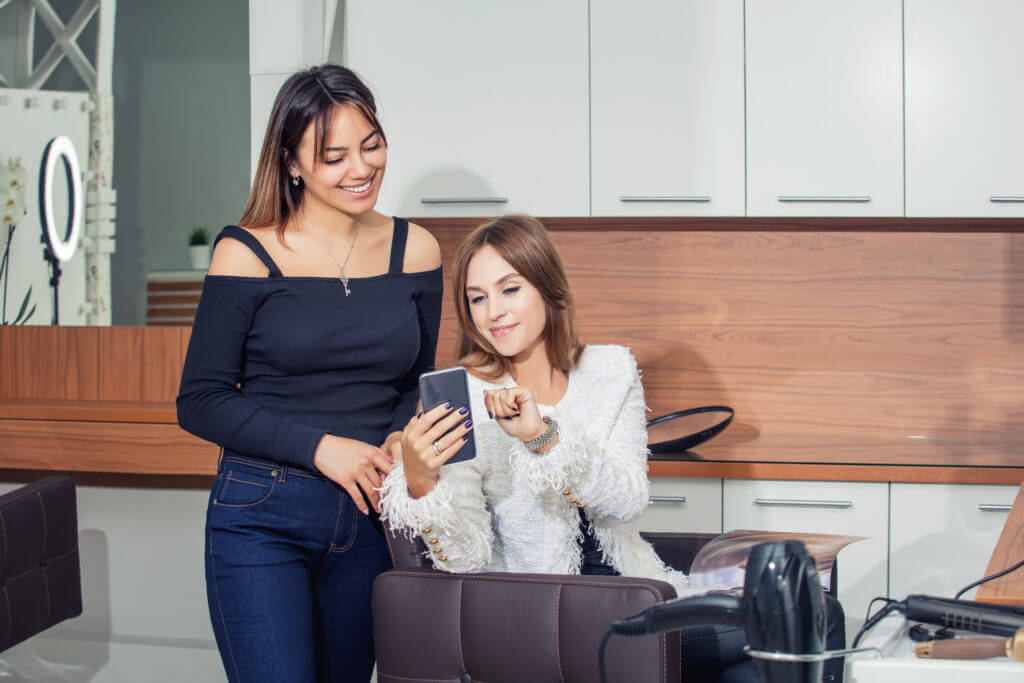 In recent years, beauty businesses have experienced a boom. In 2018, hair, skin, and nail salons in the U.S. earned 5.24 billion dollars in revenue. As beauty business continue to grow their clientele, they're beginning to realize that the old method of communicating with their customers through phone calls simply isn't scaling well. Enter business text messaging. 
Business text messaging platforms empower salons and spas to send, receive, and manage hundreds of messages each day. But business owners often have a lot of questions about salon SMS and spa SMS services. How many use cases are there for SMS? How can a small staff manage so many messages? Can they keep their landlines? 
Read on to learn the basics of using business text messaging in your salon or spa, from use cases to legal considerations. 
Client-Facing Use Cases
Because business text messaging has such a high open rate (98%) and response speed (90 seconds), salons and spas can use it to expedite nearly all customer communications. Specifically, they can use salon SMS and spa SMS to:
Manage Scheduling 
Fifty-nine percent of consumers would rather use multiple channels to contact a business than make a single phone call. To encourage clients to schedule appointments, offer scheduling via 
SMS or an online system. Clients can text in to make appointments without hassle. Scheduling via business SMS lessens the workload of your front desk staff, who spend far less time answering texts than managing phone calls one by one.
Automate Appointment Reminders
Modern clients are busy—and so are your employees. While there's nothing better than an appointment reminder to ensure that clients show up to their appointments, calling clients individually can be time-consuming. Salon SMS empowers businesses to expedite the process of sending appointment reminders. For example, a receptionist can schedule a personalized business text message for all clients with appointments on a certain day. 
Shorten Wait Times
Depending on which services your salon offers, you may need clients to fill out paperwork before appointments. Business text messaging empowers you to either send this paperwork via link to your clients before their appointments or let them know that they need to show up early. This ensures that they don't have to delay their appointments once they arrive to your salon. 
Answer Client Questions 
Even long-time customers will have questions about your services, particularly if your business has new offerings. Allowing clients and potential clients to send quick texts when they have questions about pricing or hours will encourage them to connect with your business. The more they connect with your business, the more opportunities your staff has to make a positive impression and secure more appointments.
Offer Tips
To make clients feel like you care about them after their appointments, too, allow them to opt into a newsletter-like texting service. Text opted-in clients hair or skin-care tips and even words of encouragement on a daily, weekly, or monthly basis. Team members can send these messages to large lists all at once; business text messaging platforms can automatically personalize each outgoing message with merge tokens that draw on custom fields.   
Send Feedback Requests
Feedback helps salons determine which services are working well, and which need improvement. Unfortunately, it can be difficult to receive feedback from clients, who often ignore or forget about survey requests sent via email. On the other hand, business text messaging has a response rate of up to 80% and about 1 in 5 people will click a link in a text compared to just 4.2% for email. In other words, feedback requests sent via business SMS are more likely to be read—and responded to.
Ask for Online Reviews
Ninety-one percent of people regularly or occasionally read online reviews, and an astonishing 84% of people trust online reviews as much as they do personal recommendations. To entice new clients to make an appointment, ask your current clients to share how they feel about your business online. By taking advantage of business SMS's high open rate to send online review requests, you'll increase your visibility on critical review websites.
Internal Use Cases
Salon SMS and spa SMS can also help businesses streamline their internal operations. Salons and spas can use business text messaging to: 
Send Staff Notifications
Most team members in a salon are on the move. They're either talking with clients, scheduling appointments, or providing a service. Even though staff members carry their phones with them most of the time, it's not always an appropriate moment to answer a call. For large staff-wide notifications, managers or administrative team members can send mass texts. If an employee sends a response to the mass texts, team members can respond individually. Mass texts work well internally for emergency alerts, holiday reminders, event notifications, or any other critical communications.
Coordinate with Contractors
Some salons juggle a constant influx of contractors. While these professionals aren't a part of your core team, they still need a way to reliably communicate with your staff. With salon SMS, contractors won't need to download any additional apps when they need to text in with questions or notifications regarding delays or cancellations. Give contractors your business text messaging number, and they can text into your team's shared inbox right away.
Reduce Appointment Request Backlogs
After a jam-packed day at the salon, staff often has to review their voicemails and call back their clients one at a time. Salon SMS speeds up this process. Salon SMS services empower staff to hold more than one SMS chat at a time, so they can complete more scheduling requests. Given that the average response time for a text is 90 seconds, there's a good chance clients will respond quickly. Advanced business texting platforms can even recognize specific keywords in incoming texts, such as the word "schedule," and send customized initial replies, streamlining the scheduling process.
Business Text Messaging Setup
Once you choose your business text messaging provider, they will provide instructions for text-enabling your landline, VoIP, or toll-free number. Throughout the entire process, your clientele can still call your original number, but once the process is complete, they can either text or call. Incoming messages will arrive into your business SMS platform's shared inbox, which staff members can access from their web app or phone app. If you want to use a brand-new number for texting, your business text messaging platform will be able to provide that, too. 
Growing Business Text Messaging Lists 
Once you adopt a business text messaging platform, let your clientele know about your new salon SMS or spa SMS services through your website and social media pages. Mention your new business SMS number in any client communications sent through other channels, like email and your client portal. Display your textable number at your register. Where you have room, mention how quickly your staff can respond and your hours of operation. 
Legal Considerations 
Before texting your clients, consider and review both local and federal regulations with a legal team. Most importantly, you'll need clients to agree to receive texts from your salon or spa before you start sending them. Provide clients with multiple opt-in options (such as by texted keyword or web form) and let them know about the opt-out process. Include opt-out information in each of your initial texts, and be sure to choose a business text messaging platform that can opt out clients who send messages containing certain keywords, like STOP, STOPALL, UNSUBSCRIBE, CANCEL, END, or QUIT.
Ready to use salon SMS? Try our text service for business for free today.