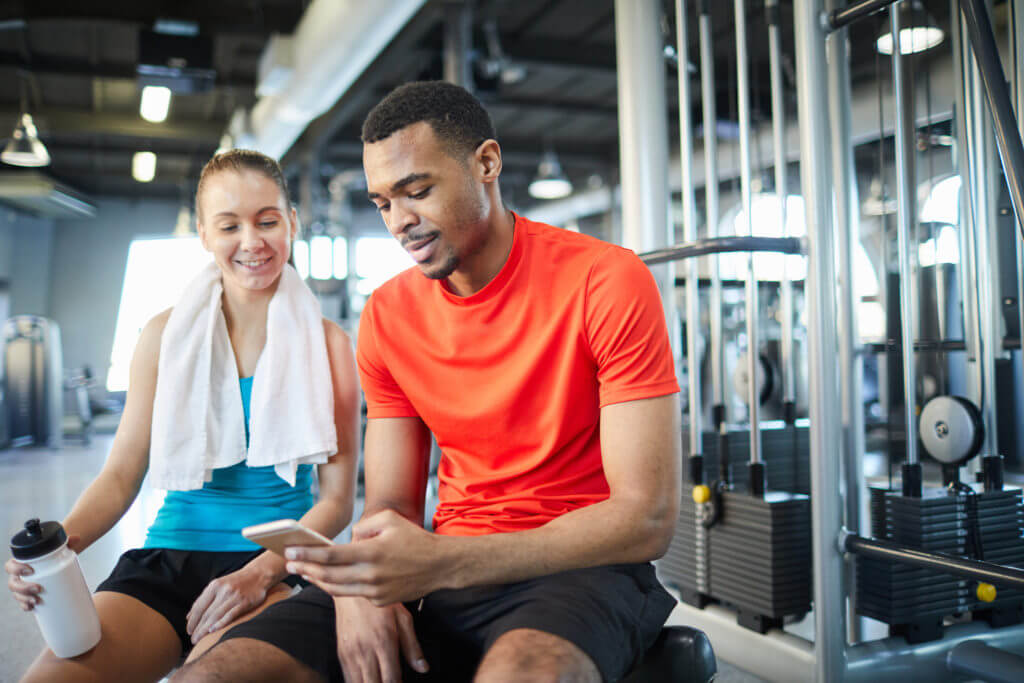 The U.S. fitness industry is booming. In 2017, U.S. health and fitness clubs had over 60 million members. As the industry continues to thrive, fitness companies are turning to technology—like business text messaging—to manage their growing membership and attract even more members. 
But fitness companies new to business SMS often have many questions before adoption. How many uses are there for business text messaging? Can business text messaging be used internally, too? Is it difficult to set up a whole new channel?
Read on to answer all of your questions about using business text messaging in a fitness company. 
Member-Facing
Use Cases
In the fitness industry, member and member engagement is the key to success. Communicating with them through the most convenient channel possible is a great way to ensure they use and enjoy available fitness services. Fitness companies can use business text messaging to: 
Send Session Reminders
The success of most fitness companies lies in member engagement. If members come to your gym or studio often and have successful workouts, they're likely to keep attending and keep their membership. To encourage more visits, many fitness businesses send out schedule reminders via email or phone for those signed up for group classes. However, it can take hours for staff to email or call each attendee—and the messages are often ignored. Alternatively, business SMS has an open rate of 98%, which means that members will read their reminders and more likely attend the classes they signed up for.
Answer Member Questions 
Members are often on the run, trying to figure out how to squeeze in another workout session between their work and personal obligations. Sometimes, they just don't have time to scour your website for class times or schedules. By offering members a simple channel to message when they have quick questions, you'll help them save time and increase the chances they pop in for a quick workout. Members can text their questions to a shared inbox. Then, an available staff member can see and respond to the query within minutes. 
Offer Tips and Encouragement
A successful fitness company offers ample encouragement and support to keep members coming back for more. To make members feel like they're part of a supportive network, allow them to opt in to a positivity texting service. Send opted-in members tips, empowering quotes, and words of encouragement on a daily, weekly, or monthly basis. Staff can send these messages en masse; business text messaging platforms can automatically personalize each outgoing message with merge tokens that draw on custom fields.   
Request Feedback
Fitness companies rely on feedback for everything from class offerings to facility performance. However, it can be hard to receive feedback from members, who regularly ignore survey requests sent via email. Business text messaging has a response rate of up to 80%, according to Heymarket research, and about 1 in 5 people will click a link in a text compared to just 4.2% for email. When your team sends feedback requests through business text messaging, they're more likely to receive a response. 
Ask for Online Reviews
Most people—91% of people, to be exact—regularly or occasionally read online reviews. Eighty-four percent of people trust online reviews as much as they do recommendations from friends and family. To encourage people to become members of your gym, ask current members to share their experience online. When you send online review requests via business text messaging, members are more likely to open your message and post a review, increasing your gym's visibility.
Internal Use Cases
Business SMS helps fitness companies better connect with their customers, and it helps with internal communications, too. Fitness companies can use business SMS to: 
Send Staff Notifications
In a fitness company, staff members are rarely sitting in one place. They're talking with members, in transit, or giving a tour. While staff members do often carry their phones with them, they can't always answer right away—and for group announcements, it can be difficult to call every single person at once. With business text messaging, managers or administrative teams can send mass texts and receive fast replies. Mass texts work well for internally for emergency alerts, holiday reminders, event notifications, or any other critical communications.
Coordinate with Contractors
Class instructors and special guests aren't part of your core staff, but they do need a way to reliably communicate with your team. With business text messaging, your contractors won't need to download any additional apps to text in about delays, cancellations, or scheduling their next class. Give them your business SMS number, and they can immediately start communicating with your team.
Business Text Messaging Setup
Once you have chosen your business text messaging provider, they will provide instructions for text-enabling your landline, VoIP, or toll-free number. Throughout the entire process, your members or members can still call your gym or studio number, but once the process is complete, they can either text or call. Incoming messages will arrive straight into your business SMS platform's shared inbox, which staff members can access from their web app or phone apps. If you want to use a brand-new number for texting, your business text messaging platform will be able to provide that, too. 
Growing Business Text Messaging Lists 
Once your fitness company adopts a business text messaging platform, let your members and potential members know about your new services through your website and social media pages. Mention your new business SMS number in all member communications sent through other channels, like email and your member portal. If you have room for some verbiage, mention how quickly your staff can respond, and which hours they'll be checking the SMS line. 
Legal Considerations 
In an industry focused on pushing physical limits, fitness companies often have legality top-of-mind. Before texting your members, consider and review both local and federal regulations with your legal team. One of the most important requirements is that members agree to receive texts from you before you start sending them. Provide members with multiple opt-in options (such as by keyword or web form) and let them know about the opt-out process, too. Include opt-out information in each of your initial texts, and choose a business text messaging platform that can opt out members who send messages containing certain keywords, like STOP, STOPALL, UNSUBSCRIBE, CANCEL, END, or QUIT.
Is your fitness company ready for business text messaging? Try our text service for business for free today.