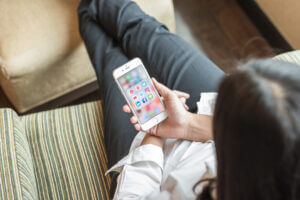 Business texting solutions are powerful tools. They let your teams send, receive, and organize thousands of customer and lead texts. A business SMS platform is a must-have in your arsenal of business apps—but it shouldn't be the only messaging tool your company uses. Omnichannel messaging is the ticket to truly meeting all of your customers' needs. 
What Is Omnichannel Messaging? 
Omnichannel messaging is a pretty common buzzword, but it's often conflated with multi-channel messaging. 
A multi-channel messaging strategy involves offering customers multiple messaging channels to connect through. However, customers may experience different levels of service or branding depending on which channel they choose. On the backend, customer service and sales teams don't have a unified way to answer messages, and instead answer them through each individual channel. This is, in part, what leads to a varied response on the business's side.
When a company offers a true omnichannel messaging strategy, it allows its customers to contact them through most popular messaging channels. Plus, it offers a uniform, top-notch customer experience no matter which channel the customer uses. The secret to this sleek, branded customer experience is in the back end. Omnichannel messaging is only achievable if your team can access all messages from a single hub and answer them accordingly. 
Want an in-depth look at engaging with customers on their favorite channels? Check out our Omnichannel Messaging Guide.
Get the Guide
Why Is Omnichannel Messaging Important? 
First and foremost, an omnichannel messaging strategy helps your customers reach your team right when they need to, and through the channels they prefer. 
If customers find it convenient to reach out to your team, they are more likely to:
Connect with your team in the first place

Enjoy their conversation 

Read any follow-up messages or content

Reach out with additional questions
It's critical that customers feel comfortable conversing with your team. The closer the relationship they have with your business, the more purchases they'll make, and the more satisfied they'll be with them. 
How Does It Work? 
As we mentioned before, omnichannel messaging relies on a single, central channel for your messages. These omnichannel messaging platforms will accept nearly all customer messages, no matter where they come from. Then, your team members can reply to them from within the platform. Outgoing messages will arrive in the channels through which customers originally reached out.
To give customers and leads easy access to your team, provide plenty of entry points. For example, you'll want to offer:
An SMS number, placed on your Contact Us Pages and online or print content

Various messaging buttons, added to your Contact Us Pages and online content

Google Maps and Search entry points, included with

Google's Business Messages

Apple Maps and Spotlight

search

entry points, included with Apple Business Chat
Customers simply choose their entry point and connect with your team. For example, if they're looking at your website, they can text in. If they've found your company through Google Search, they can click a "Message" button to send a quick query.
What Should I Look for In an Omnichannel Messaging Platform? 
There are plenty of omnichannel platforms on the market, but you need to ensure yours has all of the features you need. Without the right omnichannel platform, your team may end up offering multi-channel messaging instead, which isn't as effective.   
Look for an omnichannel messaging platform with:
An omnichannel platform with these tools will empower your teams to offer the sleek, uniform omnichannel messaging experience that your customers expect. 
Want to learn more about engaging with customers across all popular messaging channels? Read our omnichannel messaging guide.