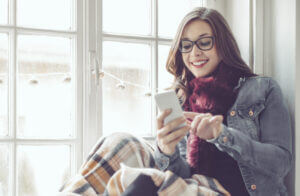 Because nearly every eCommerce and brick-and-mortar store has boosted their online presence this year, Cyber Monday is going to be bigger than Black Friday. To stand apart, your business has to use unique marketing strategies—like conversational marketing. 
Conversational marketing is a fast-growing strategy. It focuses on marketing content that encourages two-way, person-to-person interactions. SMS and other messaging channels are ideal channels for this strategy. Since customers are likely to read incoming texts, there's a good chance they'll respond, too. 
As long as your business receives written permission from customers, your team can text them business-relevant content that starts conversations. (Of course, you'll have to continually let them know they can opt out of your SMS services, too.) 
Read on to learn how conversational marketing will boost your Cyber Monday sales this year. 
Conversational Marketing Replicates In-Store Marketing
This year, a lot of customers will forego the in-store holiday shopping experience. They'll be missing the sparkling holiday decorations, perfumed interiors, and, most of all, your associates' cheerful conversations. Conversational marketing helps your teams recreate in-store marketing online. 
With help from business SMS, your team can:
Send traditional marketing content, like product announcements and seasons' greetings

Answer customer queries and start real-time conversations

Follow up with personal notes
Customers will enjoy those fast yet informational conversations that focus on the customer experience while promoting your brand. Add holiday emojis and a splash of cheer, and business SMS chats will make customers feel like they're getting back some of the in-store holiday shopping experience they've lost. 
Conversational Marketing Helps Customers Find the Right Products
Customers know when they see the products they really want. There's an aha! moment that encourages them to head to the cash register with their finds. When customers aren't in your stores, it can be harder for them to determine whether the products on their screens are the ones they really want. Conversational marketing is a great way to help them identify those products during their Cyber Monday shopping.
Conversational marketing is built for person-to-person conversations. It's the ideal channel for sharing advice, too. With business SMS, your team can:
Offer professional opinions on products and gift purchases

Send images of products, complete with links 

Follow up to ensure customers liked their purchase or don't have more questions
Helping customers find products they love is key to increasing Cyber Monday purchases. Plus, the better the fit your customers' Cyber Monday purchases are, the more likely customers (or their gift recipients!) will enjoy them for years to come. 
Conversational Marketing Accelerates Sales Cycles
Conversational marketing can drastically shorten the customer journey. In most cases, customers find a product on your website, research it online, head to your website to look at it again, and either reach out to your team to ask questions or make the purchase. Conversational marketing shortens that journey, accelerating your sales cycle. 
Through a business SMS conversational marketing chat, customers can do their research, receive answers to their questions, and make their purchases. (This also makes customer touchpoints much easier to track.) Business SMS empowers your team to:
Conversational marketing with business SMS drastically accelerates your business's sales cycle. When customers can complete their journey within a single channel, they're more likely to complete it—boosting your business's Cyber Monday sales. 
Want more holiday SMS marketing tips? Check out our blog today.