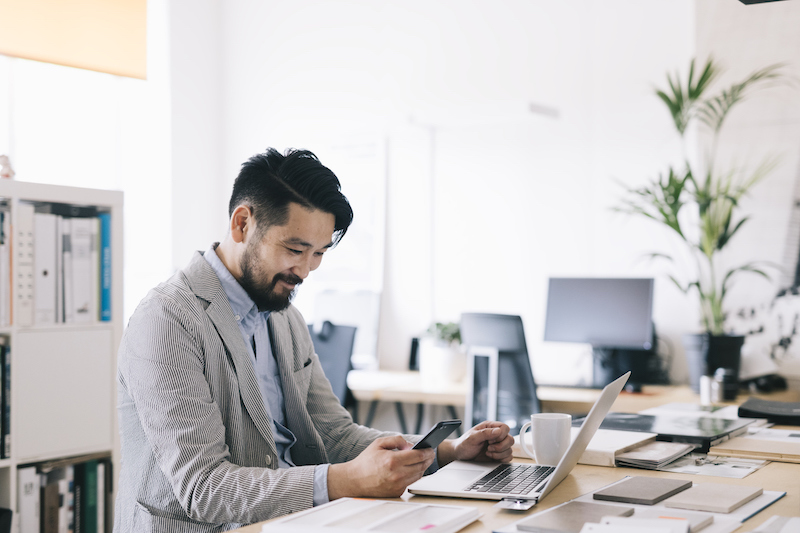 The subscription economy is estimated to be worth $650 billion now—and more businesses are joining the fray every day. Savvy subscription companies are starting to use conversational customer engagement to help them stand apart from the crowd. 
What Is Conversational Customer Engagement?
Conversational customer engagement (CCE) is a messaging strategy that requires teams to make strong person-to-person connections with customers. Its foundational pillars are authenticity, responsiveness, and speed to resolution. While it requires teams to prioritize responding to inbound messages and following up with customers, it also offers guidance for outbound content. 
Let's explore five CCE use cases that help subscription companies form long-lasting customer relationships.
Resolving Customer Queries
There's a good chance your team already answers customer service queries via business SMS. It's naturally a fast channel for resolving queries since customers often complete chats in real time. CCE helps you elevate the customer experience further. 
CCE requires you to:
Respond to queries immediately with an auto reply, so customers know you are eager to speak with them

Use a personal or team signature when you reply, so they know you are a person, not a bot

Write in a casual, friendly tone, using emojis and GIFs where appropriate to show your personality
Creating a responsive, authentic experience with these conversational messaging tactics will let customers know that you're a real person trying to help them. Plus, the friendlier their experience is, the more likely they'll connect with you in the future. 
Checking In After Ticket Resolutions
CCE is all about putting the maximum amount of effort into every aspect of the customer experience. This means preemptively ensuring that customers are enjoying your subscription—even after you've resolved their tickets. Schedule out follow-up texts for a short amount of time after ticket resolutions to ensure you got everything right.
Use these CCE strategies in your follow-ups to ensure customers know you care:
Open up the follow-up message with a reference to their ticket number or problem

Use your signature and items like emojis to let them know you're a human, not a bot

Remind customers that they can send questions or comments through SMS at any time
With the right tone and content, your personalized ticket follow-ups will remind customers why they love your brand.  
Announcing Weekly Menus and Monthly Box Contents
Conversational customer engagement strategies aim to spark conversations as much as possible. Announcing your weekly menus or monthly box contents is a great way to provide valuable information through a channel that customers can instantly respond to.
Remember to use the following CCE techniques when you send these announcements:
Include limited information to keep texts brief, but link to details

Let customers know that they can respond with any questions or comments

Add a team signature so customers know who they're replying to
Emphasize that customers can respond if they have questions or concerns. If your subscription allows customers to adjust their choices or skip weeks, they may want to quickly reach out when they receive your text. (Methodology, a meal kit delivery company, shares weekly menus through SMS. The brand has increased customer satisfaction as customers can easily text to let them know whether they want each week's meal.)
Offering Subscription Tips and Use Cases
As you can probably already tell, conversational customer engagement focuses on customer success. Offering tips and sharing innovative ways other customers are using your service helps them make the most of their subscription. Plus, interesting tips can spark conversations. 
Use CCE strategies to encourage customers to reply to your product tips and use cases:
Use friendly, cheerful, and simple language when describing tips or use cases

Add the signature of a team expert if possible, so customers know they're hearing from a specialist

Remind customers that your team would love to answer their questions or even hear about their own use cases
Texting tips and use cases is a powerful outbound conversational messaging strategy. The texts are useful, and if customers reply, they're sure to start important chats. 
Asking for Feedback
Conversational customer engagement emphasizes the importance of asking for feedback whenever possible. It's a great way to open the lines of communication for customers, and help your brand secure future renewals. 
When asking for feedback, use key CCE techniques:
Emphasize the importance you place on customer opinions

Use

in-chat surveys

where possible, making it easy for customers to reply

Keep

quantitative

questions brief and numerical, then send free-form follow-up questions

Reference their subscription with custom fields to add that personal touch
These conversational messaging tactics help you let customers know you care about their opinion of your brand, boost feedback responses, and, ultimately, increase your renewal rate.  
Need some tactics to help you engage your customers in a conversation? Check out our blog.