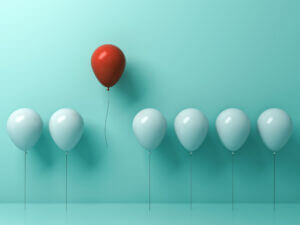 It can be hard to stand apart from your competitors, even if your product is top-notch. But there's a secret to getting your target audience to try your product and become brand loyalists: business texting services. 
Business SMS platforms offer tools that help teams provide quick customer service and personalized marketing campaigns. Once you've gained your leads' and customers' written consent, you're free to send engaging, valuable content. Some of your competitors may already offer business texting services—but it's likely that they aren't taking full advantage of all that these powerful platforms have to offer. 
So how exactly can business texting services help your brand stand out? Let's dive in. 
Offer the Most Convenient SMS Customer Service
Today's customers expect personal, fast customer service. In fact, 64% of consumers and 80% of business buyers expect companies to respond to them in real time. 
Business texting services help your team provide :
The fastest replies in the industry.

Incoming messages arrive in a

shared inbox

, where all of your permissioned team members can see them. They can

assign

themselves or one another the chats so team members know who's answering what. Because SMS is naturally a fast channel—the average response time is

90 seconds

—your team can close out tickets much faster than you could with a slow channel like

phone calls

. 

The most accessible customer service available

. Speed is important when it comes to customer service, but so is accessibility.

Advanced business texting services can integrate with all kinds of other SMS channels. An omnichannel messaging strategy allows customers to contact you through their favorite channels, like

Facebook Messenger, Apple Business Chat, and Google's Business Messages. All of these messages will land in your shared inbox, alongside those from native SMS apps. When your team replies, the messages will arrive right in the original channel.

The most customer-centric service

. SMS marketing is a popular tool for businesses, but focusing your attention on providing SMS customer service will win your customers over. Offer items like SMS reminders, order notifications, scheduling, and Q&A hotlines to make your customers' experiences as convenient as possible. They'll be happy that your team is making their lives easier through your business texting services. 
Fast replies, multiple entry points, and customer-centric texts will make your brand well-known for offering the most convenient customer service in the industry. 
Engage Customers with Unique SMS Content
Basic content, like blog posts and drip emails, are the pillar of marketing campaigns. But in order to stand out, your brand has to offer more unique content, too. 
Consider offering industry-themed games and tips. These can include:
Trivia.

A weekly round of SMS trivia questions related to your industry can be a fun escape for your subscribers. Be sure to text out a leaderboard to encourage their competitive spirit. 

Identify the picture.

Switching it up, your team can take a close-up picture of an object from your office or factory and ask customers to guess what it is. Reward both correct guesses and the funniest guess. 

Fun facts.

Fun facts aren't quite as interactive as games, but some customers simply don't have time to participate in more time-consuming activities. Send industry-relevant fun facts that customers might find interesting. 
Your marketers should take care to personalize these messages, too. Ninety percent of customers find personalization appealing. Before you send a template to a list of customers, ensure it has space for custom fields. When you click "send," your business SMS platform will use merge tokens to insert customers' custom fields into outgoing texts. Just adding a customer's name will make each marketing message seem like it was sent by an individual. 
By sending unique and personalized marketing content, your teams can engage customers and provide a positive, fun experience. Going the extra mile with SMS marketing content is a great way to stand apart from your competitors. 
Provide a Delightfully Personal VIP Customer Experience
Ninety percent of leads would much rather text your salespeople than talk on the phone. This is one of the main reasons why your competitors may already be using business texting services. 
Your team can follow up with leads who show interest by opting in to your business texting program through Google Ads, social media ads, or your website. Automations can send first-step responses to get chats started. Then, salespeople can immediately continue the conversations one-on-one. 
To really make your business texting services shine, you can offer a VIP customer experience unique to your company. For example, if you run a plant nursery, you can offer a plant expert's advice through SMS. Customers can text in with photos if their plant is suffering, then your plant expert can offer a diagnosis and remedy. If you run a vintage clothing business, customers can text in with questions about sizing. 
A personal VIP customer experience will show your customers that your team knows the industry and wants to share knowledge. This will set your business apart from the crowd. 
Want to stand out with business texting services? Try our business SMS platform for free.