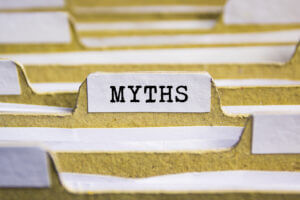 If you're new to texting professionally, you may have heard some rumors about business texting apps. These rumors stem from decades ago, when SMS marketing was more spray-and-pray than a strategic business communications tool. Marketers would send identical texts to all of their contacts without checking to see if they wanted to receive them, which, predictably, wasn't popular with consumers. Today's business text messaging is sleek, modern—and a favorite customer channel. 
We've rounded up a few myths we've run into during our years of experience working with new customers. This way, you can learn the truth behind them long before you get started sending texts. 
Let's dive in. 
Myth #1: Customers don't want businesses to text them. 
It's true that SMS started as a personal channel. Most people use it to connect with their friends and loved ones. But that doesn't mean customers don't want to hear from your brand via SMS, too.
Customers can check SMS reminders and alerts far faster than they can answer a call or listen to a voicemail. In fact, one in five consumers is likely to prefer a text message from a business to a phone call. The same goes for email; for timely messages, there's no channel that customers can check faster than SMS. 
Myth #2: Customers don't want to text a business.
Customers don't just want the occasional appointment reminder or pick-up order alert. They also want to be able to connect with your team through business SMS for customer service queries. 
SMS is a fast channel. With an average response time of 90 seconds, it's one of the fastest ways to take care of simple tasks. Customers love to text businesses with questions about returns, scheduling, and operations, because they know it's likely that they'll receive quick replies. In fact, 89% of consumers would like to message businesses. 
Myth #3: It's hard to stay compliant with SMS regulations. 
There are global, federal, and local laws that businesses have to comply with. Most common is the TCPA, which asks that businesses get written confirmation that their customers want to receive texts. 
It's easy to stay compliant with these regulations. Ask each of your customers to opt in to your business texting services. They can text in a specific keyword or select a box on a webform. Once your team receives someone's first text, you can send them a confirmation just to be sure that they intended to opt in. Then, you are free to text your customers as long as you include opt out instructions in your content.
Myth #4: You can't use your business phone number with SMS.  
Your customers may be used to your old landline, toll-free, or VoIP number. Most business texting apps will allow you to text-enable those numbers. 
The text-enabling process is fast. It's fully automated and should only take a few minutes of your time. Plus, even while your business texting app provider is going through the process, your customers can still successfully call your line. Once the process is over, they'll be able to both text and call your number. Incoming texts will arrive right within your business texting app's shared inbox. 
Myth #5: You can't personalize mass texts. 
Business texts used to be "spray and pray." Marketers used to get access to a lot of numbers, then send them each the exact same text from a short code number. Today's business texting apps have made these blanket messages a thing of the past. 
Now, your team can create templates with space for custom fields. Once team members click "send," your business texting app will use merge tokens to insert recipients' custom fields into outgoing texts. These can include first names, loyalty IDs, and other information that will add a personal touch to each message. 
Myth #6: Business texting apps only allow one-way chats. 
Business texting apps offer full messaging capabilities. This means that if your business texts a customer, the customer can text right back. 
Messages arrive in a shared inbox, where your team members can see each incoming text and respond. To ensure all customers receive a fast reply, you can easily set up auto-responses for busy days and after-hours. In fact, business SMS conversations are just as robust as emails. Your team can receive and send photos, GIFs, and emojis to get your point across. 
Myth #7: Your team may get confused if they have to manage too many messaging channels. 
You may be worried that your team will get overwhelmed if they accept messages from other channels, like Facebook Messenger or WhatsApp. That's a lot of apps to juggle. 
There's no need to worry; your business texting app will make it even easier to answer messages from a wide variety of channels. All incoming messages, whether they're from native SMS apps or over the top (OTT) channels, will arrive in your shared inbox. When your team members reply to the messages, they arrive in the same channel through which they were originally sent. 
Myth #8: Business texting adds yet another app to your crowded windows. 
Your team already has favorite apps. These might be CRMs or internal messaging platforms. Cutting-edge business SMS apps empower your teams to integrate your business texting app into your current app ecosystem. 
SMS integrations empower your systems to share data. In most cases, you can text from app interfaces, like Salesforce and Zendesk. You can also set up actions and triggers, so that receiving a text in your business texting app starts an action in another platform, and vice versa. These automations and integrations streamline your team's app ecosystem. 
Myth #9: Nobody will know they can text you. 
If you've used phone calls to communicate with customers for a while, you may worry that your customers won't know they can text. Luckily, it's easy to get the word out. 
Simply advertise your new texting service on your website, social media, and email newsletters. Be sure to outline the opt-in process and include your number. Soon, you'll start receiving countless opt ins, building up your SMS lists for future messaging campaigns. 
Ready to get started with business SMS? Try our business texting app for free.