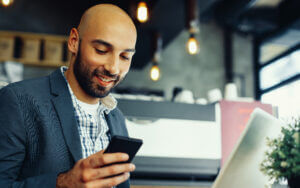 Retail SMS is a top-notch tool for building customer relationships. First of all, customers love it. In fact, 89% of consumers want to text brands, and they open 98% of text messages. In addition, retail SMS platforms make texting with customers easy. They offer efficiency tools that help team members expedite day-to-day texting. They also offer automations. 
SMS automations can streamline many of your key workflows. These automations are easy to set up and maintain, but can save your team hours of precious time. Ultimately, SMS automations boost team productivity, helping your team members reach more customers faster than ever before. 
So where should you get started? We've rounded up the top 5 most common retail workflows that you can automate with a retail SMS platform. 
Want to learn more about using automations to streamline your workflows? Read our ebook Automated Text Messaging: The Complete Guide
Get the guide
Customer Contact Data Sync
Your team relies on customer data—especially if you run an eCommerce business. It helps you organize contacts, track customer interactions, measure marketing campaigns' success, and make sales predictions. To successfully complete these tasks, your team has to have the most accurate data possible. But it can be time-consuming to constantly cross-check your retail SMS platform with your CRM or eCommerce platform.  
It's easy to automatically sync customer data between your retail SMS platform and CRM or eCommerce software. All you need to do is integrate the two platforms. Depending on your retail SMS platform, the process should be immediate. The integration will update customer data in real-time. If any information, including custom fields, is added to either platform, it will immediately update in the other. 
Automating customer data maintenance is key to ensuring all customer information is up to date when your team uses it. It also reduces your team's workload, allowing them to focus on more high-level tasks.
Initial Outreach
When customers sign up for your retail SMS service, you want to connect with them as quickly as possible. This way, you can capture their attention and promote your brand right away. But your team can't answer dozens of incoming texts immediately. Instead, you can set up an automated welcome message. 
To set up an initial outreach automation, your team can:
Your welcome message should include basic information about your SMS service, like your response time and business hours. Automating welcome texts helps your team reassure customers that their answers are on the way. You can even emphasize your branding in just a few words. 
Customer Follow-Ups
Your team needs to follow up after customers ask questions or make purchases. Reaching out after one of these interactions shows customers that you're determined to give them a top-notch experience. You may ask them if they have additional questions about your products or if they like their purchases. Regardless, you can automate these follow-ups with a retail SMS platform. 
To automate a text after a conversation, your team can:
Write the follow-up text

Schedule the text for a specific date/time

Press

"schedule"
Automating customer follow-ups helps you reconnect with customers without fail. If a customer replies to one of your follow-ups, the message will arrive in your shared inbox, where you can continue the conversation right away.
Customer Engagement
Keeping leads and customers engaged is the best way to build strong customer relationships and boost their loyalty. But customer engagement can be time-consuming. You have to send regular content that's both educational and entertaining, like product tips, store updates, and even SMS trivia or games. Your retail SMS platform empowers you to create SMS drip campaigns so you can send key content quickly. 
To set up a drip campaign, your team can:
Choose a

list

of leads or customers

Select a schedule to send the engagement texts on

Create multiple templated messages
Automating customer engagement allows you to to create and schedule content in batches, saving time overall. Any lead or customer replies arrive in your shared inbox, where you can address them quickly. 
Shift Coordination
Managing retail associates' shifts can be challenging. Retail SMS helps managers quickly coordinate last-minute shift changes and other challenges. However, associates may still forget their shifts—especially during a busy season. Automate shift reminders to help them stay on track.
To set up a shift reminder automation, you can:
Create a basic shift reminder template (or templates) with space for

custom fields

Choose a

list

of recipients

Schedule

your message for a certain time (e.g., 4 hours before a shift begins)

Return to your retail SMS platform if you need to make adjustments before the text sends
Your retail SMS platform will send the shift reminders right when you scheduled them. If your associates have any conflicts or problems, they can reply privately. Individual replies will arrive in your shared inbox. You may want to use SMS drip campaigns to text workers every day with reminders. 
Want a step-by-step look at building text automations to expedite every area of your business? Read our ebook Automated Text Messaging: The Complete Guide.