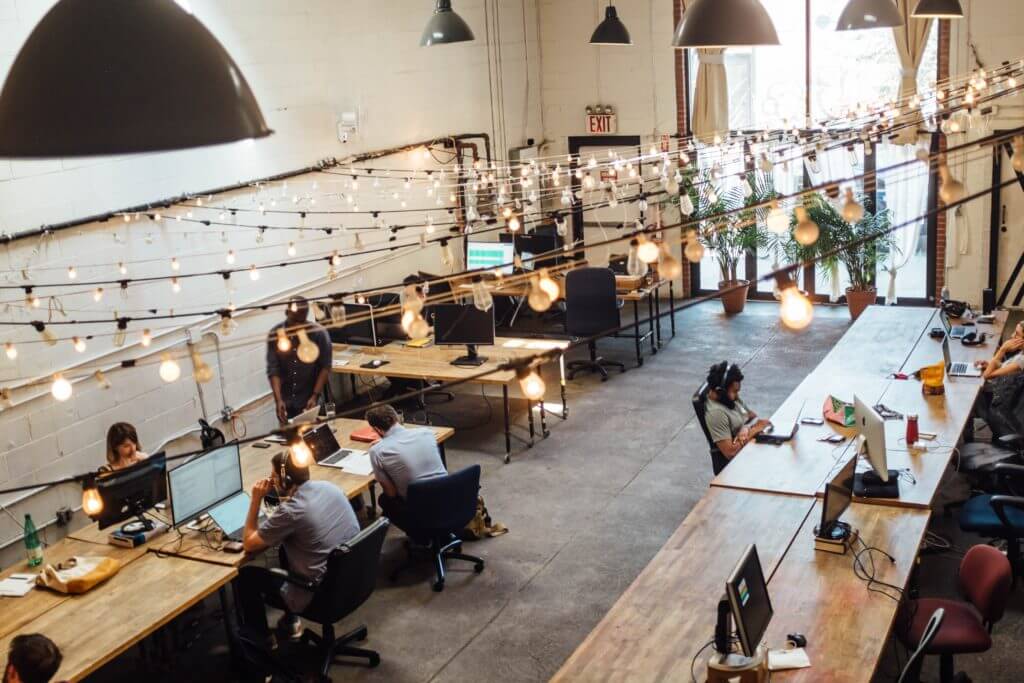 As communications standards change across the U.S. (and the world), customer service has started to change, too. While 74% of consumers have contacted customer service by phone, 62% have used email—and 52% would prefer to use business SMS. In fact, most call centers have renamed themselves "contact centers," which customers can reach via both voice and text-based methods like phone calls, email, web chat, and SMS.
This shift from centralized customer service call centers to distributed contact centers can not only improve customer satisfaction, but also increase revenue and become a competitive advantage. Over one out of every ten Americans rates his or her number one frustration with customer service as "lack of speed," and 37% of consumers expect to contact the same customer service representative through whichever channel they choose. If a business can provide fast service over multiple popular channels, it has a good chance of winning more business and retaining customers.
Read on to learn more about building a modern SMS contact center solution, from harnessing the power of APIs to analyzing out-of-the-box metrics.
Ensure Your SMS Contact Center System Features Integrations and APIs
Modern enterprise customer service apps are cloud-based, which lowers maintenance costs and improves overall security. But the most advanced apps also have easy-to-set-up integrations and full-featured application programming interfaces (APIs).
For contact centers that would like to build a quick solution, look for modern apps that have built-in integrations with key tools like Aircall (voice) and Zendesk (email).  They often offer Zapier integration, too, which enables integration with 1,500 (and growing) enterprise apps.
For more advanced integrations, look for APIs that allow cloud-based contact center apps to "speak" to one another, or combine and share data to enrich their users' experiences. They are critical for businesses that want to create seamless omnichannel customer service experiences across voice, email, business SMS, and other customer service channels. These APIs allow apps to combine their data and features to create full, 360 degree  profiles of customers as well as more seamless workflows.
Pro tip: When you're evaluating a cloud-based app for your SMS contact center solution, check their integrations page to see which out-of-the-box integrations they have. The more the better, especially if they integrate with common contact center apps (e.g., Zendesk). For more advanced uses, check the app's API page (typically [business].com/api). That webpage should show the various API calls that the app exposes for custom integrations.
Provide Seamless SMS Contact Center Agent Experiences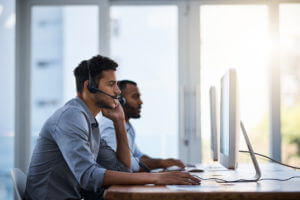 Today's top customer service agents have certain expectations when it comes to the technologies they use. They want access to tools that are as intuitive and streamlined as third-party apps like Gmail and popular iOS apps like Slack.
When you begin the search for your SMS contact center apps, ensure that they each offer seamless agent experiences that require minimal training. These apps should have user-friendly web and mobile interfaces, accessible help articles, and in-app customer service help.
An intuitive business app experience is especially important in today's flexible work environment. Seventy percent of people around the world work from home at least once a week, and this trend is only rising. Cloud-based customer service apps make it easier to hire remote professionals—and improve their performance.
Pro tip: Choose enterprise apps that empower customer service agents to centralize their app activities. For example, some SMS customer service apps empower agents to send texts (and more) from within Slack, one of the most popular chat tools available, or the Zendesk Support agent interface.
Measure not Just SMS Contact Center Agent Performance, but Also Customer Intent
Historically, call centers have tracked key performance indicators (KPIs) such as response time, resolution time, and idle time. These KPIs provide customer service managers with a clear picture of customer service agent performance.
But today's SMS contact center apps can track much more advanced metrics.
With the advent of machine learning, large data sets of messages and emails have made classification of intent possible. With advanced enterprise apps, SMS contact center solutions should have a way to automatically classify customer interactions, assign intent, and map it to specific KPIs. For example, the length of customer service interactions can indicate whether the customer is communicating for a conflict resolution, or for basic company or product information. If the increase in short communications leads to more revenue or higher CSAT scores, business leaders can tell that customer service agents are better helping customers. This the most effective way to measure the ROI of SMS contact center solutions.
Pro tip: Your enterprise apps should empower you to track all kinds of KPIs, from resolution times to number of chats per team member, number of characters typed per conversation, and interpret those insights. For example, with an omnichannel customer service offering, a report that reveals a high return rate via business SMS might indicate that customers really want fast, short answers.
Ready to build your state-of-the-art SMS contact center solution? Start with an advanced text service for business.