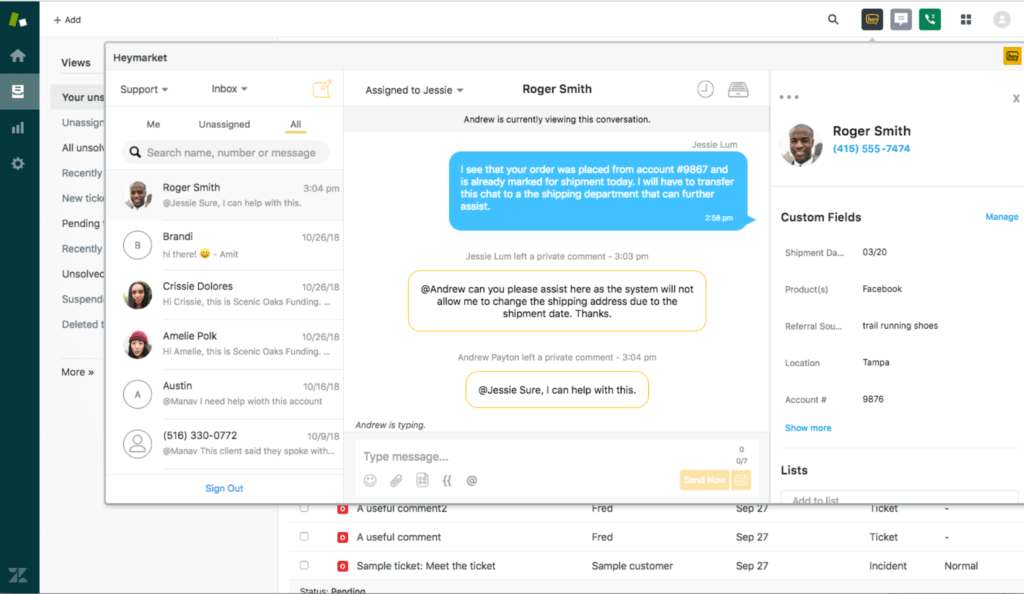 Zendesk is one of the most popular customer service tools in the world—with good reason. Their email agent interface is intuitive and extensible, making it easy for businesses to resolve customer queries and build strong customer relationships. Zendesk's nearly 150,000 paid customers are located across 160 countries and counting.
As impressive as Zendesk is on its own, it is often one of many web apps that customer service teams toggle between throughout the day. If agents use a business text messaging app, for example, they have to constantly switch between tickets and text messages to solve customer queries.
Until now, that is.
Zendesk text messaging integrations empower customer service teams to streamline their day-to-day operations. By clicking a simple Heymarket widget residing in the Zendesk Support agent interface, customer service agents can now text customers from directly within the Zendesk app.
Read on to learn more about Zendesk SMS capabilities—and how they can benefit your business.
Zendesk Text Messaging Empowers You to Get a 360 Degree View of Each Customer
The key to strong customer relationships is ensuring that customers know you are committed to providing thorough, personalized service. For customer service agents to provide this kind of meticulous attention to customers, they need to have access to a full list of customer interactions.
With the Zendesk text integration, agents can now see SMS conversations alongside email conversations. With access to both communications records, agents have a full view of every customer interaction, and can ensure that nothing falls through the cracks.
Additionally, if a customer opts in for SMS updates, they can be messaged directly from the Zendesk agent interface without the agent having to toggle to another interface.
Pro tip: To get a quick yet well-rounded view of each customer's communications with your business, use the Heymarket contact pane. This feature displays past text messages and custom fields, which can come in handy when you need to toggle between SMS and email with a customer.
Zendesk Text Messaging Automates the Survey Process
Surveys are key to effective customer service teams. Customer feedback lets agents know how they are performing and where they can improve, which ultimately helps them provide the best service possible to customers.
More and more often, survey links are being sent via business SMS. Often, links sent through business text messaging are more effective than those sent through email: 19% of people will click links in an SMS message, compared to just 4.2% in emails. With the help of business texting platforms, the process can even be expedited; automations empower agents to set up templated surveys that are sent whenever their trigger occurs. A trigger might be a customer ticket being closed.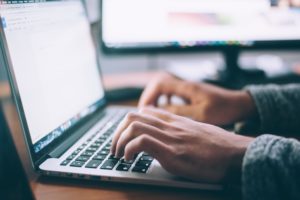 With Zendesk text messaging capabilities, your agents can set up survey automations that immediately trigger. This will further streamline customer operations, ensuring that every customer who opts in receives a survey without extra effort for agents.
Pro tip: Schedule overarching customer relationship surveys, like Net Promoter Score (NPS) surveys, two weeks or so after tickets are closed. More specific feedback, like individual agent evaluations, should be requested immediately.
Zendesk Text Messaging Streamlines Customer Service Operations
One of the best benefits of Zendesk SMS capabilities is that it allows businesses to fully integrate Zendesk support with your business SMS provider.
Heymarket provides a seamless business text messaging solution, working seamlessly with Zendesk in a few unique ways:  
A sidebar widget allows agents to see customer texts alongside support emails
Channel integration enables SMS to be sent directly from the agent interface
A full widget in the app empowers users to quickly and easily access SMS capabilities
Contacts are automatically created in Zendesk for incoming text messages from your Heymarket contacts
With such an accessible Zendesk text messaging integration, your teams will find it easier than ever before to manage customer communications.
Pro tip: Send quick follow-up texts through the Zendesk interface to opted-in customers who called, emailed, or texted in about a certain product or service enhancement that they requested. If they didn't use text in the first place, they'll be introduced to (and hooked on) a faster means of communication.
Questions? Learn more about the Zendesk SMS integration here or chat with us.