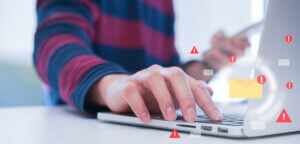 Emails aren't going anywhere anytime soon. They're still a primary channel for business communications. In fact, it's estimated that people will be sending and receiving 320 billion emails every day by 2021. But that doesn't mean there aren't other channels that you should be using for certain customer communications. Take omnichannel messaging, for example. 
Omnichannel messaging platforms accept messages from most messaging channels, including native SMS apps and over-the-top apps like Apple Business Chat, Google's Business Messages, Facebook Messenger, and WhatsApp. All messages arrive in a shared inbox, where your team members can see and respond to them. Outgoing messages arrive in the same channel through which customers sent the original messages. 
With help from these powerful platforms, omnichannel messaging has become a critical channel for real-time communications. In fact, it's become one of the most in-demand communication channels out there. Eighty-nine percent of consumers want to message businesses. No wonder so many messaging channels are opening up to business use. Recently, companies like Google and Apple have even created their own business messaging channels. These new channels are a big consideration when it comes to comparing omnichannel messaging vs emails. 
Read on to discover the 3 things omnichannel messaging does better than emails. 
Want to learn more about engaging with customers on their favorite channels? Check out our Omnichannel Messaging Guide.
Get the Guide
Timely Communications
Email conversations are notoriously slow. It takes the average person nearly two hours to respond to a single email. This can be a big problem when your customers (or you!) need to get answers quickly. 
Omnichannel messaging is a faster choice for timely situations. Business SMS messages, for example, are:
The speed of omnichannel messaging is ideal for customer-to-business communications in which timeliness is key. It's a great channel for key tasks, like asking customers to reply by a certain time to confirm appointments or checking on payments. 
Key Content Sharing
Because most businesses communicate by email, many people suffer from overflowing email inboxes. That's one of the reasons emails have a low open rate of about 20%; people simply have too many emails to open and read them all. When your team has critical information to share with customers, this kind of low open rate can be a roadblock. 
Omnichannel messaging, on the other hand, has a high open rate. In fact, 98% of SMS messages are read. This open rate ensures that your customers will receive key communications like:
Important deadlines

Key business operations adjustments

Order or appointment changes
Sending important content through business SMS makes it more likely that customers will read it. In many cases, fast communications can help your customer service stand out, improving the overall customer experience.
Media-Rich Chats
Emails can handle media attachments. But it can be a hassle for customers to take pictures or videos of objects and spend time uploading them to emails. They have to take a picture or video on their phones, then send it to their emails or download it from the cloud. 
Today's omnichannel messaging tools are often located on your customers' phones, which are more advanced than ever before. With an omnichannel messaging phone app, customers can quickly:
Take a photo or video of a product

Annotate it through their phone's built-in photo program

Text it to your team
These media-rich chats are excellent tools for customer support and service conversations. Customers can send pictures or videos to request a return or get advice. Better yet, your team can also quickly use their omnichannel messaging platform's iOS or Android app to include videos or photos in their responses. Omnichannel messaging makes media-rich customer conversations more convenient than ever before. 
Want to learn more about engaging with customers across all popular messaging channels? Read our omnichannel messaging guide.