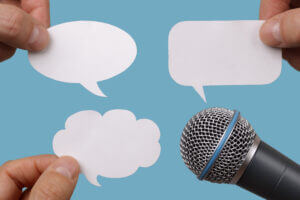 There's no denying that consumers love messaging. From native SMS apps to over-the-top (OTT) messaging apps like Facebook Messenger, consumers use them all. In fact, the average person uses 3 different messaging apps each week. 
SMS has long been a popular tool for companies that want to connect with consumers through a channel they actually like. Business text messaging services empower teams to send, receive, and organize customer texts. But companies have only recently been able to capitalize on the popularity of OTT messaging. Now that smartphones and fast data plans are common features of most households, OTT messaging, which relies on an internet connection, has started to thrive. 
What Is OTT Messaging, Anyway? 
Over-the-top (OTT) messaging refers to instant messaging channels other than native SMS apps. Consumers can download these OTT messaging apps on their phones or, in some cases, their computers. They work similarly to native SMS apps, but send their data over the internet instead of cellular networks. 
These real-time channels are popular because they often offer different perks than native SMS apps do. WhatsApp, for example, simplifies international texting and calling, and seamlessly works with multiple types of mobile phones. It was one of the first apps of its kind. Snapchat offers fun filter overlays and short videos. Apple's iMessages lets customers send messages with GIFs, interactive emojis, payment requests, and other extras. 
As OTT messaging channels grow more popular, one thing's for sure: businesses are ready to capitalize on them.
Looking Back at the OTT Messaging Landscape
Facebook Messenger for Pages was one of the first successful business-focused Messaging tools. Starting in 2015, consumers could use it to connect with their favorite companies through their Pages on Facebook. 
WhatsApp also opened up for businesses early. The company leadership announced its intention to allow consumers to message businesses as early as 2016. 
These were two important moves in the OTT messaging world. But 2020 has stepped up the industry's speed big-time. 
The Big Guns Opening Up in 2020
In 2020, two tech giants opened up messaging tools specifically for businesses and their customers.
Google's Business Messages allows consumers to directly message businesses from Google Search or Maps. It includes robust features, like appointment scheduling and configurable images, texts, and buttons. Apple Business Chat allows customers to message companies from Maps, Safari, or Search. Similarly to Business Messages, Apple Business Chat allows customers to pay for items or schedule appointments right from the app. It has quite a few marquee customers. 
Other business messaging channels are stepping up their game in 2020, too. 
WhatsApp Business added QR-code reading and catalogue sharing capabilities this year. Facebook Messenger for Pages now offers a consolidated inbox for businesses, streamlining their messaging apps. 
Given all of this movement, it's no wonder we're calling this the year that OTT messaging channels open up. 
Why It Matters That OTT Messaging Channels Are Opening Up
It's a huge deal that OTT messaging channels are expanding business capabilities. 
Messaging is incredibly popular with consumers. Plus, 89% of consumers specifically want to be able to message their favorite brands. The more messaging channels that open up for business use, the more convenient it will be for consumers to get in touch with your company. 
Besides, messaging is a top-notch channel for customer communications. It empowers your teams to:
Strengthen customer relationships by encouraging communication

Save teams time with its speed and efficiency

Resolve more queries without losing that personal touch

Streamline team workflows with SMS automations. 
These benefits help businesses offer a better customer service experience. 
How To Capitalize on OTT Messaging (Without Overwhelming Your Teams)
There are a lot of messaging channels currently open to businesses, and you can expect more in the future. It's critical that you offer the most popular of these channels to customers so they can get in touch with you easily. 
But it's equally important that your teams can handle all of these channels. 
Be sure to choose a messaging platform that can centralize all of your messaging channels. For example, some business text messaging services can accept messages from both native SMS apps and OTT apps. All incoming messages arrive in a single shared inbox, where team members can see them and respond. All of your team's replies arrive in the channel through which the original message was sent. 
A centralized messaging hub empowers your business to offer accessible messaging to all customers—with no additional friction for your team. 
Interested in centralizing your messaging channels? Try our text messaging services for free.