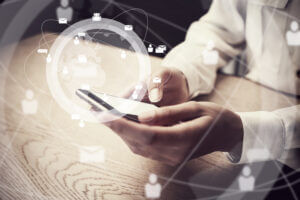 The new year is a great time to reassess your business text messaging performance—and security practices. Customers' data is more valuable than ever before, and it's your job to protect it from bad actors as best you can. In fact, customers expect a secure business texting experience. That's why they trust you enough to reach out in the first place. 
Your team should regularly reassess your vendors, platform settings, local and federal requirements, and team practices to ensure customer data safety year-round. But the beginning of the year is a great time to reassess all of these factors at once. Then you can make larger adjustments where needed. 
Read on to learn how to achieve secure texting for business in the new year.  
Step 1: Choose a Secure Business Texting App
First, you need to ensure that you are using a secure business texting app. Without a tool that offers security within its technology, none of the improvements you implement will make much of a difference. 
A secure business texting app will:
Offer single sign-on (SSO) capabilities

Include a variety of roles and permissions for administrative control 

Adhere to SOC 2 Type 1 or, preferably, Type 2 compliance (and offer the required certification materials) 

Continually update back-end security based on the latest technology
You must have a technologically secure text messaging platform. Trying to secure SMS data without a security-centric platform is like sending your archers to defend a castle that has a wall missing. 
Step 2: Check Your Account Permissions
As we mentioned before, a secure business texting solution will offer extensive roles and permissions. Roles allow you to choose who accesses what data, and when. Carefully consider which data each employee can manage to reduce the number of data access points.
Before the new year, review your assigned roles, including:
Owner

. This role should be reserved for an experienced, senior member of your team. This person manages the subscription, the team, contacts, custom fields, and integrations. They can also view reports. 

Team Administrator

. This role is meant for another experienced, senior member of your team, like one in a management position. This person has the same capabilities as the owner, except that they cannot change the subscription information. 

Contact Administrator

. This person may be a mid-level team member (or multiple mid-level team members) who is trusted to handle sensitive data. They can modify, update, and delete contacts. They can also add custom fields. 

Member

. The member role is the default role given to users. It offers the ideal permissions for team members in non-management roles. They can access messages, templates, lists, and contacts. However, they can't import, create, or delete contacts. You can also choose to hide customers' personally identifiable information (PII) from team members with this role. 
Carefully reconsidering who to put in what role can reduce the number of people who are able to access and adjust customer data. This helps keep data safe and secure business texting services. 
Step 3: Consider Local and Federal Requirements
As industries continue to adopt new technologies, local and federal governments are responding. They protect communications between companies and customers with laws that control what customer data you can store, and how you must store it. 
Either consult with your vendor or your legal team to review:
Local or statewide requirements, like California's

CCPA

Additional industry guidelines, like

SOC 2
Reassessing local and federal regulations alongside industry guidelines helps you stay compliant. It also ensures you adhere to the latest data protection methods that the government approves of.
Step 4: Retrain Your Team
Technology and corresponding regulations change incredibly quickly. It's important that you retrain your teams regularly, so they know about each change and respond accordingly. 
Your team should know:
Which data to ask for via text (e.g., order numbers)

Which data they should never ask for (e.g., credit card numbers, medical information)

What to do if customers send personal information to your team

What to do if customers ask to access their data saved in your platform

When to proactively unsubscribe a contact

When to block a contact
A well-trained team is one of the best ways to achieve secure text messaging for your business. They'll be able to address sensitive situations with care, protecting your customers—and your business. 
Need help ensuring you have secure business texting in the new year? Ask our team.