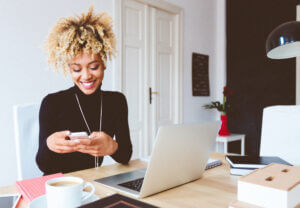 Salesforce Marketing Cloud is probably one of your favorite platforms. Marketers can use it to engage and track leads with effective marketing tools, including email drip campaigns and landing pages—all from a single, central hub. An SMS Salesforce Marketing Cloud integration can help you increase lead engagement and acquisition with the addition of a popular channel: business texting. 
A Salesforce SMS integration allows Salesforce and your business texting platform to share data. Real-time data sharing helps marketers maintain accurate lead and customer data and use advanced content dissemination tools, like SMS drip campaigns. 
Read on to learn how to use an SMS Salesforce Marketing Cloud integration. 
Access Accurate Data with Platform Syncing
As soon as you set it up, an SMS Salesforce Marketing Cloud integration automatically syncs data between Salesforce and your business texting platform. Any contact data that you add into one platform updates in the other platform right away. 
For example, when you publish your business SMS number, you'll ask leads to text in with a keyword to join your SMS list. Then your platform will auto-reply with an opt-in confirmation text. Once your lead has confirmed their opt in, your business SMS platform can be set to automatically sync the contact to Marketing Cloud. Subsequent changes in one platform will be updated in the other platform. For example, if a salesperson adds a custom field to the lead's account in Salesforce, those custom fields will show up in your business texting platform as merge tokens. 
Platform syncing ensures that the data you use in marketing campaigns is always accurate. When you're creating targeted, personalized content, accurate data can mean the difference between appealing messaging and messaging that's way off the mark. 
Increase Open Rates with Mass Texts
Salesforce Marketing Cloud SMS integrations allow marketers to personalize mass texts. Team members simply create templates with space for Salesforce's custom fields. Then, they can select a list of leads and press "send." The business texting platform will automatically insert leads' custom fields into outgoing messages. 
Leads are more likely to read SMS marketing content than content sent through any other channel. In fact, 98% of text messages are read by recipients. Plus, while some SMS solutions only offer short codes, many business texting platforms offer long codes. Texts sent from these long codes are far less likely to bounce, ensuring that your message will reach your leads. Personalized content sent through email is often lost in junk mail filters.
Personalized mass texts help your marketers get their content into the hands of more leads, increasing engagement and, ultimately, conversions.
Engage More Leads through Journey Builder
With an SMS Salesforce Marketing Cloud integration, marketers can expand their workflow sequences through Journey Builder. Adding texts to other forms of communications through Journey Builder is a great way to keep leads engaged and get responses. 
For example, emails are a popular tool for initial lead engagement. But emails only have an open rate of about 20%. Now, your teams can send follow-up texts when leads don't open or respond to your emails. They're far more likely to open these messages. They may even reply, given that the response rate can be as high as 80%. 
Adding texting to Journey Builder is a great way to ensure your content is reaching leads—and that they're reading it. 
Boost Conversions with Two-Way Conversations
Salesforce Marketing Cloud SMS also allows marketers to track (or respond to) customer texts right within the Marketing Cloud interface. They don't have to leave the platform to start a conversation. 
If marketers are the point-people for product- or campaign-related questions, answering customer chats can be a great way to connect with their audience intimately. Leads and  customers can get the most accurate answers right from the source themselves. Plus, they'll know that the SMS content they receive is being sent by individuals. Even if incoming texts are being answered by customer service or sales team members, marketers can still benefit from reading lead responses and gauging their audience's overall response. 
One-on-one chats are a great way to connect directly with your audience, giving them accurate, personalized answers that increase conversions. Getting a sense of the audience's replies will empower your marketers to hone their strategies, attracting more engagement overall. 
Save Time with Channels in One Place
Marketers engage leads from a variety of channels. Leads and customers are more likely to remember your messaging if they see it in multiple formats. Cross-channel marketing is a great strategy, but managing content in multiple platforms can be time-consuming and error-prone. 
An SMS Salesforce Marketing Cloud integration centralizes your SMS marketing tools alongside your other channels, like email. You can manage email campaigns one second, then move to SMS marketing campaigns the next. 
With all of your marketing channels in one place, your team can streamline the content creation and management process. Instead of spending time fiddling between platforms, you can focus on creating on-brand, quality content that boosts conversions. 
Want to learn how your business can use Salesforce Marketing Cloud SMS? Ask our team.