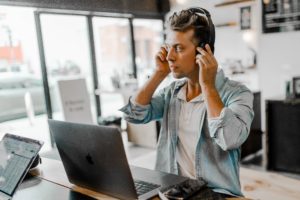 SMS integrations empower teams to create streamlined app ecosystems. When business apps can "talk" to one another through these integrations, they can share data and even centralize tasks into a single interface and phone number. 
Heymarket's SMS integration with Aircall, for example, helps customer service agents and salespeople both sync data and access key actions from within Aircall and with their existing phone numbers. 
Let's explore the benefits of texting for Aircall—and how it can improve your app ecosystem. 
What Is Aircall? 
Customer service, operations teams, and sales teams that rely on phone calls to communicate with customers often use a phone call system to collect data and information about their calls. 
Aircall is a streamlined, cloud-based phone system for businesses. It empowers teams to make phone calls as easy as business text messages or web chats. Team members use Aircall on their various devices, so they can connect with customers whether they're a work or on-the-go. 
While Aircall is popular among customer service

departments of eCommerce companies, it is also commonly used by sales teams and across various industries. Texting for Aircall only makes the platform more useful. 
Heymarket's Integration With Aircall
Heymarket's integration with Aircall enables teams to use Aircall as a cloud-based phone system and call center software while using the exact same business number to text with customers. With texting for Aircall, team members can manage a call with a customer, then text them a quick followup from the Heymarket platform. 
Additionally, customer service and sales team members will have access to critical customer service features that business text messaging platforms provide. Like Aircall, Heymarket is available on both web and mobile apps, so team members can both call and text customers on-the-go. Top features of Heymarket's business text messaging platform include:
A Shared Inbox
A shared inbox empowers teams to send and receive all of their customer messages within a single, centralized location. Messages from both native texting apps and over-the-top apps (e.g., Facebook Messenger) are accepted by the platform. When team members send replies, they arrive in the same format that they were sent in. 
Assignments
Team members can assign chats to themselves or another team member. This feature helps teams stay focused on relevant chats—and allows them to control notifications. Alternatively, managers can choose for all team members to receive notifications for each chat, so everyone is on the same page. 
Private Comments
When Aircall users are on the phone, it's hard to communicate with coworkers for help. When they're answering chats, they can simply loop in a coworker with private comments. The feature allows team members to coordinate quickly without the customer or lead noticing. 
Templates
While phone calls to customers often sound the same, there's no template customer service agents or salespeople can use to speed up the process. With the texting for Aircall integration, team members can quickly choose a pre-approved template and send or schedule a customer their follow-up message. They can leave empty space for key items like custom fields; as each message is sent, the platform will automatically use merge tokens to insert that information. 
Mass Texts
With the help of templates, team members can easily send mass texts to lists of people who they've talked to recently and need to follow up with. Team members simply select a list of recipients, select their template, and click send. As each message leaves the business text messaging platform, it is automatically personalized. 
SMS Drip Campaigns
Similar to email drip campaigns, SMS drip campaigns are sequences of messages that teams can plan out on a specific schedule or after specific triggers. SMS campaigns are a great tool for following up with customers multiple times after phone conversations. 
Automations
Automations can streamline your communications further. For example, your team can set up an automatic reply that sends as soon as a message arrives in your inbox. You can also automatically assign incoming texts to team members who specialize in certain areas (product, returns, etc.), so customers receive the most accurate responses every time. 
Capitalizing On Your Communications App Ecosystem
Along with its Aircall integration, Heymarket also integrates with Zendesk, Hubspot, Slack, Salesforce, and other apps. With multiple connected integrations, your team will have a top-of-class message and voice solution that works with leading email, CRM, and chat tools. 
These integrations are critical for getting the most out of your communications app ecosystem. With a fully integrated app system, your team can:
Connect with customers faster than ever before

Avoid mistakes caused when manually updating contact information across platforms

Use key features of your favorite apps within other apps
Ultimately, SMS integrations like texting for Aircall save your team time. This allows your team to handle more customer conversations while maintaining an excellent level of service. Plus, your team can communicate with customers from a channel they love—SMS! 
Want to try out texting for Aircall? Test our text service for business today.