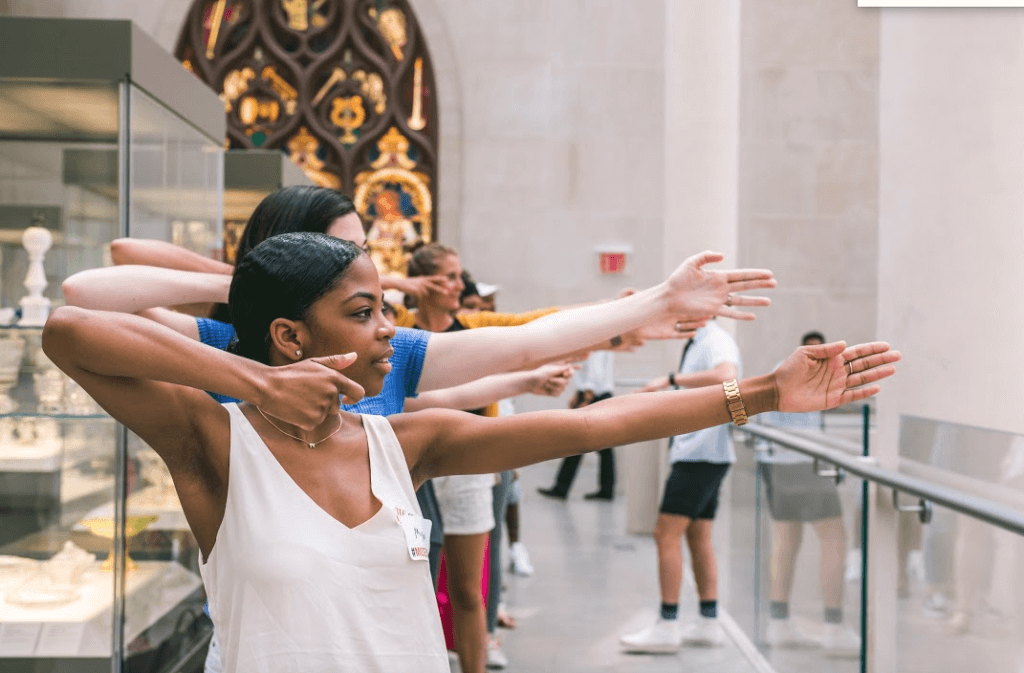 ---
End Results
10+ hours saved per team each month 
10% increase in staff using a centralized communication channel
---
Museums don't just enrich cultures—they also generate GDP, add to the job market, and pay taxes, contributing $50 billion to the U.S. economy each year. Unsurprisingly, many businesses have arisen adjacent to museums, including museum tour companies.  
One of the most successful of these tour companies, Museum Hack, offers unique public and private tours at museums in New York City, Chicago, Los Angeles, San Francisco, and Washington, DC. These tours aim to invigorate people who don't already love museums, engaging them via clever guides, irreverent fun facts, interesting themes, and relatable language for younger crowds. By expanding their offerings to include corporate-friendly events, like team building activities, they have secured a strong holding in the market.

In early 2019, the Museum Hack guide communications team, consisting of internal operations specialists Sam Warnke and Rebekah Clark Moody, realized that the company had to address some challenges as they continued to scale. Because each Museum Hack staff member operates in a different location across the country, they needed to find a way to communicate efficiently. A single, personal cell phone was too inefficient for contacting all staff members, and the first texting service they tried was too cumbersome.
Museum Hack's leadership conducted thorough research and decided that an advanced business texting tool might work best for their team. After reviewing business texting services, they found one that specialized in sleek operational communications—Heymarket. 
The Answer to Scaling a Distributed Internal Team: Business Texting Services
Museum Hack staff operate in various locations throughout the country. Team meetings, planning, tour development, and scheduling are all conducted over tools like the phone or online. While the central scheduling team was satisfied with their own use of tools like Slack to communicate, sending real-time communications to their 50 tour guides across the country was becoming difficult.  
The scheduling team initially tried communicating with the tour guides through standard text messaging, but they used a single cell phone. If schedulers needed to send a single message to each tour guide, it took too long to send each message individually, but group texts would often get too crowded. Messages were easily lost, too, without an organized system of record. The scheduling team also tried to send messages through a simple texting app, which did record messages and offer other business-grade features. However, using a separate app for guide communications was too cumbersome for both the scheduling team and guides.
Finally, Museum Hack leadership decided to turn to an advanced business texting platform for help. After narrowing down their options and cutting out more basic options, they decided that Heymarket had the enterprise-grade features their team most needed. 
How Heymarket's Business Texting Services Streamline Internal Operations
Museum Hack leadership onboarded in just an hour, taking a new business number since they had been using personal mobile numbers in the past and didn't have a landline that they could text-enable. After a couple of months of efficient performance with the platform, the Museum Hack team knew that Heymarket was the tool for them. 
The Museum Hack team quickly found their favorite features, which include:
Lists. Because tour guides are spread throughout the country, schedulers need to send messages that apply to certain groups, such as those located in a certain city, who give tours at a specific museum, or give tours in a specific category. Heymarket allows the schedulers to create lists of tour guides based on the criteria of their choice, then use CRM custom fields as merge tokens to dynamically insert customer information into messages, allowing schedulers to send personalized messages in a single click.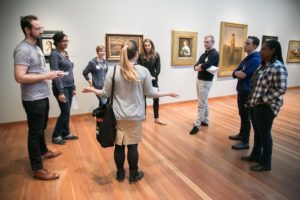 Scheduled messages. Because the Museum Hack team is spread across the country, sending timely notifications and reminders can be difficult. With Heymarket's texting services, team members can schedule out texts for respective lists, ensuring that each message is sent at the appropriate time for each location. 
As soon as we started using Heymarket, we knew we wanted to continue to use it. —Sam Warnke, Internal Operations Specialist at Museum Hack
Shared inbox. While their previous method of using a single phone didn't allow them to save texts or easily record important messages, Heymarket's business texting services have empowered the Museum Hack team to automatically save texts in an organized record for later review or reference. Additionally, because correspondence from over 50 tour guides arrives in a single shared inbox, each approved administrator can see incoming messages and reply to them, speeding up communications. 
The Impact of Business Texting Services
After using Heymarket's texting services for a few weeks, the Museum Hack team started seeing results. These included:
Saved time. Before Heymarket, schedulers had to copy and paste texts 10 to 20 times, adding names individually to personalize the messages. The process of sending a single message to an entire team took multiple minutes. If it took, say, five minutes to copy, paste, and personalize each message for 20 people, sending a mere 5 messages a day would consume nearly 30 minutes of valuable team time—and that doesn't include managing responses. With Heymarket, a single message can be sent and personalized to 20 people (or more) in seconds. This saves the schedulers at least 2.5 hours of precious time each week.  
Heymarket seems like it was tailor-made for our needs. —Sam Warnke, Internal Operations Specialist at Museum Hack
Closer team relationships and team building. Because team members are distributed, they rarely see one another face-to-face, but with Heymarket's business texting services, everyone feels as though they are closer than ever. Business features like screenshots and fun features like emojis and animated GIFs help the Museum Hack scheduling team connect with their tour guides as though they all work from the same physical office. 

Improved tour guide performance. With Heymarket, guides receive key information and reminders more quickly than ever before. These messages have enabled tour guides to arrive prepared and on time to tours, ultimately leading to more positive feedback on review sites and social media. Heymarket is so popular that after a quarter of use, Museum Hack saw a 10% increase in the number of guides who rely on Heymarket SMS for their business communications. 
Increased transparency. Shared inboxes have also empowered Museum Hack to seamlessly share project information and save chats so team members can return to important conversations with ease. 
The Future Of Museum Hack and Heymarket's Business Texting Services


While Museum Hack started out using Heymarket for communications with Museum Hack tour guides, they have begun using Heymarket for other initiatives. For example, they have begun using Heymarket's business texting services for their new business, The Great Guac Off, which employs its own tour guides as VIP party hosts for team building activities. As Museum Hack grows, they plan to scale internal operations—a change that Heymarket's business texting services are uniquely capable of supporting. 
As Museum Hack discovered, business texting services help streamline internal operations for quickly-growing businesses. 
Business SMS helps manage personalized mass texting. Museum Hack's guide communications team saves 10 hours each month with Heymarket. 

Business SMS increases team relationship building. Museum Hack has experienced a more connected work culture with business SMS. 

Business SMS increases transparency. With a shared inbox, Museum Hack now has a comprehensive view of communications.
Interested in using business SMS to streamline your internal communications? Learn more about using business SMS for dispatch and operations.