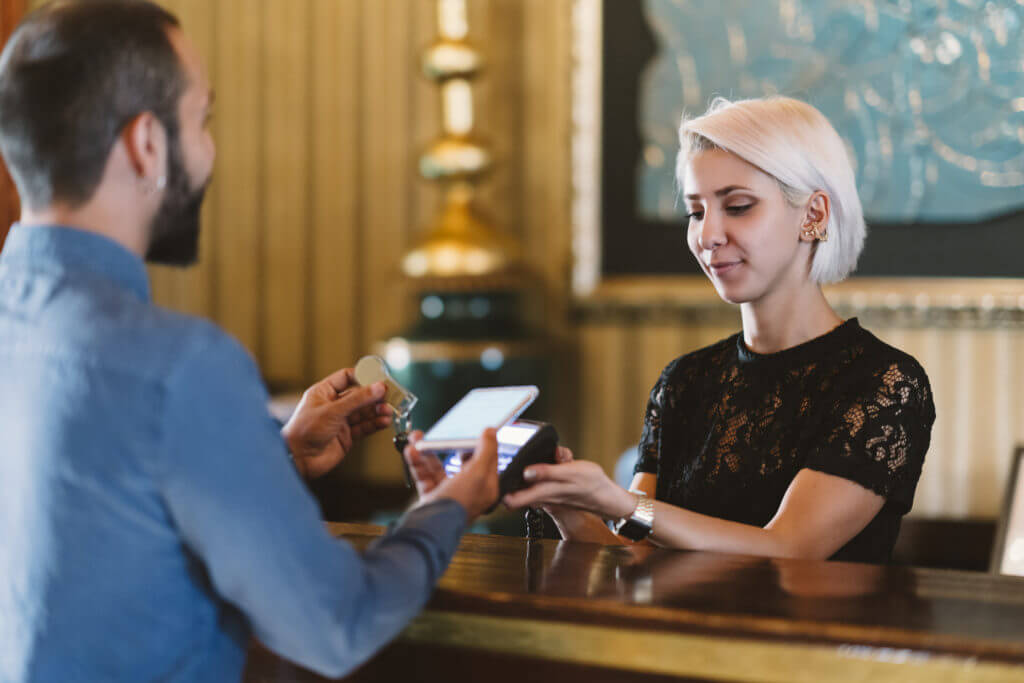 Exemplary guest service is a top priority for each and every hotel. Regardless, guests will almost always have an experience they consider inconvenient. While it's critical to solve those complaints when they surface, it can be even more helpful to solve them ahead of time. One of the best tools for preventing guest complaints is hotel text messaging. 
Fast, effective, and convenient, hotel text messaging can help your business solve problems before they arise, and focus on going above and beyond instead. 
But how can a single tool like hotel text messaging mitigate inconvenient guest experiences before they even happen? Read on to find out. 
Inconvenient Guest Experience #1: Complex Hotel Technology
From brand-new reservation systems to in-app hotel keys, hotels are more tech-savvy than ever before. While these updates excite many travelers looking for sleek travel experiences, some guests may struggle to adjust to new technologies. However, your hotel guests are likely able to use SMS, Facebook Messenger, or WhatsApp, depending on which channel they're most comfortable with. After all, ninety-seven percent of Americans text at least once a day. Why not allow guests to communicate with your hotel through the channel they use every day—messaging? With access to 24/7 hotel text messaging assistance, hotel guests can either get help with challenging technology or bypass it all together with the help of a hotel agent. 
Inconvenient Guest Experience #2: Multi-Step Check-Ins & Check-Outs
Some guests feel that coming to the front desk after checking-in or to check out is a hassle. Guests arriving early might find that their rooms aren't ready, and might be asked to circle back in later. When checking out, guests might be bothered by having to drop by the front desks to turn in their room keys. By offering additional check-in and out services through hotel guest text messaging, hotels can provide guests with a simple way to ensure their rooms are ready when they arrive and leave the hotel for their next destinations on time.
Inconvenient Guest Experience #3: Slow Front-Desk Service
No matter how well-planned or staffed a hotel front desk is, there is no way to avoid lines in some cases. Guests often grow frustrated when they walk by the front desk to ask a quick question and the attending agents are occupied with other guests. By offering front-desk services through hotel text messaging as well as in-person services, hotels provide guests in a hurry with a faster alternative. For example, guests can text to ask valets to pull up cars or bellhops to help with bags.
Inconvenient Guest Experience #4: Too Much Staff Interaction
Some guests, especially those who require quiet time or feel tired from a long journey, need additional privacy to relax. While this isn't always the case, it's important to provide guests with a solution for when they want assistance, but also want to limit staff interactions. By offering hotel guest text messaging as a channel through which hotel guests can have all of their questions answered, your hotel can cater to those who just need a little extra time to themselves. Allowing guests to communicate with hotel staff on their terms (like through the messaging channel they like) and at the level of interaction they prefer (messaging vs. phone call vs. in-person) is the best way to ensure guests feel comfortable at all times. For example, teams should offer guests the opportunity to coordinate a spa treatment or reserve a table for dinner from the comfort of their room.
Inconvenient Guest Experience #5: Lack of Personalized Treatment
Alternatively, many hotel guests today feel like the hotel experience is too corporate, and not the boutique experience it should be. Luckily, hotel text messaging can add that personal touch that today's guests love. Texting already feels personal for guests, who likely use it to contact everyone from friends to family. In addition, advanced business texting platforms use merge tokens, which draw on custom fields, to insert guest information, like first names and dates of their stays, into mass texts. This allows hotel staff to send personalized messages effortlessly. Signatures are a way for hotel staff to auto insert their name to the end of each message sent to a guest. It's perfect for letting guests know they're hearing from a real human as opposed to a bot.
Inconvenient Guest Experience #6: Unknown Amenities 
Sometimes curious guests don't want to flip through a hotel magazine to discover the amenities that come with the hotel, or even the local restaurants and events. By offering a hotel SMS service, hotel staff can easily send arriving guests a list of complimentary perks, including pool, spa, and gym hours, free breakfast information, and any other conveniences they might enjoy. This ensures that all guests know about, and take advantage of, the best your hotel and region have to offer.
Inconvenient Guest Experience #7: Hard-to-Reserve Extra Services
Some guests feel as though extra services, like spa or third-party experiences, are difficult to reserve. Occasionally, contact information for these services is not displayed on the front page of a hotel website, and it can be bothersome to call down to the desk to ask for them. By offering hotel SMS as a way to make any and all reservations, guests can access these services quickly—and receive a texted confirmation for each request. After securing the proper opt-in confirmations, a hotel can even use business text messaging to send reminders to guests about upcoming reservations.
Inconvenient Guest Experience #8: Inconvenient Channels for Questions
When guests are comfortable in their rooms, they don't want to have to walk down to the front desk to ask a question, dial their room phones to speak to front desk agents, or pull out their computers for web chats. With hotel text messaging, guests can whip out their phones and quickly ask front desk agents to have a toothbrush delivered or to arrange a wake-up call. 
Inconvenient Guest Experience #9: Lack of Itemized Bill
When guests are on the road, it can be difficult to access email. By offering guests the opportunity to receive an itemized bill via both their email and hotel text messaging, on-the-go guests can quickly review charges without any hassle. 
Inconvenient Guest Experience #10: Few Reminders or Notifications
When guests don't check out on time, there are many reasons for it—one of them being that they simply forgot. By implementing hotel SMS reminders, opted-in guests can receive personalized check-in, check-out, or other notifications at regular intervals before the time of their stay. With the help of an advanced business texting platform, hotels can even automate these communications. 
Want to eliminate guest complaints with hotel text messaging? Try our platform for free today.