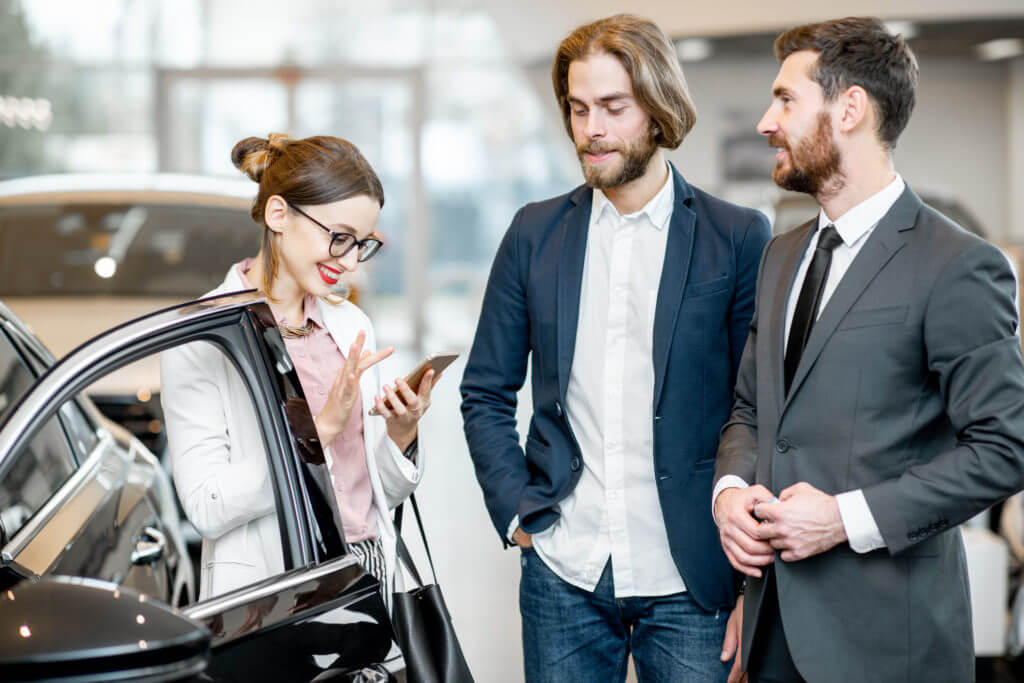 The automotive industry is constantly adapting and changing, introducing new vehicles and features to attract today's savvy consumers. Like most industries, auto companies are also adjusting the way they sell to consumers, introducing new technologies that streamline the product research and buying process—like business text messaging. 
Business text messaging—often called SMS automotive services within the industry—helps auto companies streamline both customer communications and internal operations. But auto dealerships can be wary of adopting a brand-new communication channel due to concerns about staffing and productivity. Are there really a lot of use cases for SMS automotive services? Can they work on a large scale? How do businesses set up a business text messaging platform in the first place? 
To help your auto company get a head start on business text messaging, we've answered all your questions and more. Read on to learn how to use SMS automotive services in both auto dealerships and auto shops. 
Customer-Facing Use Cases
Auto dealerships and auto shops can both use business text messaging to streamline communications throughout the customer journey. Teams can use SMS automotive services to:
Coordinate Service Appointments
On the day of their service appointments, customers usually leave their car with your team for a varied amount of time. When the car is in your company's care, customers often call in with basic questions, which can slow down overall customer service operations. SMS automotive services can be used for customers during all stages of service appointments. For example, once a customer drops off his or her vehicle, agents can text a confirmation. Once the vehicle is serviced, agents can text a pick-up notification. Agents can even send a copy of the receipt once the customer has driven their car home.
Send Appointment Reminders
Once appointments are scheduled, the trick is to ensure that customers show up. Customers can become swamped quickly, realizing too late that they've missed an appointment. To help customers remember their appointments—or at least remember to reschedule—auto teams can send reminders via SMS automotive services. Teams can even send reminders en masse; with the help of a business text messaging platform, each text will be automatically personalized by merge tokens that draw on custom fields.  
Connect with Leads 
Ninety percent of leads would rather be texted than called. For car salespeople, business text messaging offers a chance to connect with potential buyers through the channel they prefer. Sales teams can offer a business text messaging number for everything from scheduling test drives to answering questions about car models. To encourage customers to text in, teams can display the number on their website and social media pages. Internet sales managers can also triage leads and re-assign them to the appropriate salesperson. 
Schedule Services 
Both auto dealerships and auto shops have to schedule a lot of appointments, but it can be hard to reach customers through phone calls, and scheduling through the phone or emails consumes a lot of time. But with SMS automotive services, scheduling services happens in real-time. With an average response time of 90 seconds, business text messaging empowers auto teams to reach customers and arrange appointments faster than ever before. 
Follow Up with Leads
For car salespeople, getting a customer into your shop can mean the difference between a warm lead and a sale. But consumers don't want to chat on the phone with salespeople; 90% of leads would rather be texted than called. Provide consumers who have opted in the option of scheduling a date and time for a test drive via text message, or through a link sent via SMS. You can even create SMS drip campaigns that connect with customers on a regular basis. If customers reply, their message will immediately be directed toward a salesperson. Conducting scheduling, Q&A sessions, and other communications on a single convenient channel makes the customer journey that much easier. 
Automate Feedback Requests
Feedback can go a long way toward helping your auto company figure out how best to serve its clients. But it can be difficult to get feedback from customers, especially when you send the request via snail mail or email. The average person opens only 20% of emails, while 98% of texts are opened. Additionally, 4.2% of people click links in emails, while 19% of people click links in texts. This means that customers are more likely to see and complete the surveys you send through SMS automotive services, providing critical feedback to help your auto company improve. 
Ask for Online Reviews
Because 84% of people trust online reviews as much as they do recommendations from people they know, auto dealerships often ask current customers for reviews. Just as business SMS SMS's high open and link click rates help businesses receive more feedback, it also helps businesses get more reviews. To ensure your recipients are primed to send in an online review, don't directly ask for a positive review, and be sure to include a direct link to the review site of your choice, like Google Reviews or Yelp.  Don't feel shy about asking, either. When asked to leave a review, 70% of people will do it. 
Internal Use Cases
Business text messaging is also useful for internal operations within auto companies. Teams can use SMS automotive services to:
Coordinate Between Mechanics and Office Staff
In both auto dealerships and auto shops, mechanics and office staff have to communicate a lot. Staff members are often asked about car service statuses or when a new car will be ready to test drive. Once they receive those questions, office staff members have to connect with mechanics or in-field staff for their professional opinions. Business text messaging is the fastest way for office staff to get the answers they need from mechanics as quickly as possible. 
Send Real-Time Notifications
Auto salespeople and mechanics are almost always on the move, making it nearly impossible to connect with them via email. Calling a staff member does get their attention, but calling every staff member or talking with them face-to-face is time-consuming. With SMS automotive services, administrative teams can text staff members with notifications and receive fast replies. Business text messaging works particularly well for emergency alerts, holiday reminders, event notifications, or any other timely information.
Organize Shifts
For auto companies that need to organize staff shifts, business text messaging can come in handy. If staff members need to coordinate multiple schedules, managers can compile lists of employees and send personalized reminders en masse. Any responses from employees will arrive into the business text messaging platform's shared inbox individually, allowing managers to address concerns one by one.  
SMS Automotive Services Setup
Once you have chosen a business text messaging provider, they should offer you short instructions for text-enabling your landline, VoIP, or toll-free number. Throughout the brief process, your clients can still call that number, but once the process is complete, they'll have the choice of either texting or calling. Incoming text messages will arrive straight into your business SMS platform's shared inbox, which your team can access from their web app or phone app. If you want to use a new number for texting, your business text messaging platform will be able to provide that, too. 
Growing SMS Automotive Service Lists 
To encourage customers and potential customers to text, publicize your SMS automotive services on your website and social media pages. Add your textable number to your customer communications, like service reminders, and don't forget to include verbiage explaining the benefits your SMS automotive services offer. Mention how quickly your team can respond, and your hours of operation. If you find that SMS automotive services help you streamline operations or improve customer satisfaction, consider additional call deflection strategies to encourage customers to text even more.
Legal Considerations 
Your auto company should review all federal and local regulations with your legal team. You'll find that the most important legality to consider is the opt-in requirement. In other words, customers must agree to receive messages before you send them. Provide various ways for customers to opt in (such as by keyword or web form) and don't forget to publicize opt-out instructions, too. Opt-out information must always be included in your initial texts, and the business text messaging platform you choose must be able to automatically opt out customers who send messages containing standard keywords like STOP, STOPALL, UNSUBSCRIBE, CANCEL, END, or QUIT.
Are you ready to adopt SMS automotive services? Try our text service for business for free today.