Holiday shopping on Instagram is growing quickly each year. Eighty-one percent of Instagram users say Instagram helps them research products and services, and during the holiday season, 60% of shoppers explore new purchases more than the rest of the year, according to Facebook.
As Instagram holiday shopping expands, so does the number of users reaching out to businesses while they shop. During the holiday season, 55% of holiday shoppers around the world message a business. This is an opportunity you'll want to take advantage of during the holiday season, when many Instagram users are specifically looking for gifts to purchase. But is your Instagram account set up to streamline the holiday shopping process?
Explore these 10 holiday eCommerce tips for Instagram shops to prepare for the busiest shopping season of the year.
Tip #1: Get Seasonal Early
In 2021, a whopping 27% of shoppers planned to start shopping for the holidays by the end of September. That means there's no such thing as seasonal content that's too early for your Instagram page. You may want to hold off on full holiday content until after Halloween. But by the start of fall, you should be teasing holiday information, like upcoming holiday-themed collaborations, products, and deals.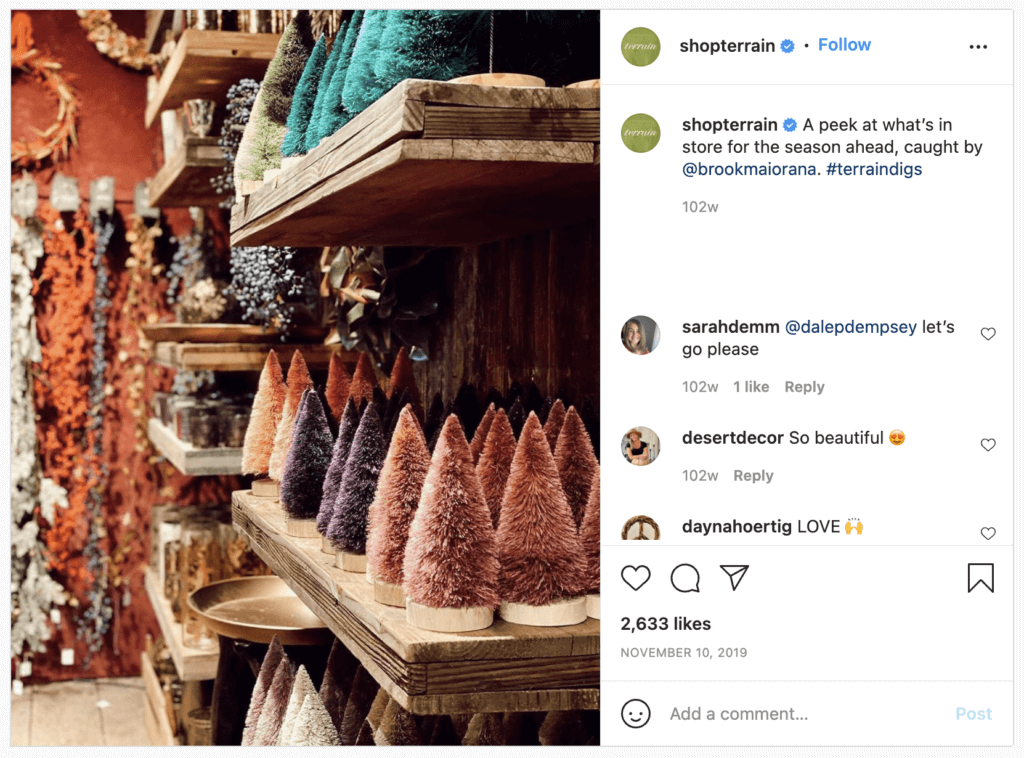 Tip #2: Capture Holiday Shoppers' Attention
There are plenty of holiday shoppers on Instagram—you just have to figure out how to get your posts in front of them. Instagram users often search hashtags to find content they're interested in. (E.g., #tistheseason and #holidaygifts.) To discover which hashtags to use, search Instagram for popular hashtags that seem like they'd work with your brand. You can also take a peek at competitors' Instagram pages and their holiday-themed hashtags. In addition, make sure you're posting at optimal times during the holidays for the best exposure.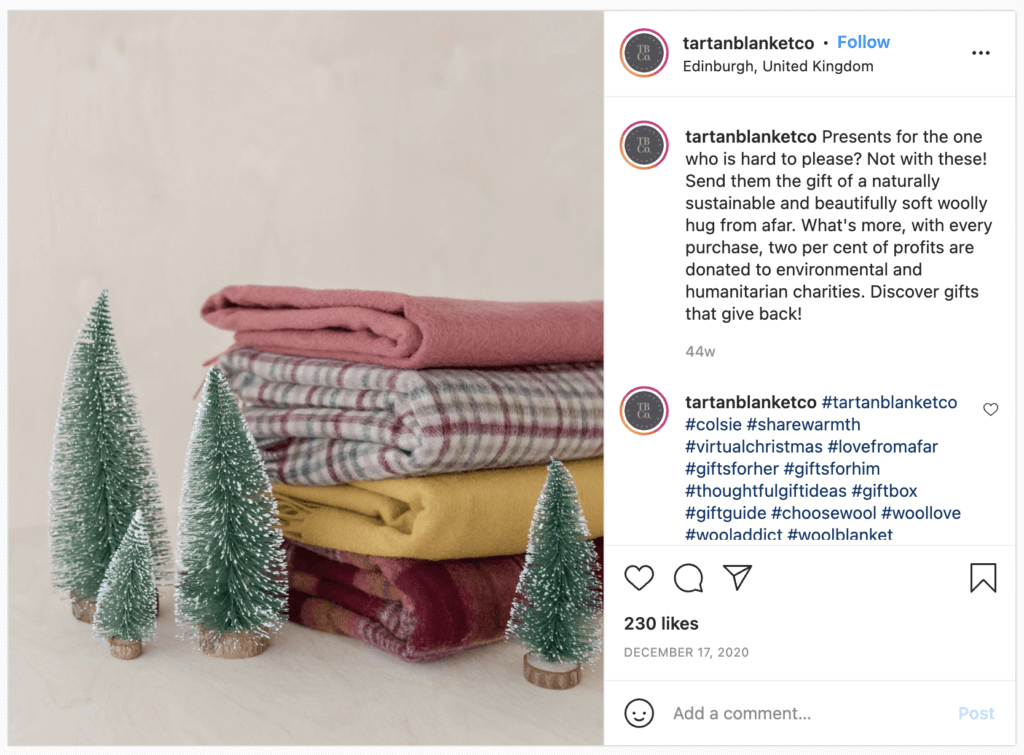 Tip #3: Refresh Your Bio with Holiday Flare
When customers are looking for holiday gifts, they'll skim your page for holiday content, like your posts. Before they get that far, let them know that you're prepared for the holiday season with a statement or even emoji in your bio. For example, you can say something like "holiday baskets available for order" or feature an emoji of a present or snowflake by your business name. You can even refresh the link to your website with a link that directs them to a holiday landing page.
Tip #4: Announce Season-Specific Products
Customers love exclusive products that are only available for a short period of time. The sense of the timeliness encourages them to make a purchase before the goods are gone. (This strategy is sometimes called scarcity marketing and it's proven to work in many situations.) Use Instagram to announce season-specific products. Don't forget to style them using holiday trappings, like hints of presents in the background, snowflakes, or good-old-fashioned wreaths.
Tip #5: Vary Your Formats
Don't just post holiday-themed photos with holiday hashtags. Instagram offers plenty of other post formats. You can create video posts, carousels (a series of images), Stories (images or short videos that disappear after a day), and IGTV videos (longer videos). Show off your holiday products in multiple formats, so customers can get a good idea of all the benefits of what you have to offer. Try to depict multiple use cases, too, so customers can understand how your products can be used.
Tip #6: Run a Free Holiday Service
The holidays are a great opportunity to get creative with your marketing. Consider kicking off your holiday conversational marketing with a gift concierge service. Create a post or Story letting customers know that they can message you with gift-related questions and one of your Gift Elves will reply. You can ask customers to name who they're shopping for, give one example of something the recipient loves, then provide them a list of potential gifts (from your inventory, of course)!
Tip #7: Create a Holiday Content Calendar
Now that you've got all of these new ideas for holiday content, it's time to plan out your holiday content calendar. This way, you can ensure you'll be posting every day, and that your posts will be diverse. Remember that customers are always looking for new and different aspects of your brand to explore, so take advantage of all of the different formats Instagram has to offer!
Tip #8: Optimize Your Instagram Account for Holiday Shopping
You want Instagram users to be able to shop for your products as soon as they notice options they like. Make sure your account is set up for holiday shopping so customers can make purchases without leaving Instagram. Add shopping tags so customers can determine which of your products in posts are for sale (and for how much). You can also create collections of products for sale—a great way to highlight your holiday-specific offerings.
Tip #9: Prepare for More Customer Queries
Customers tend to have more questions during the holiday season. They may ask whether their gifts will arrive on time or whether the pocket watch you sell is appropriate for a ten-year-old. Use your Instagram business messaging feature to quickly answer questions. With this tool, customers can message you through your main Instagram page or through Stories. Behind the scenes, your team can work together to answer customers, reference customer history from the same screen, and respond quickly.
Tip #10: Streamline Holiday Order Communications
You'll be getting more orders (and returns) than usual during the holidays—especially if you take advantage of these holiday eCommerce tips. With help from an integration between Instagram business messaging and Shopify, you can streamline order communications for your customers. For example, if customers message your Instagram account with questions about an order they placed through your website, you can instantly access their Shopify custom fields to find an answer.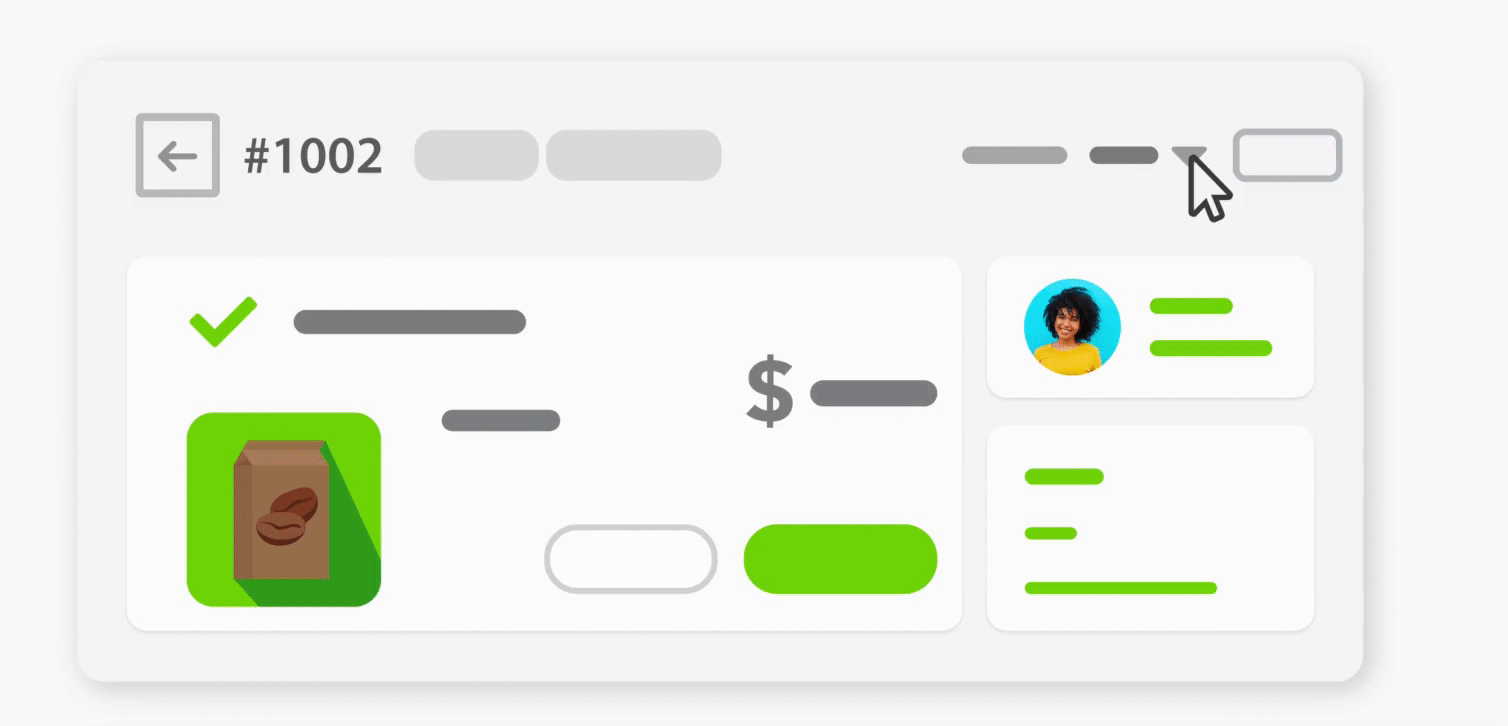 Using Instagram for eCommerce through the Holiday Season
The holiday season is a busy time of year for Instagram shops. But these 10 tips will help you attract new customers—and make sure your Instagram Shop is ready to handle the influx of customer interest during this merry time of year.
Want more holiday eCommerce tips? Check out our blog.