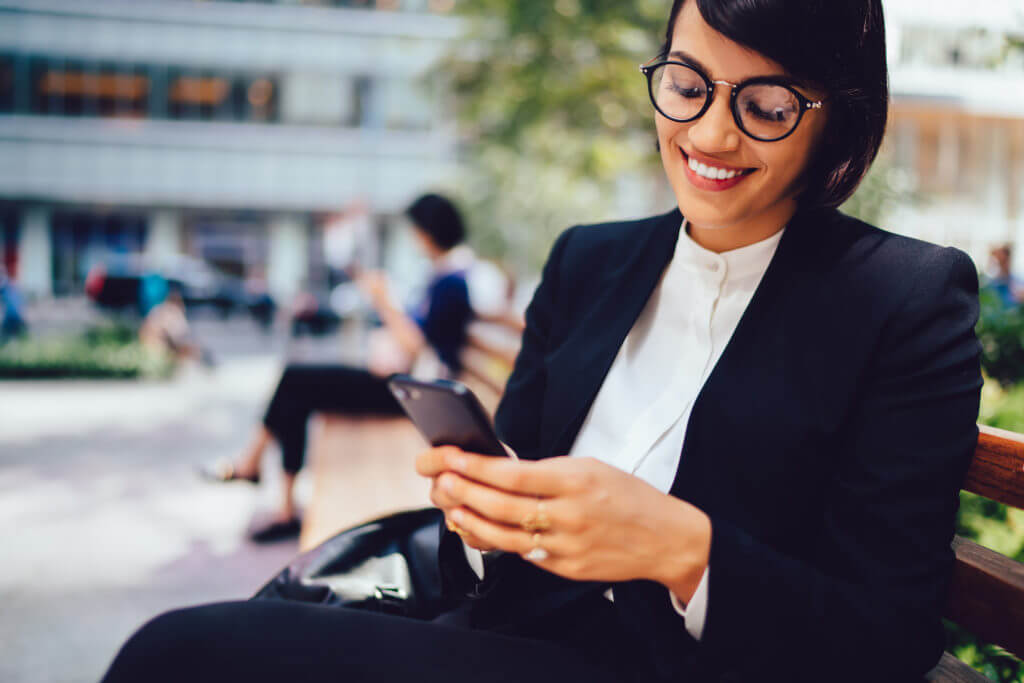 You text, your friends text, your family texts. But should you be texting your clients, too? Texting's popularity has exploded this decade, but some law firms are concerned about adopting a channel that partners use on their days off. These firms just don't know about business text messaging. 
Business text messaging is the use of texting for business purposes. Professionals have to make changes to their tools and their content when they text for business—but when they do, they can connect with clients through a fast, reliable, and effective channel.
Read on to learn how to transform texting into a business communication for your firm. 
Step 1: Never Use a Personal Phone Number
According to most state bar associations, using a personal phone number to text with clients isn't compliant with their regulations. That makes sense: if you text with a client via your personal phone, how will other team members be able to see those conversations if they need to? And how can you easily match SMS data to the appropriate case for auditing purposes?
A business text messaging platform helps law firms navigate these problems.
Business text messaging platforms allow firm staff to use a single business number. Incoming client texts arrive in a shared inbox. Any permissioned staff members can see the texts in the shared inbox and quickly respond. Inboxes are available in either web app format or with smartphone apps. With an additional SMS integration, all of your text messages can be automatically logged to the appropriate client code in your practice management software.
When a team member leaves the firm, an administrator can revoke access to client data, wiping it from their smartphone app. 
Step 2: Text-Enable Your Business Line
Currently, you probably communicate with many of your clients by phone. Most clients will have your number saved on their phones. Some might even know your number by heart. With business text messaging, you can keep your landline—and simply text enable it.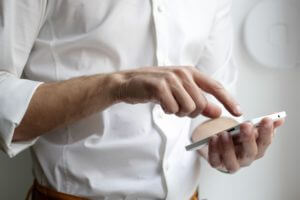 Text-enabling your landline, toll-free, or VoIP number is a great way to maintain the professional connections you already have. Throughout the brief text-enabling process, your clients can still call your landline. However, once the process is complete, they can either text or call.
A text-enabled business line shows your current clients and prospective clients that your business is both professional and tech-savvy. Many clients, particularly younger clients, will leap at the chance to work with a firm that can communicate with them through convenient channels like SMS. 
If you don't have a landline to text-enable, don't worry. Your business text messaging provider can give your law firm a brand-new number. 
Step 3: Keep Content Professional
Texts are valued for their brevity. (This is a good thing considering that the average person loses his or her concentration after a mere 8 seconds.) However, when communicating with clients, you cannot forget that you are using business text messaging, not personal texting. 
Texting clients isn't like texting your family. You can't be sure that your clients understand hip lingo. Plus, you'll want to seem as professional as possible, so your clients trust your law firm to do a top-notch job.
When texting clients, be sure to:
Write in full sentences

Avoid acronyms

Use proper grammar and spelling
Additionally, it can be difficult to discern tone from texts. To ensure clients don't take a message the wrong way, you'll also want to be sure that your punctuation and diction connote a positive tone. Be sure to:
Use polite phrases ("Thank you!")

Punctuate sentences ("We'll be there.") 

Add emojis if you know your customer well ("Congrats on the settlement. :)")
By following these guidelines, you'll ensure that your clients see business text messaging as a professional channel. 
Step 4: Use Automations to Streamline Client Communications
Automations help law firms streamline client communications from first contact. Teams can set up auto replies that respond after work hours, letting clients know when office hours are. They can also respond to incoming texts during work hours with expected wait times. 
Additionally, with a personal phone, you can only text one person at a time. You can use a group chat, but in that case, everyone can see everyone else's messages. For lawyers, message privacy is critical. With business SMS, law firms can send one-to-many texts. Lawyers can select a template, choose a list, and press send. Then, the business text messaging platform will use merge tokens to draw from clients' custom fields. The platform inserts this information (first names, case numbers, court dates, etc.) as each message is sent. 
Clients receive texts that seem as though they were sent individually. Replies are sent to the shared inbox individually, too. One-to-many texts are particularly useful for:
Paperwork notifications

Simple court updates

Meeting or court date reminders
Law firms can even set up SMS drip campaigns. These campaigns send personalized messages on a regular schedule. If a customer replies to a drip text, the response is sent directly to the shared inbox. 
Step 5: Integrate with Your Practice Management Software
Most modern law firms use case management software. Clio, for example, helps law firms of all sizes manage cases, track billable hours, and much more. With business text messaging, your law firm has the option to streamline case management further.
With an SMS integration, your business text messaging platform can sync with your practice management software. Data between both systems will share automatically, ensuring that the client information in both systems is always up to date. 
Additionally, all client texts can be automatically uploaded to your case management software—including time stamps. Such detailed tracking empowers firms to bill clients accurately. 
Want to test business text messaging in your law firm? Try our platform for free.