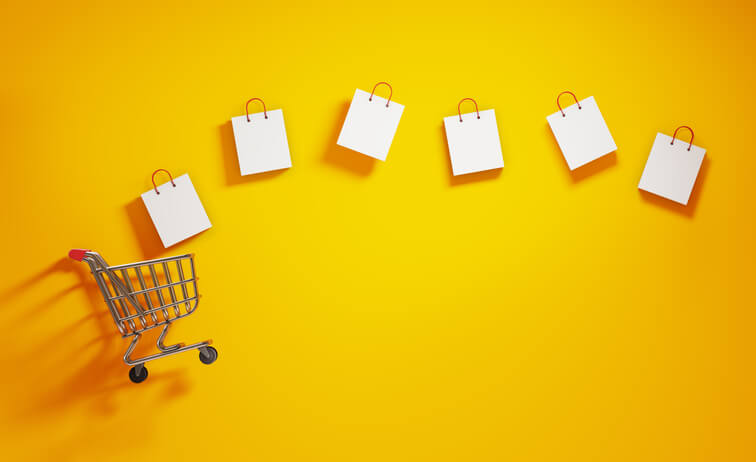 During the beginning of the COVID-19 pandemic, 90% of Americans said the internet was a lifeline for them. They relied on it for everyday tasks they could no longer carry out in person, like shopping. They also came to realize how efficient and convenient online services are. Since then, 88% of consumers expect businesses to accelerate digital initiatives, including online customer service.
Customers want to seamlessly chat with your team, navigate your site, and get answers online. To meet these expectations, you can adopt eCommerce customer service tools that boost resolution times and improve communications—without adding extra labor for your team.
Let's explore the top five eCommerce customer service tools for your site. Each of the below tools integrates with your eCommerce platform, such as Shopify, for easy use.
Tool #1: A Customer Support (Ticketing) System
Your eCommerce platform might offer native customer service tools that let you resolve queries through email or live chat, but they likely don't help you manage queries. Your incoming customer tickets may become hard to keep track of as your business scales or during busy times of year.
A customer support system will help you:
Manage customer tickets so your team can assign, escalate, and answer them faster
Prioritize customer queries so your team can respond to urgent questions quickly
Analyze customer service performance so your team can make improvements
Popular industry options include Zendesk or Kustomer. Both platforms offer more than ticketing features, but ticketing is one of their top priorities.
Tool #2: An Omnichannel Messaging App
Your eCommerce platform probably offers basic native customer communications tools. For example, Shopify lets you connect through email and live chat. But your customers want more options. They want fast, seamless service through their favorite communication tools— messaging channels.
An omnichannel messaging app will help you:
Adopt messaging channels like Facebook Messenger, Instagram Messenger, WhatsApp, Apple Business Chat, and Google's Business Messages.
Centralize incoming messages from all channels in a single shared inbox
Engage in personalized one-to-one conversations
Speed up response times with efficiency tools, like templates
Streamline workflows with campaigns and automations
Make sure your omnichannel messaging app of choice also integrates with or offers a live chat tool as well. Heymarket provides all of these features.
Tool #3: An FAQ System
Sixty-nine percent of customers want to resolve queries on their own through a tool like an FAQ page before reaching out for help. But FAQ pages can be difficult to locate and hard to search through on eCommerce sites.
An FAQ tool can help you:
Make a searchable, themed FAQ page
Provide fast answers to customer questions
Reduce the number of basic incoming customer messages
A seamless FAQ section helps customers asking simple questions get fast answers—and helps your team focus on more complex customer queries arriving through live chat, messaging, and email channels. Top options include Easy FAQ and FAQ & Accordion.
Tool #4: A Web Accessibility Tool
Customer service is all about considering customer needs before they ask for them. Given that 26% of the U.S. population has some type of disability, it's important to consider their needs as they click through your eCommerce store. If your services are accessible to all of your customers, they are more likely to look at your products or services, engage with your team, and become loyal return shoppers.
An accessibility tool can help you start:
Making your eCommerce site's text more readable
Adjusting your website's design so it's more visible
Translating text to voice on demand
Meeting ADA compliance needs
With help from accessibility tools, customers can communicate with your customer service team if they need to—and navigate your site on their own. Popular options include Accessibly or Accessibility Enabler. But remember: installing a tool is just one component of making your site more accessible. There are many other accessibility best practices to consider.
Tool #5: A Customer Survey App
Seventy-four percent of consumers are at least somewhat likely to buy products and services based solely on the customer experience. That's why it's so important to know how they feel about your customer service and overall experience.
Use a customer survey tool to:
Set up easy-to-use, branded surveys on your eCommerce site
Collect actionable feedback about your customer service as well as checkout process, site interface, and more
Better understand your customers' needs and wants
Top choices include Enquire Post Purchase Survey and SurveyMonkey.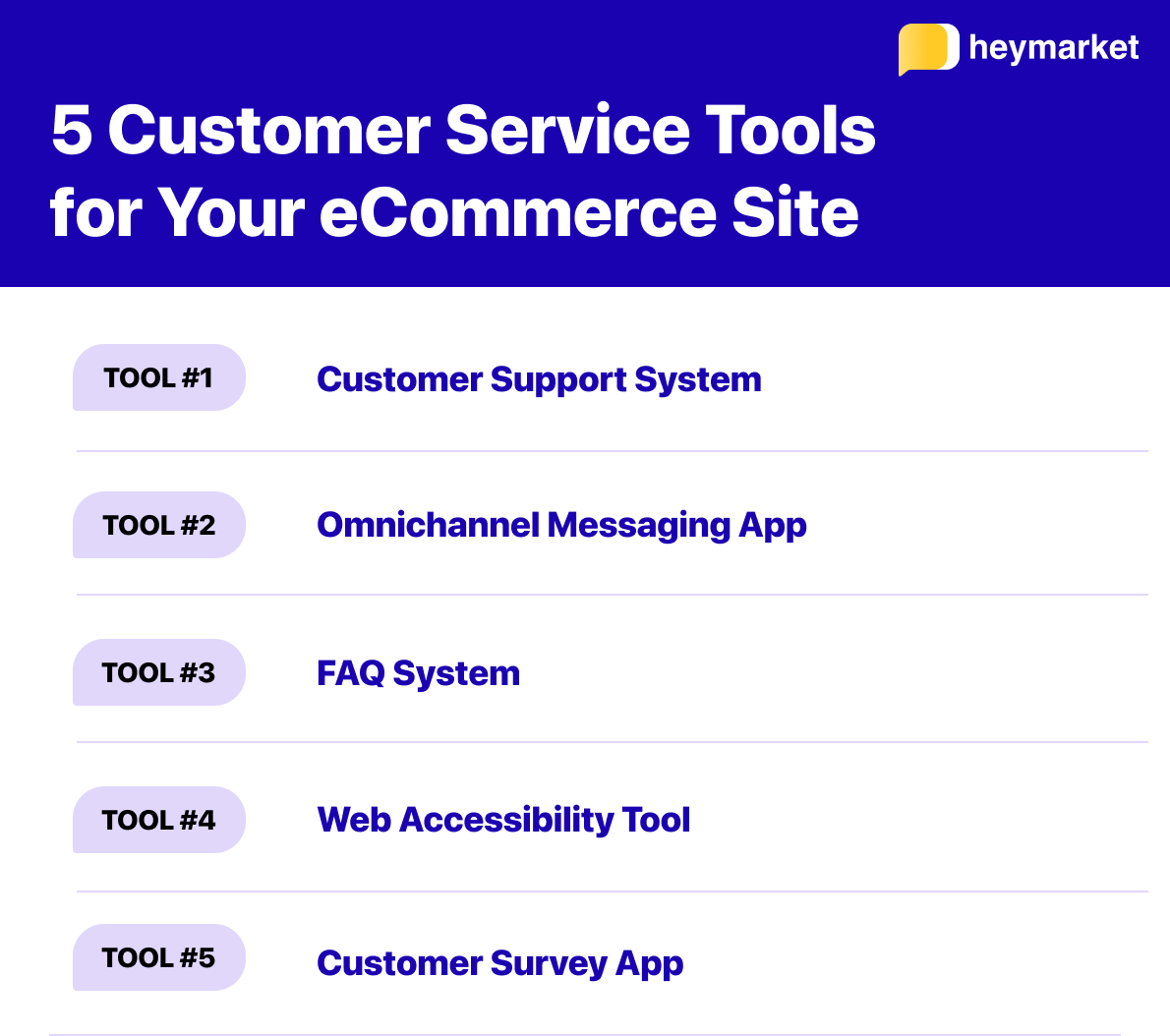 Choosing Your Customer Service Tools
Effective customer service needs to be a priority if you want to develop a following of loyal customers. These eCommerce customer service tools can help you up your customer service game with ease.
But which tools should you choose? Start with those that respond to recent customer feedback. For example, if customers have noted that your website is inaccessible, install Accessibly or Accessibility Enabler. If customers have said that your communication channels are limited, install Heymarket.
Prioritizing tool adoption based on customer feedback is another great way to show them just how much you care about their experience.
Want to learn more about eCommerce customer service communications? Check out our eCommerce SMS resources.