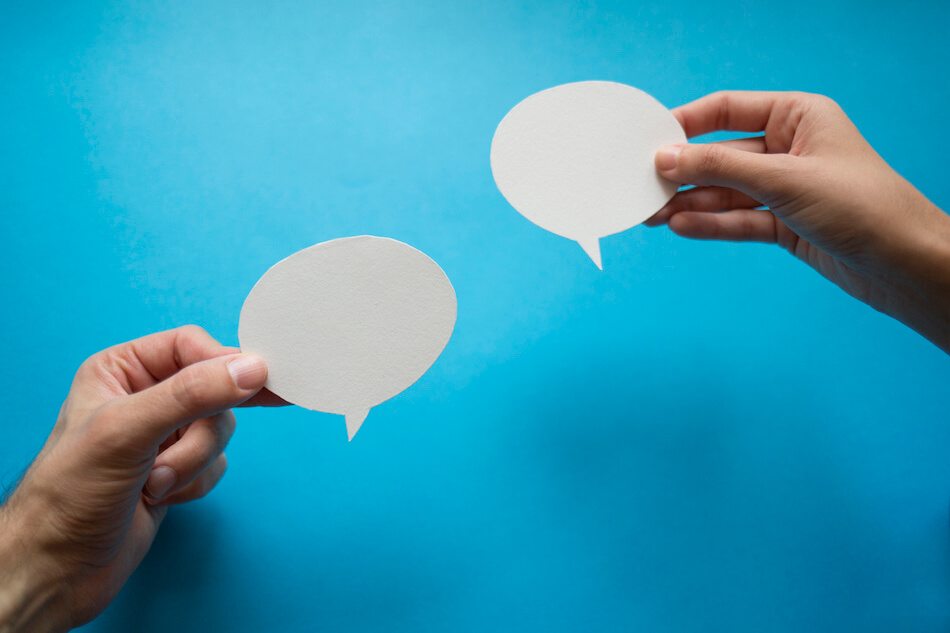 Since the beginning of the COVID-19 pandemic, online shopping has become more popular and is expected to maintain its reign well into the future. Now, this growing population of online customers needs support from a convenient, digital channel that provides the same friendly, personal experience it found in stores.
Customer service chats are proven to perform well with both customers and brands. They're located on your website or social media apps, where customers can quickly access them while they're shopping. These chats are also quick, helping you answer customers faster and resolve more queries while still providing high-quality service.
There are four types of customer service chat:
In this guide, you'll explore each of these types of customer service chats—and learn how to choose the right one for your business.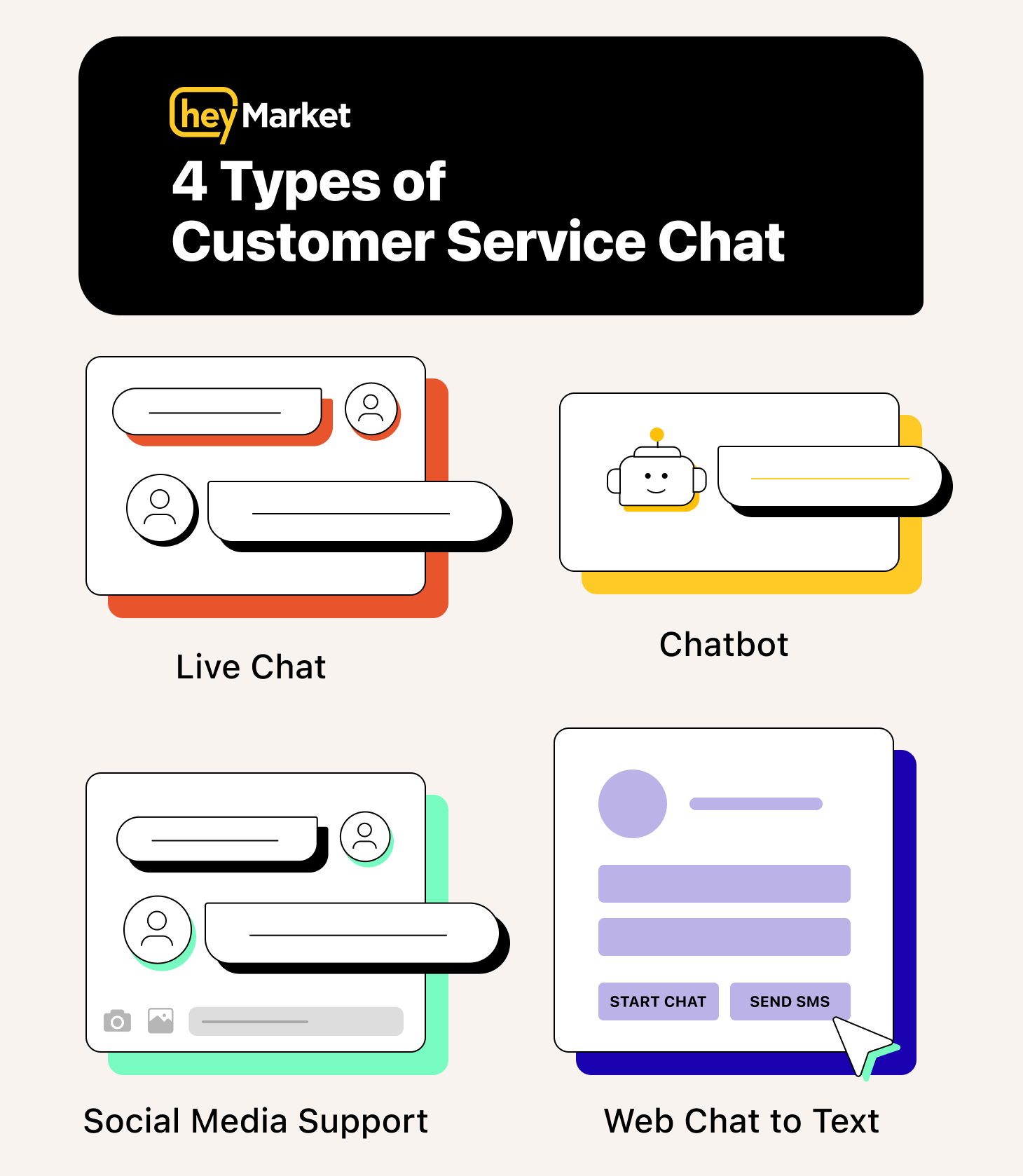 Live Chat
Live chat is one of the most common forms of customer service chat. Some refer to it as web chat instead. Regardless of the term you use, it's a customer favorite due to its speed, convenience, and person-to-person connections.
What Is Live Chat?
Live chat is a tool that enables online, real-time conversations between customers and customer service agents. To access live chats, customers click or tap on a widget often located at the bottom of a business's website. Then, they're quickly connected to a live agent. Live chats terminate when customers exit out of the business's website or chat screen.
Benefits
Customers wait an average of 41 seconds to get an initial response from a live chat agent. Instant (or near-instant) access to live agents is a big bonus for customers. Ninety-one percent of customers want quick answers when they reach out to customer service teams.
Also, customers know they can't leave a live chat screen without starting a conversation over. They will often complete their query in one sitting so their effort doesn't get wasted. Quick, continuous conversations help teams resolve more queries, faster.
Challenges
Once a customer exits a live chat, that conversation is over. You can't get back in touch with that person unless they've provided their contact information. Alternatively, you may already have that customer's information saved in your CRM. Only in these two cases may you follow up with the customer to ensure they were satisfied with their experience.
Additionally, it's difficult to offer customers the option to connect with a live agent all the time, unless your business can staff the live chat around the clock. Your team has to be well-staffed enough to answer customers quickly or at least within a minute or two. Happily, both problems can be solved with chatbots.
Chatbot
Chatbots are similar to live chats. In fact, the two types of customer service chat are often used together. For example, you might use chatbots after business hours, and live chat when your customer service team is on the clock. Chatbots make it easy to provide twenty-four-hour service.
With the launch of ChatGPT, more companies are using generative AI to assist with inbound customer questions. They're even building AI chatbots using text messaging. These chatbots can help extend a team's capacity by providing more detailed and personalized answers than a traditional chatbot.
What Is a Chatbot?
Chatbots are automated responses to customer questions. They operate on triggers and actions to greet customers, answer simple questions, and triage more complex queries, sending them to live agents. Like with live chats, customers access chatbots by clicking or tapping on a widget at the bottom of a business's website.
Benefits
With help from advancing technology, chatbots are getting better and better. Teams can create workflows that empower chatbots to both greet customers and answer a variety of FAQs. And with ChatGPT, you can take that level of detail a step further by creating AI chatbots, as long as your create detailed prompts and test them thoroughly.
Plus, using chatbots is good for your bottom line. In a year, chatbots can handle 27% of your total customer service chats. This allows your live agents to focus on more complex queries, and your team to resolve more queries overall.
Challenges
Chatbots have improved in recent years, so many customers don't mind communicating with them. You won't find many customers who are upset with fast answers to simple questions. (Speed is king, as we mentioned earlier.)
However, customers strongly dislike messaging with chatbots in critical situations—those that are more complex than most FAQs. That's why it's useful to have live agents ready to step in for unique or difficult situations.
And even though ChatGPT can provide a more personalized automated experience, it has limitations. It can't connect to the internet for real-time information and has been known to make up information when it doesn't know the correct answer. While this can be avoided by testing your chatbot thoroughly, AI chatbots should be used as an additional tool to give customers real-time answers, but not as a replacement for human support.
All in all, chat bots can help expand your team's capacity by answering level-one questions and FAQs, and with AI they can add further personalization and detail. Still, it's important to make it clear to customers when they're interacting with a chatbot and give them an easy way to transfer to a live agent.
Web Chat to Text
Web chat to text is a new phenomenon. It's a form of customer service chat that brings together two customer favorites—web chat and business text messaging. It gives customers the option to experience the best of both worlds.
What Is Web Chat to Text?
When customers click on a chat-to-text widget, a new window pops up. In it, they can choose to start browser-based web chats or share their phone numbers to start SMS conversations. Many chat-to-text widgets also offer customers the option to switch to SMS at any point in the conversation. For example, if customers are waiting to hear from an agent for five minutes, the chat-to-text window might ask them whether they'd like to switch to SMS.
Benefits
Today's customers expect an omnichannel experience. If one channel isn't working out, they assume you'll have another option ready to go. When they switch channels, they expect to seamlessly continue their conversations. Web chat to text gives customers multiple options, helping you meet their expectations.
Web chat also helps you improve your resolution rate. If customers can switch to their phones to continue the chat on-the-go, they're more likely to complete the conversation with your team instead of abandoning it.
Challenges
Giving customers two options means your team has to be able to track chats seamlessly when you change platforms. Otherwise, customers will have to start their chats all over again when they choose to switch to SMS.
To prevent friction, you can use a messaging tool like an omnichannel text service for business. These platforms offer shared inboxes that accept messages from both web chats and SMS. That way, you can easily track conversations as they cross platforms.
Social Media Support
Social media support is often grouped with other customer service chat types. It has a fair number of differences from the other types of chats. However, like them, it is quick and easily accessible to online customers.
What Is Social Media Support?
Social media support differs depending on the channel. For example, you can offer social media support through Facebook or Instagram Messenger, which customers access by clicking a button on your Facebook Page or Instagram account.
Another popular form of social media support is Twitter. Customers can directly Tweet your account for help, using an @ symbol. Alternatively they can message your Twitter account privately through an icon on your Twitter page.
Benefits
As we mentioned earlier, today's customers want multiple easy ways to connect with your brand. Social media is no exception. Globally, 59% of customers favorably view brands who provide customer service through social media.
Offering social media support also helps you meet customers where they are. There are customers who do not use many (or any) messaging apps besides those associated with social media. Providing a customer service chat through this channel helps ensure you're not leaving these customers out.
Challenges
Monitoring all of your social media accounts as well as other chat channels can seem overwhelming. However, an omnichannel messaging platform can accept messages from social media as well as web chats and SMS. Using it ensures all of your incoming customer service chats are centered in one place.
A customer sentiment analysis tool can also help you monitor public mentions. For example, the tool will alert you when someone tags your brand in a negative post that needs immediate customer service attention.
Choosing the Right Customer Service Chat
All of the customer service chat types share a few traits in common. They're fast, convenient, and customers love them. As a business, you have to decide which to offer—but as you may have guessed, this is a false choice in many ways. In fact, we recommend that you offer each and every channel.
How All Four Customer Service Chat Types Work Together
Live chats work in tandem with chatbots. A chatbot might offer a greeting to customers and ask them what they're messaging your team about. Then, the chatbot can answer simple questions or triage more difficult questions, sending them along to a live agent.
Web chat to text is a useful addition to live chats. When customers message in, you can offer customers the choice to start their chats through the live chat or through business SMS. Then, if your team is taking a while to get to their question, you can offer them the choice to stick with live chat or switch to SMS. Providing a choice increases the chances that customers will actually resolve their queries, rather than abandoning them.
It's easy to include social media support in the mix if you have a tool that allows you to manage messages from all four channels in one place. This way, you can offer customer service chat support across channels, encouraging more customers to text in while maintaining seamless service. Plus, if customers switch channels, you can easily track conversations so customers don't have to repeat themselves.
Improving Your Customer Service with Multiple Channels
Each of the four customer service chat types is useful. However, using all of them is a sure-fire way to level up your customer service. Meeting customers where they are and providing multiple entry points will encourage customers to reach out, boost engagement levels, and help you build strong relationships that will last for years to come.
Interested in customer service chats? Learn more about them on our blog.