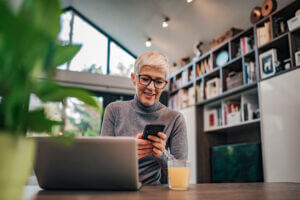 Omnichannel messaging is a must-have strategy. After all, the average person uses 3 different messaging apps each week. If you only offer one or two messaging channels, there's a good chance you're not hearing from some customers. 
But don't stop at offering multiple communication channels to customers. There are plenty of ways to use your omnichannel strategy to actively boost customer engagement and strengthen customer relationships. 
Read on to learn how to boost customer engagement through omnichannel messaging. 
Clearly Display Your Entry Points
It's not enough for customers to stumble upon your business's messaging options when they scroll to the very bottom of your website. You need to clearly display all of your messaging channel entry points every opportunity you get. 
Add each messaging channel's clickable button (if applicable) to your:
Contact us page

Website navigation bar

Social media pages

Tools like Apple Maps and Google Search (through Apple Business Chat and

Google's Business Messages

respectively) 
Frequently share and feature omnichannel messaging entry points. If they're used to seeing these options, they will be more likely to head to an entry point right when they come up with a question. This is the easiest way to increase omnichannel customer engagement. 
You can also mention your messaging channels at the end of customer service, sales, or marketing emails. Let customers know that while they currently use email to communicate with your team, you offer a variety of messaging channels for a faster, more streamlined experience. 
Send SMS Content Through Multiple Messaging Channels 
Try to communicate with customers through the messaging channels they prefer. (That's what omnichannel messaging is about, after all!) Answer their initial queries through whichever channel they send them through. Then send follow-up content through that same channel.
When choosing which SMS content to send where, consider the following best practices:
Follow up with customers through the channel the customer originally contacted you through

Send engaging, conversational content through that same channel 

If it's impossible to send additional content through the original messaging channel, default to sending it through business text messaging 
Connecting with customers through the channel they prefer can boost customer engagement rates. After all, they're more likely to respond to your team through a channel they've shown they prefer. 
Remember that each messaging channel has its own use cases and rules. For example, your team can't send any additional messages to customers once they close an Apple Business Chat or Google's Business Messages conversation. 
Personalize and Brand All Content Consistently
Omnichannel messaging prioritizes a uniform experience, no matter which channel customers choose to contact your team through. A seamless messaging experience will encourage customers to reach out, no matter what they're replying to or where they're seeing your entry points. 
Be sure to:
Use identical branding materials in channels (e.g., the same logo and colors where possible)

Create templates that you can use across each channel (e.g., an after-hours reply or answer to a common pricing question)

Personalize each message consistently (e.g., always include customer names and loyalty numbers if you have them in your system)
A high level of consistency will instill a strong sense of trust in your customers. They'll know that they can expect top-notch service from your team no matter which channel they decide to engage with your team through. 
Of course, your business text messaging platform is critical to offering this branded experience. Since you'll receive all messages in the same shared inbox, you can use identical templates to ensure all FAQs are addressed the same way. With the right SMS integrations, you can also automatically insert contacts' CRM custom fields into texts to add personalization—increasing customer engagement without consuming extra team resources. 
Want to learn more about omnichannel customer engagement? Check out our blog.