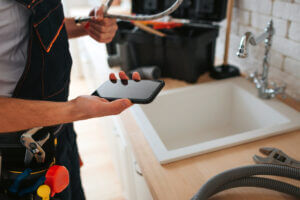 Many home services companies, like plumbers and electricians, are still operating as essential businesses. However, the current, quickly-changing business environment is confusing consumers. They aren't sure who's open for business and who's not. Now, essential home service businesses are looking for a way to let their customers know that they're still safely working. Enter business SMS. 
Business SMS enables contactless and seamless communication between your home services company and your customers. In a new environment like we're experiencing today, it helps home services companies adjust more easily. (And the transition, as My Amazing Maid found in the past, is pretty seamless.)
Read on to learn how your home services company can use business SMS to keep operations running smoothly during COVID-19. 
Text to Let Customers Know You're Open (or Have Limited Hours of Operation)
To clear up confusion around whether you're open or not, text your customers to let them know. 
Go ahead and message any customers who have already opted in to your SMS program, informing them about your continued (or reduced) service. You might want to include:
New hours

Temporary closures

Operational changes (contactless home visits, etc.)

Details about your sanitation practices
Then, be sure to publicize your SMS number on your social media pages and website so that more potential customers sign up for your SMS list. You can even set your business SMS platform to automatically send new list members an introductory text with your current hours. If your business is nonessential and has closed, reach out to existing customers to let them know that your team is healthy and safe, and that you're temporarily closed.
Offer an SMS Q&A Channel 
Given the general uncertainty around what businesses are working and under which constraints, you'll want to offer business SMS as a Q&A channel. A Q&A channel will encourage customers and potential customers to ask questions, which, in turn, might lead them to engage in more services. 
Publicize this offering on your website and social media pages. Include:
Common questions (e.g., "What times do you answer the SMS channel?")

Capabilities (e.g., picture-based consultations, estimates over SMS)

Words of encouragement (e.g. "We'd be thrilled to answer your do-it-yourself questions if you're trying to isolate.") 
Your business SMS platform will collect all incoming queries in a shared inbox, where permissioned team members can see and respond to them. Team members can even use private comments to coordinate on responses behind the scenes.
Send SMS Updates When They Arise
Because of COVID-19's unpredictable spread, your business has probably had to make multiple changes within the past weeks. While you can post these updates on your website and social media pages, there's a chance that regular customers won't check those before planning to book your service.
To keep customers in-the-know, consider sending quick mass texts when changes arise, including:
Adjusted hours

Changed location 

Contactless payment and service delivery options

Updated sanitation guidelines

New operational offerings
Most texts are read within 90 seconds of receipt. This means that by texting your customers, you will ensure that customers always know the latest. 
Use Business SMS to Schedule Home Visits
Your customers may be home more often, but that doesn't mean they'll be checking their email or answering calls. People are busy with work, home, and childcare tasks. However, they can still take a few seconds to send a text every once in a while.
With SMS, your team can:
Allow customers to text in to schedule

Send service confirmations, reminders, and instructions

Empower customers to quickly reschedule 
Business SMS is a great way to empower your customers to quickly schedule services with your team. The easier and less stressful it is for them to schedule services, the more likely they'll find the time to make it happen. 
Coordinate Contactless Service with SMS 
In this day and age, contactless home visits are becoming the norm. Home services companies are giving customers the option to stay in a separate part of the house or leave their houses for walks or other essential activities while contractors complete a project. These contactless services require real-time communication.  
With business SMS, in-field workers can:
Update customers about new policies (e.g. letting customers know that they'll be wearing a mask and gloves; asking customers to stay 6 feet away)

Let customers know they've arrived

Receive key codes or information about where keys are stored

Ask questions about the project scope

Inform customers when the project is finished
By using business SMS as the in-field communication channel of choice, teams can complete contactless services quickly and efficiently. 
Follow Up via SMS Drip Campaign
Seventy-six percent of people trust online reviews as much as they do recommendations from people they know. In this business environment, feedback and reviews are more important than ever. While few customers complete surveys sent via email, business SMS has a response rate of up to 80%. If you send your feedback requests through business SMS, it's more likely that customers will respond.
Through business SMS, your company can:
Ask for a quick NPS survey 

Send a link to a CSAT survey

Request feedback on an online review site
Sending these requests through an easy-to-use channel like business SMS makes it more likely that customers will add positive reviews for your business—and keep bookings rolling in throughout the crisis. 
Want more tips for managing your home services business during COVID-19? Check out our guide to COVID-19 texting.