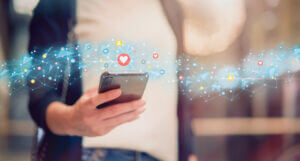 Many businesses benefit from an omnichannel messaging strategy, which allows customers to reach them through multiple messaging tools that are interconnected on the back end. But some businesses want to know which are the best messaging tools. They may have to choose the option that offers the best overall performance, or they may want to know which tools to invest more heavily in. Today, we're going to compare business SMS to web chats. 
Web chat applications certainly have their benefits. When customers are on your website, they can simply click on a button and connect with either a bot or a team member. (Oftentimes, they connect with both.) Web chats can be fast because they're synchronous, meaning they have to happen while your customer is on the web chat; your customer can't walk away from the chat and return an hour later. But business SMS comes with a lot of unique benefits, too. 
Let's explore why business SMS takes the cake when comparing it to web chats. 
Business SMS Is More Convenient for Your Customers
As we've mentioned, web chats are synchronous. If your customers start a conversation through a webchat on your website, it may feel clumsy to close the website, walk away, and come back an hour later to finish the conversation. In most cases, they're stuck on the web chat until they finish the conversation.
Business SMS is far more convenient. Your customers can:
Wait as long as they want to answer your texts

Text your business straight from their native SMS apps on their phones (instead of navigating to your website) 

Connect with your team from anywhere, as long as they have SMS capabilities
While web chats can work well for customers who have the time to sit at their computer and complete a conversation, business SMS is far more convenient. 
Business SMS Provides More Access for Your Business
When leads or customers connect with your team through webchats, they don't have to provide their contact information. They can simply ask their questions and receive replies. If they provide their order numbers or emails, your team may be able to get their contact information, but otherwise, they won't. Often, customers will exit out of chats without providing any personal details. 
Business SMS lets brands have two-way relationships with customers, as long as they opt in to your texting list. Your team can:
Follow up with customers after initial resolutions

Reach out with SMS customer engagement content

Send long-term customer satisfaction surveys and review requests
Sending this content after initial contact with your brand is critical. It keeps your brand top-of-mind for customers—and ensures they know you care enough about their experience to follow up with them. 
Business SMS Encourages Longer-Term Relationships
When customers connect with your brand via a web chat, it's most likely a one-time thing. They won't bookmark the website page. Your team can't send follow-up messages with a web chat, either. Web chats foster transactional, one-off relationships.
Business SMS encourages more robust customer relationships. Texting:
Allows customers to save your phone number, so they can connect with your team right away when they need to

Enables your team to send content on a regular basis

Is convenient, making it easy for customers to start conversations or reply to your content when they want to
Texting is an open-ended channel, allowing both your customers and your team to reach out and connect as needed. When comparing texting vs chats, texting's open lines of communication are the best way to help your team foster long-term, two-way relationships. 
Business SMS Lets You Create Fuller Customer Profiles
As we've mentioned before, it's hard to get customer information through web chats. Customers may have quick questions, then leave before you can ask for their information. They may already have profiles with your brand, but not have time to share that information.
Before customers text your business SMS number, they have to provide you with their phone number (and give written consent). With the right SMS integrations, your team can quickly identify past customers who are listed in your CRM. They can also quickly add new customers to both platforms. Then, your team can:
Update customer fields based on your SMS conversations

Automatically save all messages to your customer profiles 

Sync new data between platforms
Capturing all information from customer interactions is critical. It allows you to get a full picture of how customers interact with your brand, helping you tailor their experiences.
Ready to try business SMS? Test out our text service for business with a free trial.