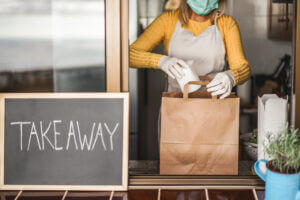 Cloud-based point of sale (PoS) systems have been popular for a while. Tools like Square, Clover, and Lightspeed make it easy to manage pickup orders, whether they are placed through third-party providers like Caviar or directly through your website. 
Post-COVID-19, these cloud systems are making it easy for retailers and restaurants to scale incoming contactless takeout and curbside pickup orders. However, there's still room for improvement. After customers place their orders, businesses have to communicate with them to arrange the pickup. Tools like business SMS can further streamline their curbside pickup process with a simple integration and automation. 
After working with your business SMS platform to integrate the two systems and allow them to share data, there are a few ways to expedite curbside pickup orders. Let's dive in. 
Step 1: Sync Your Contacts 
Your PoS system may contain SMS contacts that your business texting platform does not have, and vice versa. To ensure both systems have up-to-date information, you should sync contacts between both platforms. 
Syncing contacts will empower you to:
Text customers who have indicated they'd like to text in your PoS system but aren't listed in your business text messaging system

Save time that you would be spending updating data between platforms

Ensure your team is always using up-to-date customer information 
Don't forget that you can only text customers who indicate in writing that they prefer SMS updates. Include this option on all of your future order web forms to encourage customers to opt in. 
Step 2: Set Up Automations
Now comes the real time-saver: automations. Your teams can quickly set up an automation that has your business texting platform automatically send an SMS message once orders are confirmed.
Within your business text messaging platform, you can:
Choose a trigger, like a new customer created in your PoS system

Select an action, like your business text messaging platform sending a

templated message

or adding them to a list

Create a template, including both pickup instructions and pickup estimates

Allow your platform to personalize each outgoing message by leaving space for custom fields in your template
By automating your pickup messages, your team doesn't have to spend time sending pickup information after each sale is made. This is one of the best ways to speed up your curbside pickup process. 
Step 3: Respond Quickly to Queries
No matter how clear your pickup instructions are, your customers may still have questions. Luckily, business SMS is a fast channel for resolving queries. After all, 90% of texts are read within the first three seconds of receipt and the average response time for a text is 90 seconds.
To respond as quickly as possible to customer messages, your team can:
Automate responses

to frequently asked questions

Let your whole team have access to a

shared inbox

, so everyone can see incoming queries and respond as soon as they have time

Direct all website questions to SMS using a

widget

or cross-channel

integration

, so you don't have to check and respond to multiple channels
Responding quickly to customer queries allows your team to keep the curbside pickup line flowing, preventing line buildups and boosting customer satisfaction.
Step 4: Track Usage via Reports
Reporting is a critical part of any new strategy. Your business text messaging platform should offer robust automatic reporting, complete with easy-to-navigate charts and graphs. These reporting tools can help your team speed up curbside pickup orders further. 
Your teams can:
Track key metrics like open rates, reply rates, and response times

Identify areas for improvement within your team or with a certain kind of message

Make adjustments and review reports to see if any improvements were made
Tracking business text messaging reports helps your team identify areas for improvement, make changes, then see whether those changes really helped speed up your curbside pickup order process. 
Need help using business SMS with your PoS system? Send your questions our way.