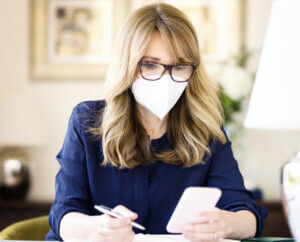 The COVID-19 pandemic has changed many aspects of the professional world, and it turns out that business SMS is no exception. Since COVID-19, we've seen businesses using messaging in more innovative ways than ever before and accelerating existing technologies. These new use cases are here to stay. 
Businesses that only used SMS for core uses like customer service are now expanding to include SMS marketing and customer outreach. Businesses that used SMS marketing and customer outreach before are using SMS in more unique ways to engage their leads and customers. 
We've rounded up 3 of the business SMS use cases we've seen gain widespread adoption during this pandemic, from using SMS with business partners to hosting SMS interactive events. 
Using SMS with Business Partners
There have always been plenty of businesses that use SMS to communicate with team members. For example, delivery services will often text their contracted drivers for scheduling and operational purposes. With COVID-19, this use case has expanded even further. 
Now, we're seeing businesses text their:
Employees.

Now that offices have gone remote, teams need streamlined communication channels for their internal conversations. While internal chat tools, like Slack and Microsoft Teams, work in many cases, some professionals simply aren't on their computers all day. This is the case in industries like home services and creative services. Texting has helped them bridge this communication gap. 

Vendors.

Before, companies could easily meet up with local vendors for lunch or coffee to discuss business matters. Now, that option is not on the table. Instead, businesses are simply handing out their number for vendors to text. They can easily have one-on-one conversations with their vendors—and vendors don't need to download any new software in the process. 

Collaborators.

Collaborators, like creative partners and professional services, often work closely with businesses to produce exemplary designs and projects. Now that in-person meetings aren't an option, teams are using convenient tools like SMS to pick up in their place. Team members can easily send pictures and videos of their projects to ensure that they're on track. 
In the future, we expect to see companies continue to chat with professional partners through business SMS. As remote work becomes more common, it will be key to maintaining close connections. 
Offering Expert Services via Business SMS
Businesses with younger target audiences already offered a lot of online customer service tools before COVID-19. Startups, for example, offered SMS expert services. Customers could text in for professional advice regarding products and services. Now, we're seeing many businesses offer this service. 
Businesses across industries are offering SMS access to:
Product experts.

Before customers buy products—especially if they're high end—they often want to learn more details about them. They want to know whether they'll work in certain situations and whether they solve specific problems. Before, many stores offered in-store product experts for these questions. Now, businesses are empowering customers to directly message these experts through SMS. 

Industry experts.

Bigger brands and specialist brands often have industry experts on hand. These professionals go beyond products to advise customers about their industry interests. For example, an athletic shoe store might have running experts available to advise customers about training. During COVID-19, some companies have begun offering these kinds of services through business SMS. Customers can text right in to connect with an expert for advice. 

Scheduling tools for video meetings.

Some customers still want to meet face-to-face with a brand's experts. In these cases, we've seen businesses use SMS for initial chats. Then, experts can set up video meetings with their customers at a later date. This is a streamlined way to get customers interested in a chat and to manage the actual scheduling right away. 
Brands are seeing their customers engage more fully after SMS chats with experts. Post-pandemic, we expect to see these SMS expert engagement sessions continue. 
Hosting SMS Interactive Events 
While in-person events used to be a great way to market brands, they've become far more risky. Businesses are turning to the internet for new, modified events. While we'd occasionally see some brands interact with their customers through events like weekly games, we're seeing a lot more of these instances now. 
Companies are using business SMS to: 
Run SMS-based weekly events.

Before COVID-19, most businesses could manage customer outreach by offering samples, product tests, or simple fun engagement outside of their doors. Now, they're pivoting, taking these weekly events online. We're seeing businesses host weekly trivia or even talent shows, encouraging customers to engage. And since customers are often stuck at home, businesses are finding plenty of people willing to take part. 

Publicize one-time online events.

Many businesses are moving in-person events online. From conferences to speeches, these events need to be publicized. Businesses are finding that business SMS is an easy, straightforward way to let attendees know that events are online. 

Manage online events.

SMS is a great tool for

managing online events

as well. Team members can provide event sign-up links, attendance links, and reminders. With an 

average open rate of 98%

, it's almost guaranteed that your attendees will open your content. These tools help ensure attendance is high, even if your event is a little different than you initially planned. 
Business SMS is a versatile tool, empowering businesses to pivot their planned events. With its help, teams can host and manage events even when COVID-19 is a thing of the past. 
Want to learn more tips about using business SMS during COVID-19? Check out our blog.