Simple, Transparent Pricing
Pricing that supports your team as it grows
Billed Monthly
Billed Annually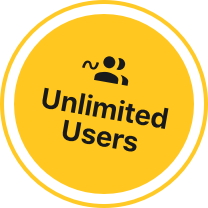 Standard
Essential Features
$49 per month
Billed Annually
Learn More
Included SMS/MMS*

1,000 per month

List Size (per day)
400
Reports
90 days
Team Members
Unlimited
Contacts
Unlimited
Devices
Unlimited
Message Retention
Unlimited
Throttling
None
ESSENTIALS
Standard
Shared inbox

New or existing phone number

Picture messages (MMS)

Reminders

Close chats

Templates

Lists

Message search

Import contacts

CHANNELS
Standard
Website Widget

Facebook Messenger

Instagram Messaging

Apple Messages for Business

Google's Business Messages

WhatsApp

INTEGRATIONS
Standard
Clio
Aircall
Google Drive
Help Scout
HubSpot

Microsoft Teams
Salesforce (compatible)**
Slack
Zapier
Zendesk
FEATURES
Standard
Custom Signature

Schedule Messages

Campaigns

Merge Tokens

Custom Fields

Team Administration

Assignments

Call Forwarding

Auto Reply

Block Contacts

Private Comments

Automations

Unlimited Keywords

Presence
Typing Indicator
Collision Detection
Do Not Disturb
Surveys
Email Notifications
Export Chats
Export Reports
Restricted View
API
Prioritized Customer Support
Training
Popular
Plus
Powerful Integrations
$99 per month
Billed Annually
Learn More
Pro
Advanced Capabilities
$199 per month
Billed Annually
Learn More
Included SMS/MMS*

5,000 per month

List Size (per day)
800
Reports
2 years
Team Members
Unlimited
Contacts
Unlimited
Devices
Unlimited
Message Retention
Unlimited
Throttling
None
ESSENTIALS
Pro
Shared inbox

New or existing phone number

Picture messages (MMS)

Reminders

Close chats

Templates

Lists

Message search

Import contacts

CHANNELS
Pro
Website Widget

Facebook Messenger

Instagram Messaging

Apple Messages for Business

Google's Business Messages

WhatsApp

INTEGRATIONS
Pro
Clio

Aircall

Google Drive

Help Scout

HubSpot

Microsoft Teams

Salesforce (compatible)**

Slack

Zapier

Zendesk

FEATURES
Pro
Custom Signature

Schedule Messages

Campaigns

Merge Tokens

Custom Fields

Team Administration

Assignments

Call Forwarding

Auto Reply

Block Contacts

Private Comments

Automations

Unlimited Keywords

Presence

Typing Indicator

Collision Detection

Do Not Disturb

Surveys

Email Notifications

Export Chats

Export Reports

Restricted View

API

Prioritized Customer Support
Training
Enterprise
Flexible Deployment
Message Us
(415) 562-0500
Learn More
Included SMS/MMS*
Contact Us
List Size (per day)
Contact Us
Reports
Unlimited
Team Members
Unlimited
Contacts
Unlimited
Devices
Unlimited
Message Retention
Unlimited
Throttling
None
ESSENTIALS
Enterprise
Shared inbox

New or existing phone number

Picture messages (MMS)

Reminders

Close chats

Templates

Lists

Message search

Import contacts

CHANNELS
Enterprise
Website Widget

Apple Messages for Business

Facebook Messenger

Instagram Messaging

Google's Business Messages

WhatsApp

INTEGRATIONS
Enterprise
Clio

Aircall

Google Drive

Help Scout

HubSpot

Microsoft Teams

Salesforce (compatible)**

Slack

Zapier

Zendesk

FEATURES
Enterprise
Custom Signature

Schedule Messages

Campaigns

Merge Tokens

Custom Fields

Team Administration

Assignments

Call Forwarding

Auto Reply

Block Contacts

Private Comments

Automations

Unlimited Keywords

Presence

Typing Indicator

Collision Detection

Do Not Disturb

Surveys

Email Notifications

Export Chats

Export Reports

Restricted View

API

Prioritized Customer Support

Training
Included SMS/MMS*

1,000 per month

2,500 per month

5,000 per month

Contact Us
List Size (per day)
400
600
800
Contact Us
Reports
90 days
1 year
2 years
Unlimited
Team Members
Unlimited
Unlimited
Unlimited
Unlimited
Contacts
Unlimited
Unlimited
Unlimited
Unlimited
Devices
Unlimited
Unlimited
Unlimited
Unlimited
Message Retention
Unlimited
Unlimited
Unlimited
Unlimited
Throttling
None
None
None
None
ESSENTIALS
Shared inbox

New or existing phone number

Picture messages (MMS)

Reminders

Close chats
Templates

Lists

Message search

Import contacts

CHANNELS
Website Widget

Facebook Messenger

Instagram Messaging

Apple Messages for Business

Google's Business Messages

WhatsApp

INTEGRATIONS
Clio

Aircall

Google Drive

Help Scout

HubSpot

Microsoft Teams

Salesforce (compatible)**

Slack

Zapier

Zendesk

FEATURES
Custom Signature

Schedule Messages

Campaigns

Merge Tokens

Custom Fields

Team Administration

Assignments

Call Forwarding

Auto Reply

Block Contacts

Private Comments

Automations

Unlimited Keywords

Presence

Typing Indicator

Collision Detection

Do Not Disturb

Surveys

Email Notifications

Export Chats

Export Reports

Restricted View

API

Prioritized Customer Support

Training
* When going over included SMS/MMS in a plan, each additional SMS/MMS will be billed at $0.06.
** Contact sales for information about Salesforce pricing.
Trusted by 1,500+ Leading Companies





Pricing FAQ
How many messages are included in my plan?
Each plan shows a number of SMS/MMS included each month. You can go above the included messages in a month. Each additional message will be billed at $0.06/message.
What does List Size (per day) mean?
That describes the number of unique people the inbox can message each day with lists and campaigns. If you go above the amount, new phone numbers will be provisioned for the inbox and each additional message will be billed at $0.06/message.
What is included in the price?
Each plan includes unlimited users (team members), devices, contacts, templates, lists, campaigns, automations, reports, and more. Each team member will also get access to the Heymarket web app, iOS app, and Android app.
What payment methods do you accept?
We accept Visa, MasterCard, and American Express.
Can I cancel or change my subscription at any time?
Yes, you can change or cancel the subscription at any time. Each subscription is paid for upfront and a cancelled subscription will remain active through the current billing period (month or year). When changing from a monthly plan to an annual plan, the recurring billing period will be updated to the date of the annual upgrade. In all other cases, the recurring billing date will remain the same.
Can the allotted monthly messages be pooled across inboxes?
Yes! Our enterprise plans provide the option to pool messaging usage and billing across inboxes. Please contact us to learn more.
Does each Inbox require its own subscription plan?
Yes, each Inbox requires its own subscription plan. For example, three Inboxes would require three $59 Premium monthly plans ($177/mo).