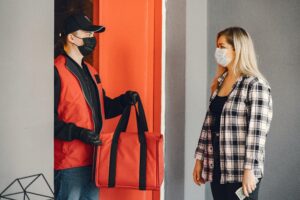 COVID-19 has had a big impact on the way we work. This is especially the case for essential workers, who come face-to-face with countless consumers every day. From food delivery drivers to home services providers, professionals have had to improve their safety procedures to prevent catching (or spreading) the virus. If your business is searching for more ways to enforce safety procedures and contactless services, look no further than a texting service for business. 
Business texting solutions are powerful messaging platforms that allow your teams to send, receive, and organize thousands of customer texts. Texting is particularly useful for real-time communications. That's what makes it helpful for frontline workers, who often have to coordinate with customers on the ground in order to successfully keep their distance. 
Let's explore the ways your team can use a texting service for business to keep frontline workers safe every day. 
Use Your
Texting Service for Business
to Share Safety Information
Your customers need to know about your safety procedures. That way, they can both do their part and also trust that your brand is maintaining a high safety standard. Sending safety information through business SMS is the best way to ensure customers will read your content and understand your business's processes. After all, texts have an average open rate of 98%. 
Your team can use a texting service for business to share:
Store or home visit safety requirements (e.g., masks)

Product pick-up or drop off processes (e.g., pick-up locations and proper social distancing)

In-home service procedures (e.g., how to keep a safe distance when your home services professional needs to work on your plumbing, electricity, etc.)
Sharing this critical information through business SMS almost guarantees that your customers will see it. If they're aware of your safety guidelines, they're more likely to follow them. This helps keep your frontline workers—and your customers—safe.  
Provide Expert Advice Through Your
Texting Service for Business
COVID-19 has forced businesses to reduce in-person interactions. It's simply not safe to have extended one-on-one conversations with customers. But that doesn't mean you have to eliminate these interactions altogether. Business SMS allows your teams to have quick, but valuable, chats with customers. The average response time is 90 seconds, meaning customers will reply quickly enough to maintain a near-real-time speed. 
Your teams can use a texting service for business to:
Offer expert advice

Set up a phone call or video call with an expert

Follow up after expert conversations. 
Using a text message service to connect customers with experts is a safe (and convenient) way to let your team members share their knowledge from afar. It's a great way for home services professionals to finish up home visits, checking with customers to ensure the new installation or adjustment works well. 
Offer a
Texting Service for Business
for Coordinating Pickups or Home Visits
Curbside pickups and contactless home services are now the norm. These in-person exchanges have made businesses realize that there's only one efficient yet timely way to communicate in real-time: SMS. Customers find it easy to quickly chat with workers from afar, arranging their pickups and home visits without coming face to face. 
Your team can use a texting service for business to:
Coordinate contactless pickups or drop-offs (e.g., explain where their purchases are located on the porch) 

Manage home services visits (e.g., let customers know when they need to unlock the front door) 

Enable post-service questions (e.g., inform customers about how a newly installed appliance works) 
Contactless product pickups and home services visits cut down on risk for frontline workers. When implemented correctly, business SMS can also increase the number of orders that your team can handle safely each day. With help from a texting service for business, reducing in-person contact is easy and convenient for customers, too. 
Use a Texting Service for Business to Manage Worker Health
Some frontline workers work closely with one another. That's why it's so important to ensure that all of your team members are healthy—and not working when they're sick. A texting service for business can help maintain team health in a few ways. 
You can use SMS to manage:
Health reminders, so team members don't forget your current safety practices

Scheduling, so team members can text in if they're sick, and make adjustments if a coworker is out sick

Safety updates, so everyone is on the same page right after you make changes to your processes.
A texting service for business can help you keep your frontline team safe, ensuring they can safely operate without endangering themselves or others. 
Want to learn more about business SMS during COVID-19? Check out our blog.